Trump Praises 'Very Tough' Modi During India Rally, Says They'll Deepen Military Ties Amid Fight Against 'Radical Islamic Terrorism'
President Donald Trump received a raucous Indian welcome in the city of Ahmedabad Monday, as he made his first official visit to the world's largest democracy.
The president and his retinue—including first lady Melania, daughter Ivanka and son-in-law Jared—were the center of the huge "Namaste Trump" event at the Sardar Patel Stadium in Gujarat, the home state of Indian Prime Minister Narendra Modi.
The visit was a reciprocation of the "Howdy Modi" event arranged for the prime minister's visit to Texas last year. Both programs were designed to emphasize the close relationship and growing cooperation between the two populist leaders and their nations.
Trump's motorcade sped to the stadium past large signs declaring, "Robust relations, democratic traditions," "Two strong nations, one great friendship," and "Stronger friendship for a brighter future."
In the stadium, Trump and Modi swapped effusive praise. "Everybody loves him but I will tell you this, he is very tough," the president said of Modi.
He called the prime minister—who won a landslide election victory last year to secure a second term in office—an "exceptional leader, a great champion of India, a man who works night and day for his country and a man I am proud to call my true friend."
Modi said Trump's visit was "a great honor for us." The president "thinks big," he said, "and what he has done for realizing the American dream is well-known."
Though Trump struggled to pronounce multiple Indian names and Hindi words, he received rapturous applause from the Modi-loyalist crowd, who chanted Modi's name every time he stepped to the podium. Trump also invoked cricket and Bollywood in his praise of Indian culture.
Some of the largest cheers for the president came when he spoke about the campaign against the Islamic State and the killing of its leader Abu Bakr al-Baghdadi, who Trump branded a "monster." The president said India and the U.S. stood together and shared an "iron-clad" commitment to fighting "radical Islamic terrorism."
The U.S. military is one of Trump's favorite talking points, and he told the crowd in Ahmedabad that his administration has "completely rebuilt" America's armed forces, making it "the most powerful...anywhere on the earth by far."
Trump said the U.S. and India will deepen their military cooperation, noting the Tiger Triumph combined arms exercises between the two countries.
The president said the U.S. is "providing India with some of the best and most feared military equipment on the planet" including a multi-billion deal for helicopters and other equipment. The U.S., he asserted, "should be India's premiere defense partner, and that's the way it's working out."
Trump did not mention that India still imports huge numbers of weapons from Russia. According to the latest figures from the Stockholm International Peace Research Institute, Russia is by far the largest source of military imports for India, followed by France, Israel and South Korea. The U.S. came in fifth.
Trump and Modi lauded Indian diversity—ironic given both leaders' nativist politics. India's 1.3 billion people are spread across 29 states and speak 122 major languages. Though majority Hindu, the country is also home to around 201 million Muslims and 28 million Christians.
Trump said India's development has been achieved as a democratic, peaceful and tolerant country. "There is all the difference in the world between a nation that speaks power through coercion, intimidation and aggression, and a nation that rises by setting its people free and unleashing them to chase their dreams, and that is India," the president said.
But Modi's right-wing, Hindu nationalist, populist government has been accused of allowing—and even encouraging—a spike in violence against Muslims, Christians and other minorities.
Modi's Bharatiya Janata Party is tied to the Rashtriya Swayamsevak Sangh paramilitary nationalist organization, of which Modi was once a member, whose members attack minorities and seek to silence anti-government dissent.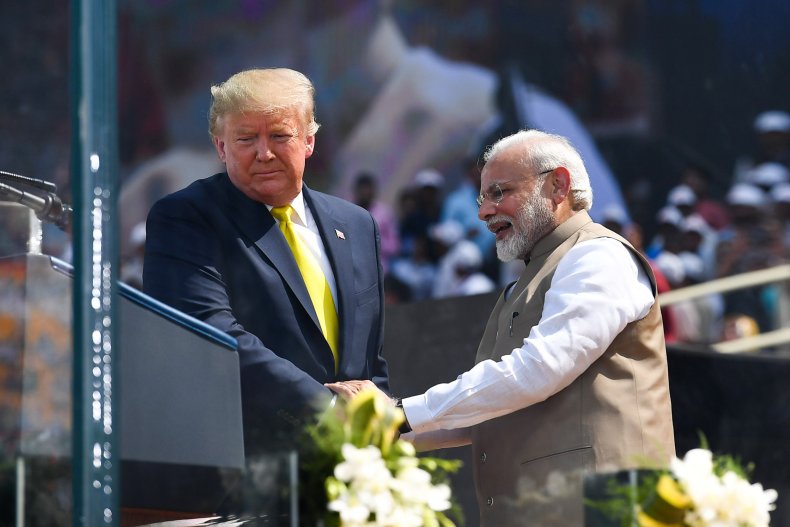 Modi himself was denied a U.S. visa in 2005 over concerns he was responsible for "severe violations of religious freedom" while serving as chief minister of Gujarat. He was accused of inciting anti-Muslim rioting in 2002 that killed hundreds, possibly even thousands of people.
Even as Trump lauded India's free and diverse democracy, protests continued against Modi's controversial citizenship bill. The legislation will make it easier for non-Muslims from neighboring nations to gain Indian citizenship. Critics say the proposal discriminates against Muslims.
Modi has also been criticized over Kashmir, currently under lockdown to prevent protests and violence against the government's revocation of the Muslim-majority state's special status last year. The internet has been throttled and all foreign journalists barred from visiting the area.
But the Modi supporters inside the stadium gave no hint of the unrest, though video showed hundreds leaving the arena while Trump was still talking. "God bless India, God bless the United States of America," the president concluded. "We love you, we love you India very much."
As the infographic below from Statista shows, Indian confidence in Trump has soared since he came to office in 2016. Fifty-six percent of those surveyed in 2019 had confidence in the president, versus less than 20 percent in 2016.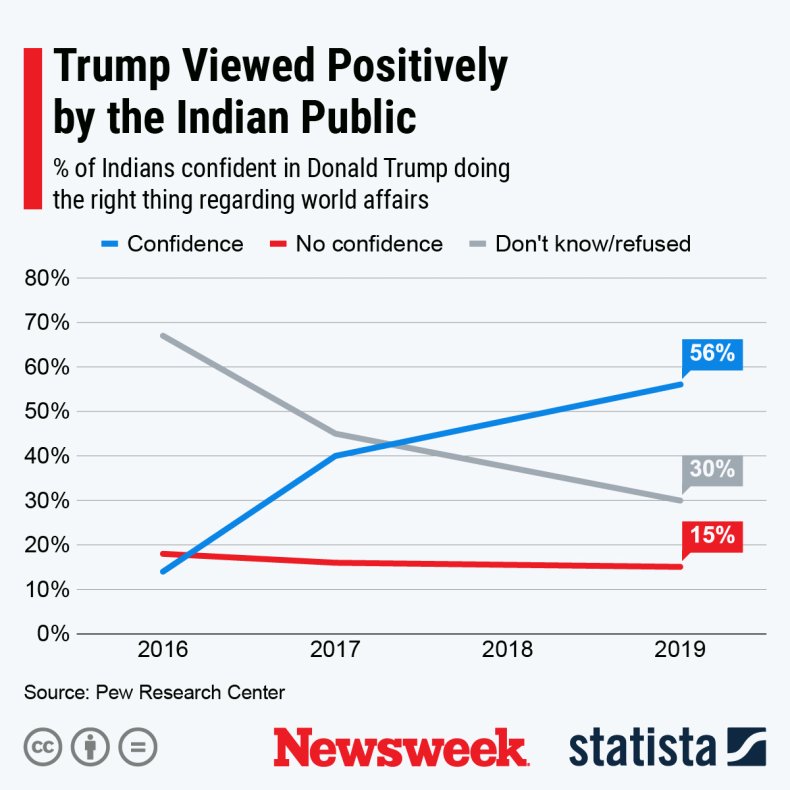 This article has been updated to include an infographic.