Trump Jokes About Being President for 16 Years, Adds 'I'm Not Looking to Do it, Unless You Want to Do It'
President Donald Trump, who has previously heralded Chinese President Xi Jinping being enabled to rule for life, joked about being president for 16 years during a speech at the White House Thursday. Trump was appearing on the White House lawn to tout the benefits of recently passed tax cuts when he slipped into a claim about his administration's effectiveness at cutting regulations.
"We've cut more regulations in a year and a quarter than any administration, whether it's four years, eight years or, in one case, 16 years," he said. "Should we go back to 16 years? Congressman, can we have that extended? The last time I jokingly said that, the papers started saying 'he's got despotic tendencies!' No, I'm not looking to do it, unless you want to do it."
Trump's talk of 16 years appeared to be a reference to Franklin D. Roosevelt, the only president to serve more than two terms. However, while he was elected for a fourth term, he died just a couple of months into it.
It is not the first time the president has raised the possibility of extending his White House stay beyond the Constitutionally-allowed two terms. Speaking last month after China removed the two-term limit on its presidency, Trump was full of praise for the idea of a leader continuing indefinitely.
"He's now president for life. President for life," Trump said of Xi. "No, he's great. And look, he was able to do that. I think it's great. Maybe we'll have to give that a shot someday."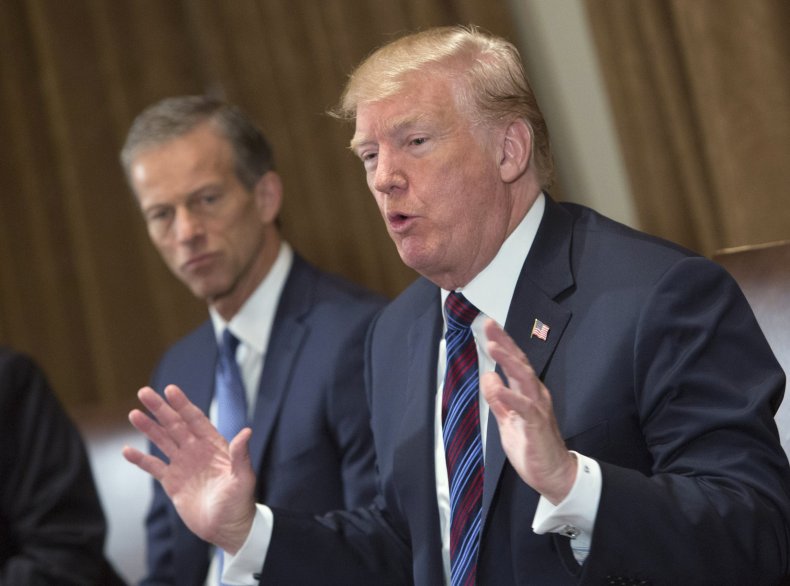 As well as Xi, Trump has praised several world leaders who have moved to consolidate their power and extend or remove term limits, including Russia's Vladimir Putin and Turkey's Tayyip Erdogan. Trump, himself, has faced accusations of embracing authoritarian tendencies. In an interview with Newsweek this week, former Secretary of State Madeleine Albright accused Trump of strengthening dictators abroad and of a "lack of democratic instinct of any kind."