Trump, the President, Likes Crashing Parties and Making Money Off Couples' Happiness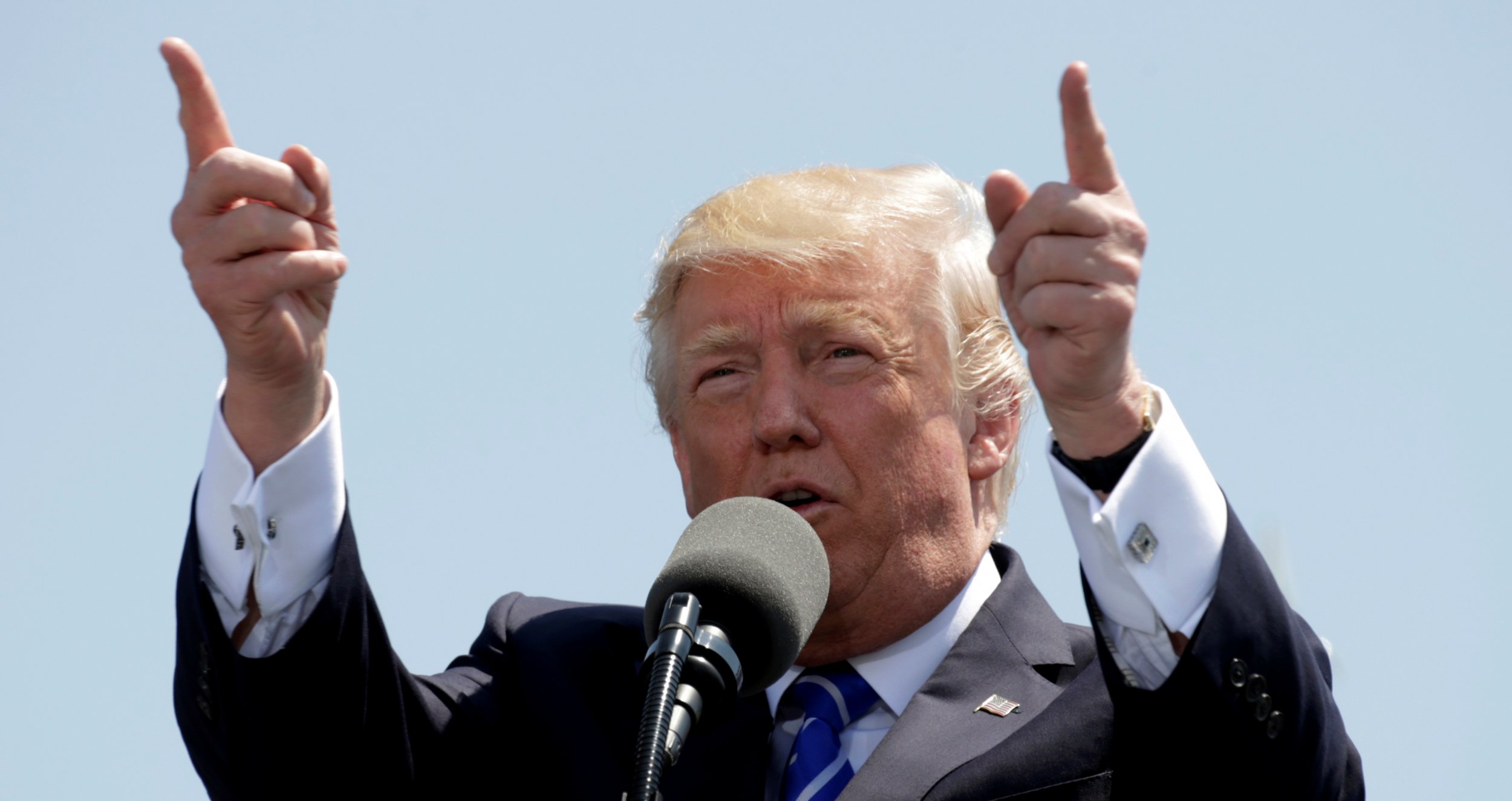 President Donald Trump was in his element Saturday night during a weekend getaway to his private golf course in Bedminster, New Jersey, posing as the center of attention in photos with his signature thumbs-up gesture and autographing red "Make America Great Again" hats, all while surprising two newlyweds hosting a wedding reception on his luxe property.
The 45th president has made a common practice of visiting his own exclusive estates, from Bedminster to Mar-A-Lago, throughout his tenure in the White House, often surprising visitors during dinners and large events. Trump really seems to enjoy greeting the members of his private resorts and golf clubs, if only for a minute. A brochure for his Bedminster property went so far as to advertise the possibility of rare appearances from the POTUS if he's visiting for one of his many weekends away from Washington, D.C., according to a New York Times on June 3. The brochure has reportedly since been discontinued.
Meanwhile, new lawsuits are expected to arrive this week on Capitol Hill from Democratic lawmakers and attorneys general from Maryland and Washington D.C., alleging that Trump has repeatedly broke the Constitution's emoluments cause and suggesting that taxpayers are spending millions of dollars to help advertise the president's properties.
Trump was at it again on Saturday, raising his arms in the middle of the room as if to call attention to his presence, while dozens of wedding guests snapped photos on iPhones. The president greeted the newlyweds and told the groom, "What a beautiful wife you have," The Washington Post reported over the weekend. Patrons took photos alongside the president and mimicked his pose, with one caption reading "Making Weddings Great Again!"
It's been a whirlwind month for Trump, embattled by multiple federal investigations into his campaign and his administration's ties to the Kremlin. Ex-FBI Director James Comey, whom Trump said he fired while considering the agency's investigation of Russia's meddling in the 2016 election, delivered a blockbuster testimony to a Senate intelligence Committee Thursday that detailed his "awkward" interactions with Trump.
Related: Here's how Trump could actually be impeached
Support for Trump's impeachment has continued to grow, with polls indicating his approval ratings have plunged to historic lows. But the president was in full party mode Saturday night—the second night in a row he surprised an ongoing party at the golf course. Trump stayed with the party for just a few minutes, allowing enough time to greet guests and pose for photo opportunities before saying hello to the bride and groom.
"It was a nice surprise to have the president pop down after dinner & personally congratulate Kristen & Tucker," one wedding attendee wrote on Facebook, The Washington Post reported. "He was very gracious and personable."
At the golf club the night before, Trump reportedly "reappeared several times" during a celebration for Far Hills Country Day private-school students graduating eighth grade. He was in and out, talking with the students and their families.
"The president showed up to our grad party," one student wrote, captioning an Instagram photo with a tears of joy emoji. "Just another run of the mill day."