Trump Admits He Thought Being President 'Would Be Easier'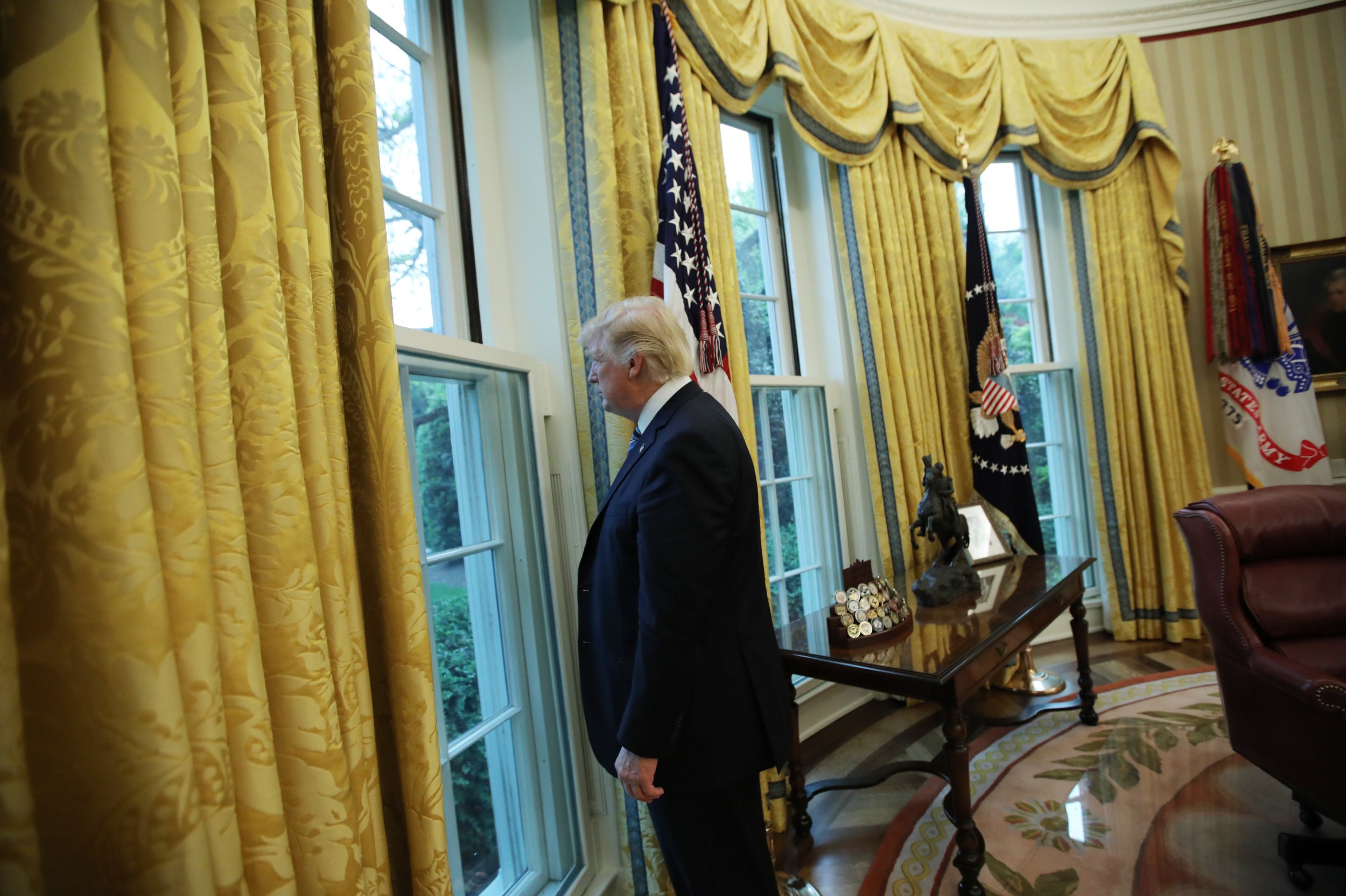 Donald Trump has admitted he thought being president "would be easier" as a potential government shutdown looms ahead of the milestone of his first 100 days in office on Saturday.
"I loved my previous life. I had so many things going," Trump told Reuters in a wide-ranging interview Thursday. The president said Democrats would be to blame if the government could not pass a temporary funding bill by the weekend.
Trump said that there is a chance of a "major" conflict with North Korea, adding that he thought the country's leader Kim Jong Un is in a difficult predicament, having taken over the regime at a young age.
The U.S. president also attacked South Korea over a "horrible" free-trade deal.
Reflecting on his time in office, Trump said: "This is more work than in my previous life. I thought it would be easier." He lamented the limits to his privacy, now that he has 24-hour Secret Service protection and "can't drive any more."
"You're really into your own little cocoon, because you have such massive protection that you really can't go anywhere," the president said.
At one point in the interview Trump pressed a button on his desk, which ordered a Coke that was delivered to him by an aide.
Will the government shutdown like it did in 2013?
If Republicans don't pass a temporary spending bill by Saturday to fund the government for another week while they wrap up negotiations with Democrats over spending until September, the entire federal government could grind to a halt like it did in 2013 when unfunding was suspended for 17 days.
"We'll see what happens. If there's a shutdown, there's a shutdown," Trump said during the interview, adding that Democrats would be to blame if hundreds of thousands of federal workers are temporarily laid off. Republicans, however, control both the House and Senate.
Earlier in the day Trump blasted the Democrats on Twitter for threatening to "shut down the government" as "families prepare for summer vacations in our National Parks."
Is North Korean dictator Kim Jong Un rational?
The White House hosted a briefing on North Korea for the Senate on Wednesday where they called the nation one of the biggest global threats. Trump told Reuters Thursday that while "there is a chance that [America] could end up having a major, major conflict with North Korea," he hopes the rogue nation's 33-year-old leader Kim Jong Un is rational.
"He's 27 years old. His father dies, took over a regime. So say what you want but that is not easy, especially at that age," Trump said. "I'm not giving him credit or not giving him credit, I'm just saying that's a very hard thing to do. As to whether or not he's rational, I have no opinion on it. I hope he's rational."
North Korea has been forging ahead with efforts to create an intercontinental ballistic nuclear missile, and Trump said he believes further economic sanctions will get them to stop development. "We'd love to solve things diplomatically but it's very difficult," he said.
Read more: Donald Trump spurns Taiwan call, says China's Xi Jinping 'doing an amazing job'
South Korea's trade deal with the U.S. is 'horrible'
The U.S. is stationing a new THAAD anti-missile defense system in South Korea that Trump estimates will cost $1 billion—a sum, he said, the government in Seoul should pay for. At the same time Trump told Reuters he intends to renegotiate or terminate a "horrible" U.S. free trade pact with South Korea because of its $17.0 billion trade deficit.
Trump called it a "horrible deal made by Hillary [Clinton]." The deal was signed in 2007 after being negotiated during the Presidency of George W. Bush. It came into force in 2012 under former President Barack Obama. "It's a horrible deal, and we are going to renegotiate that deal or terminate it," Trump said.