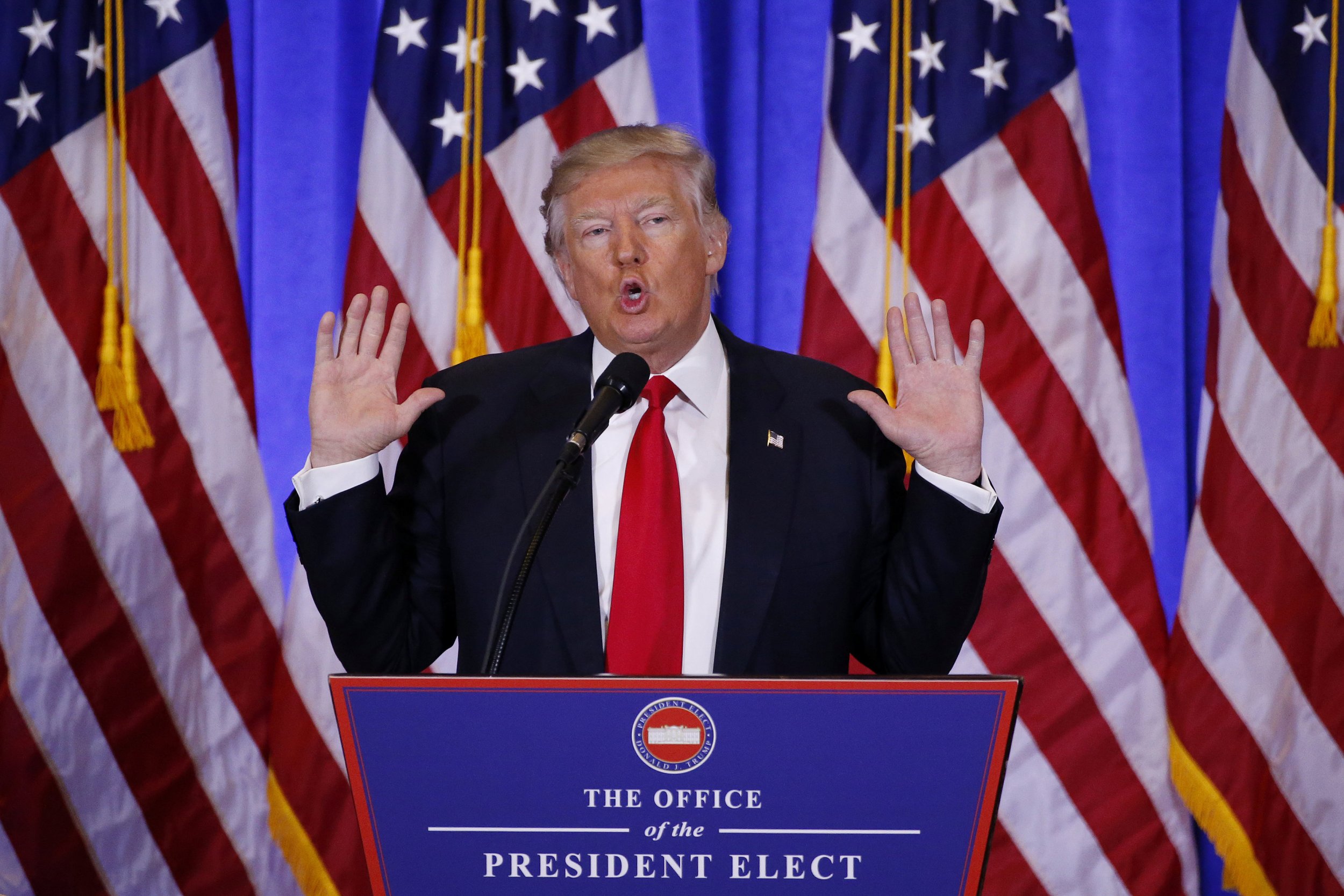 President-elect Donald Trump on Wednesday dismissed recent reports that Russia holds compromising information on him as "nonsense," "fake news" and "phony stuff."
His highly anticipated press conference at Trump Tower in New York City—Trump's first since July 27—took on a significant new weight after some media outlets published bombshell allegations on Tuesday night that the Russian government had "salacious" information on the president-elect, including that he used sex workers and intended to "defile" a bed President Obama and First Lady Michelle Obama slept in while in Moscow.
According to CNN, four senior U.S. intelligence chiefs—Director of National Intelligence James Clapper, FBI Director James Comey, CIA Director John Brennan, and NSA Director Admiral Mike Rogers—briefed both Trump and President Barack Obama on the allegations last week. BuzzFeed on Tuesday published the full 35-page collection of memos containing the allegations, despite labeling them "unverified and potentially unverifiable." The allegations have been circulating in the Washington jounalism and intelligence communities for months.
The reports, which, again, have not been verified, also claim that Trump is in a position to be blackmailed by Russia. Trump said during the press conference that the memos "should never have been written, should never have been released." At one point while discussing the Russia allegations, Trump said said he's warned his associates and bodyguards about the presence of small cameras in hotel rooms.
Related: Trump, Putin and how Russia interfered in the U.S. presidential election
Held nine days before his inauguration, Trump's press conference also covered a wide range of other subjects, including the proposed border wall with Mexico, his business interests and his choice to fill the vacant Supreme Court seat. However, questions repeatedly turned back to Russia. Trump told reporters: "I have no dealing with Russia, I have no deals in Russia" and "I have no loans with Russia. As a real estate developer, I have very little debt."
Trump also took the opportunity to insult CNN and BuzzFeed, the latter of which he referred to as a "failing piece of garbage," after the news outlets reported on the intelligence claims on Tuesday night. When CNN reporter Jim Acosta attempted to ask Trump a question, he responded by saying: "Your organization is terrible. Quiet! Quiet! You are fake news!"
Hours after the reports on Tuesday night, Trump tweeted (in all caps) that the allegations are "fake news" and "a total political witch hunt." He also called the reports "a complete and total fabrication, utter nonsense," "unfair," and said the memos published by Buzzfeed were "paid for by political opponents." Trump also tweeted that "Russia has never tried to use leverage over me" and "I have nothing to do with Russia—no deals, no loans, no nothing."
Russia also denied the claims, with Dmitry Peskov, President Vladimir Putin's spokesperson, calling them "pulp fiction" and a "clear attempt to damage relations" between the two countries. When asked whether he accepts that Putin tried to help him win the election, Trump, speaking in the third person, said during the press conference: "If Putin likes Donald Trump, guess what folks, that's called an asset, not a liability."
Several minutes into the press conference, Sheri Dillon, a lawyer, spoke at length about Trump's decision to hand over control of his business interests to his sons, Eric and Donald Trump Jr. "The conflicts of interest laws simply do not apply to the president and the vice president," she said. "Even so, President-elect Trump wants there to be no doubt in the minds of the American public that he is completely isolating himself from his business interests."
Piles of manilla files that had been placed on a table next to the podium were "some of the many documents I've signed handing over complete and total control of my company to my sons," Trump said. Dillon added that Trump's daughter, Ivanka, will no have no further role in the Trump organization and will instead focus on settling her children in their new home and schools in Washington, D.C.
Asked about the Affordable Care Act (ACA), also known as Obamacare, Trump said his administration will submit a plan to repeal and replace it after the health and human services secretary nominee, Tom Price, is approved by the Senate. "Obamacare is the Democrats' problem," Trump said. "We're going to take the problem off the shelves for them. We're doing them a tremendous service."
Trump said that while he could wait a year and a half for a deal to be forged between the U.S. and Mexico over paying for and building the proposed border wall, "I don't want to wait." He dismissed suggestions that U.S. taxpayers will have to ultimately fund the wall's construction, saying: "Mexico, in some form, will reimburse us and they will reimburse us for the cost of the wall. That will happen."
Trump gave two small insights into his plans once he takes office. He said that a new Supreme Court justice nominee will be announced within two weeks of January 20, Inauguration Day, and that within 90 days Mike Pompeo, the CIA director nominee, and former Senator Dan Coates, the director of national intelligence nominee, will present Trump with a "major report on hacking." The U.S., Trump said, "is hacked by everybody, including Russia and China."
Trump once again failed to promise to release of his tax returns, saying that they are currently under audit and that he doesn't have to release them because "I won." When informed by the reporter who asked the question that every president in modern U.S. history has released their tax returns, Trump mocked her, saying, "Oh, I've never heard that one before."
Michele Gorman contributed to this article.