Trump Press Sec McEnany Claims Democrat and GOP Counties Were Under Different Vote Counting Systems
White House Press Secretary Kayleigh McEnany made new allegations on Thursday that Pennsylvania's voting process was biased and unfair.
President Donald Trump's re-election campaign has filed lawsuits in some states alleging that votes were counted incorrectly during the November presidential election. Some mail-in ballots in battleground states, such as Pennsylvania, have yet to be fully tabulated.
On Saturday, the Associated Press projected that President-elect Joe Biden had obtained victory in Pennsylvania, garnering that state's 20 electoral votes. During an appearance on Sean Hannity's program on Fox News, McEnany alleged that there were separate voting processes in Pennsylvania counties depending on their political bent.
"In this country, voting is a fundamental right and that means that there has to be uniform standards throughout the state of Pennsylvania," McEnany said. "But what we saw here, and we have the evidence to prove it, is this: There was one system for Democrat counties. There was another system for Republican counties."
"You had the courts in Pennsylvania saying there's no way to fix your mail-in ballot in advance except, as we have now found out, in 7 Democrat counties," McEnany continued.
McEnany said the campaign had gathered sworn affidavits, emails and text messages that allegedly proved that voters in Democrat counties were called on to fix insufficient ballots. Whereas some voters in Republican counties had their ballots canceled. Those voters in Republican counties were allegedly not informed about their ballot until after the election.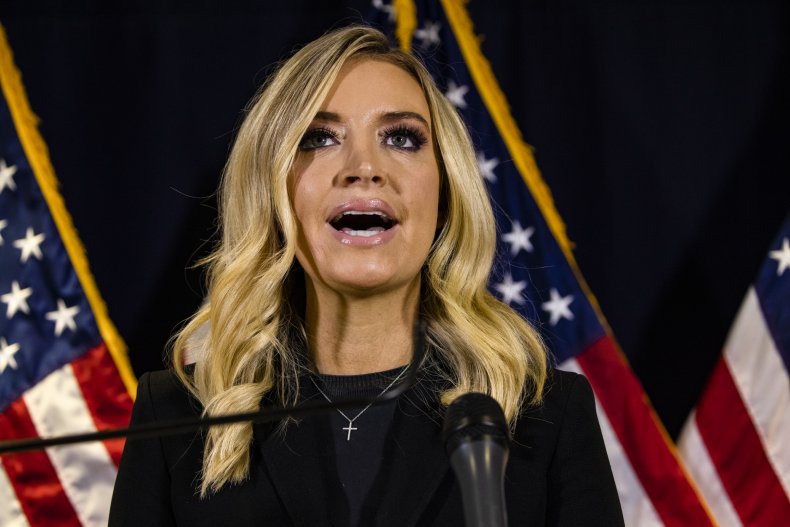 "This is an equal protection violation," McEnany said.
In a statement emailed to Newsweek on Friday, the Pennsylvania Department of State said there was "no factual basis" for McEnany's claims.
"Allegations of fraud and illegal activity have been repeatedly debunked and dismissed by the courts," the statement read. "Those attackers against the core values of Americans are intended to undermine our democracy, and we must reject them."
McEnany also alleged that some ballots that lacked the required dates, signatures and addresses were counted by some Democrat counties but not in some Republican counties. "This would amount to potentially tens of thousands of ballots that were counted improperly," McEnany said, "and we must look into this."
In a November speech, Trump alleged that improprieties had occurred during the counting of mail-in ballots in battleground states, including Pennsylvania. "The officials overseeing the counting in Pennsylvania and other key states are all part of a corrupt Democrat machine," Trump said.
Trump's claims that the Democratic party attempted to "steal" the election from him via the manipulation of mail-in ballots have been criticized as being unsubstantiated.
Final votes have yet to be tabulated in Pennsylvania. According to the Associated Press, Biden has 49.8 percent of the popular vote in Pennsylvania while Trump trails with 49 percent with 99 percent of voting precincts reporting. On Saturday, the Associated Press projected Biden would become the next president after ascertaining that a count of Pennsylvania's remaining ballots would not be enough for Trump to attain victory.
Updated 11/13/2020 11:19 p.m. EST: This story has been updated with a statement from the Pennsylvania Department of State.