Trump Press Sec McEnany Says Campaign Poll Watchers Were 'Football Field Away' in Pennsylvania
While discussing allegations of voting improprieties during the presidential election, White House Press Secretary Kayleigh McEnany claimed Wednesday that poll watchers in Pennsylvania stood "a football field away" while ballot tabulation was occurring.
President Donald Trump has challenged the results of the U.S. presidential election and thus far refused to concede to Democratic President-elect Joe Biden. Trump's administration has filed litigation in some battleground states, including Pennsylvania, alleging that election fraud occurred throughout the voting and tabulation processes. McEnany said during an appearance on Sean Hannity's Fox News program that she had only been informed of new reports of alleged fraud in Philadelphia on Wednesday.
"There were multiple individuals in a state like Pennsylvania who went to the polls and said, 'I'm here to vote in person' and they were told, 'Oh, wait, you've already voted by mail," McEnany said.
According to McEnany, those individuals neither requested nor cast a mail-in ballot, but did cast a provision vote which was "never counted."
"This is why you need poll watchers to verify that that mail-in vote is actually the person whose name is attached to it," McEnany said. "It's why having poll observers a football field away as they proceed to count 627,000 votes in Pennsylvania is such a travesty."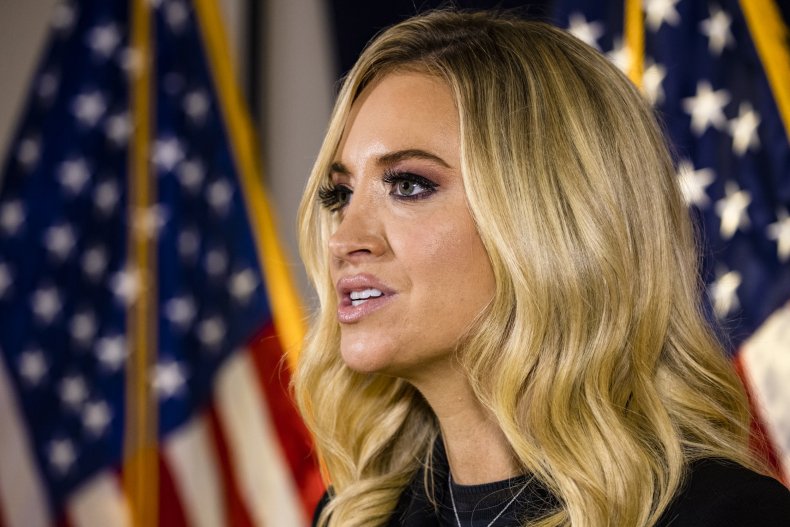 Newsweek reached out to the Pennsylvania Democratic Party for comment. According to the reference database Dimensions, a standard American football field measures 120 yards in length, which converts to 360 feet.
Pennsylvania was singled out as a center of election manipulation by Trump in a post-election address. "In Philadelphia," Trump said, "observers have been kept far away—very far away—so far that people are using binoculars to try and see, and there's been tremendous problems caused."
Trump also alleged that Philadelphia election officials were "part of a corrupt Democrat machine." Many observers have described Trump's claims of election fraud as unsubstantiated.
In November, Trump's legal team filed a lawsuit alleging that Republican poll watchers had not been allowed proper access to observe the counting of votes. Although the poll watchers had been granted admission to the building where the tabulation was occurring, they had been required to view the tabulation proceedings from behind a perimeter 20 feet away from election workers. The litigation was originally rejected by a Philadelphia judge.
That decision was overturned by a November 5 order from the Commonwealth Court of Pennsylvania. According to a ruling by Judge Christine Fizzano Cannon, poll watchers were allowed to view the proceedings from a distance of 6 feet as long as they observed coronavirus safety procedures including wearing masks and practicing social distancing protocols.
Although final results are not yet available, the Associated Press projected that President-elect Joe Biden had won the election in Pennsylvania with approximately 50 percent of the popular vote, allowing Biden to claim the state's 20 electoral votes. Trump was projected to obtain 48.8 percent of Pennsylvania's popular vote.