Trump Press Sec McEnany Says Her Stack of Voter Fraud Papers Are 'Not Blank' After CNN Accuses Her of Using Prop
White House Press Secretary Kayleigh McEnany clapped back at CNN on Tuesday after they reported that the stack of affidavits McEnany presented on live television were actually blank pieces of paper.
McEnany has made multiple appearances on Sean Hannity's Fox News program in which she has briefly shown pieces of paper to the camera that she claimed were legal documents. In its attempt to hold on to the White House, President Donald Trump's re-election campaign has filed lawsuits in some battleground states alleging voting improprieties. During a Tuesday interview on Hannity, McEnany said the papers she held were affidavits connected to an election dispute in Wayne County, Michigan.
McEnany said that CNN "did about a 10-minute monologue saying these were blank. They're not blank."
"In fact," McEnany continued, "these pages of paper from one county were the reason that you had a county level, Wayne County canvassers say we cannot certify this election because of these witnesses."
On Friday, CNN anchor Brianna Keilar alleged on-air that McEnany's documents, sometimes presented inside three-ring binders, were "full of nothing, stacks of papers with information worth less than the paper they are printed on."
"They may be huge," Keilar added, "but they are also empty."
Newsweek reached out to CNN for comment.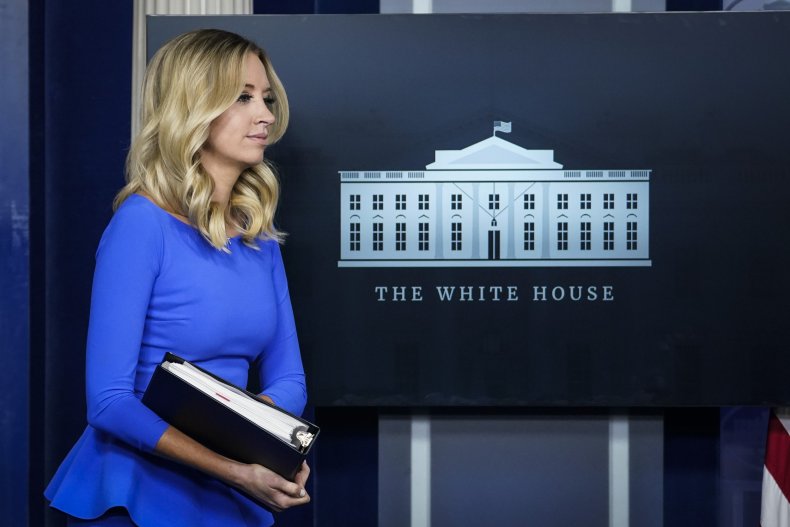 McEnany received criticism for a similar allegation in October after 60 Minutes correspondent Lesley Stahl interviewed Trump. When Stahl pressed Trump on the existence of a comprehensive health care plan, Trump claimed the plan was "fully developed." When the interview concluded, McEnany presented Stahl with a large binder that allegedly contained the Trump administration's health plan.
Stahl described the binder as "filled with executive orders, congressional initiatives, but no comprehensive health care plan."
In Wayne County, Michigan, the county Board of Canvassers were initially deadlocked on a vote to certify presidential ballots. Republican members of the board claimed there were disparities between the number of actual voters in some areas of the county and the number of votes received. McEnany said the board's refusal to certify the ballots was because voters "have a president fighting for the forgotten men and women in Detroit."
After hearing public comments on the certification issue, the Board of Canvassers reversed its decision and voted unanimously to allow the results to be certified. However, Michigan Secretary of State Jocelyn Benson was called upon to create an independent audit of districts in Wayne County where there appeared to be a voting disparity.
Trump has thus far refused to concede the election to President-elect Joe Biden. During remarks about a coronavirus vaccine in November, Trump made an allusion to the potential reality of a Biden administration.
"This administration will not be going to a lockdown," Trump said. "Hopefully, whatever happens in the future—who knows which administration it will be? I guess time will tell."