Trump's Press Secretary Claims President Hasn't Seen Viral Massacre Shooting Video
President Donald Trump has come under fire after White House Press Secretary Stephanie Grisham suggested he had not seen the mock-up viral video that depicts him killing his rivals.
The video was screened at the American Priority Conference at Trump's Doral Miami resort, an event that was attended by both Trump's son Donald Trump Jr. and former White House Press Secretary Sarah Huckabee Sanders, although it was unclear whether the two had seen the footage.
However, following the conference, pundits and politicians widely slammed the violent footage, in which a scene based on Kingsman: The Secret Service shows "Trump" stabbing, shooting and even burning those he has had disagreements with in the past, including former President Barack Obama, former Secretary of State Hillary Clinton, and 2020 Democrat presidential nominee Bernie Sanders, as well as comedians Kathy Griffin and Rosie O'Donnell.
Given the president's well documented use of social media and the wide discussion of the footage, the press secretary's comment prompted a swift backlash.
"Re: the video played over the weekend: The @POTUS @realDonaldTrump has not yet seen the video, he will see it shortly, but based upon everything he has heard, he strongly condemns this video," Grisham wrote on Twitter on Monday morning.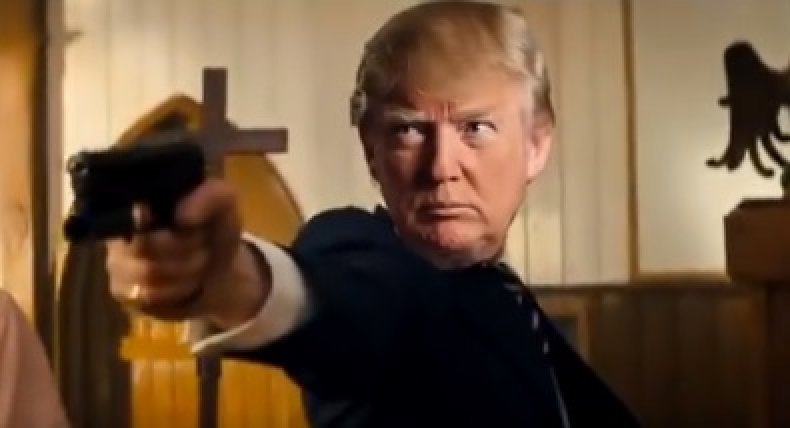 However, Twitter users questioned how the president could have avoided the widely discussed footage, particularly given that he had been using social media and tweeting for the past two hours, including one tweet that encouraged his followers to vote for Sean Spicer on Dancing with the Stars.
While some users pointed out that the president had been awake and using social media for several hours, others questioned whether the president would indeed be condemning the video as his press secretary suggested.
"What has he ever done that would in any way indicate that this video, made by his supporters, would not please him?" user Joe Berkowitz tweeted. "Will he say so himself? He seems to be on this website," Liz Garbus added.
"Who are you fooling? This video was shown because he and Don Jr got a huge laugh out of it! We aren't believing your lies for a second," another user added.
The footage itself has been widely panned with the White House Correspondents Association commenting to U.K. newspaper The Guardian: "All Americans should condemn this depiction of violence directed towards journalists and his political opponents. We have previously told the president his rhetoric could incite violence. Now we call on him and everybody associated with this conference to denounce this video and affirm that violence has no place in our society."