Trump Presses Congress for COVID Stimulus Package From Walter Reed: 'GET IT DONE'
President Donald Trump on Saturday pressed lawmakers from both sides of the political aisle to pass a new coronavirus stimulus package after he was admitted to the Walter Reed National Military Medical Center for coronavirus treatment.
"OUR GREAT USA WANTS & NEEDS STIMULUS. WORK TOGETHER AND GET IT DONE. Thank you!" the president tweeted in the afternoon from the medical facility.
As the months-long stimulus deadlock flowed into October, House Democrats on Thursday narrowly passed their own $2.2 trillion package with a 214-207 vote, despite ongoing negotiations with the GOP and Trump administration. Republican leaders have already indicated that the new bill would fail in the Senate.
The recent influx of coronavirus infections among Trump's inner circle and the Republican Party has fueled pressure for Congress to push through much-needed legislation to assist Americans and stimulate the economy during the ongoing pandemic.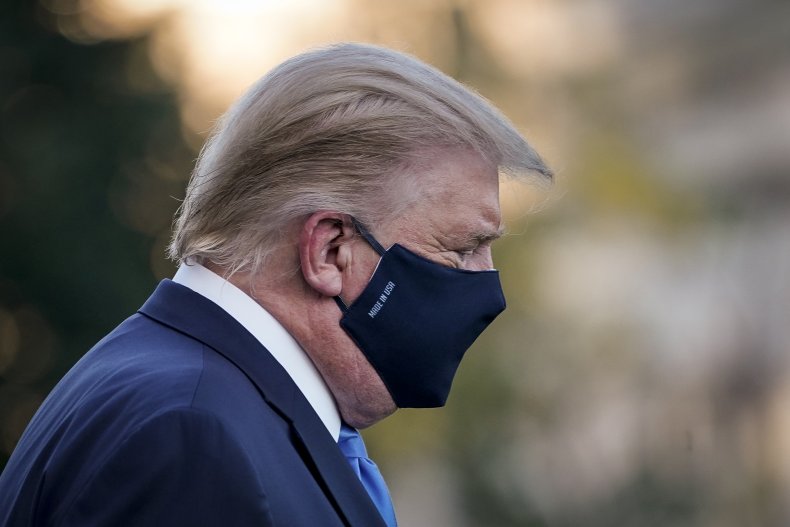 News of Trump and first lady Melania Trump's infections on Friday morning came hours after Hope Hicks, one of the president's closest aides, tested positive for the coronavirus. Since then, a number of Republicans and others in Trump's political circle have tested positive, including former New Jersey Governor Chris Christie; former White House counselor Kellyanne Conway; and Trump's re-election manager Bill Stepien—as well as GOP Senators Ron Johnson, Mike Lee and Thom Tillis.
On Friday, House Speaker Nancy Pelosi told MSNBC that these developments "changes the dynamics because here they see the reality of what we have been saying all along: This is a vicious virus, and it spreads."
Senate Majority Leader Mitch McConnell has acknowledged the renewed urgency in reaching a deal. "We're closer to getting an outcome" after "talks have speeded up in the last couple of days," he told supporters at an event in Kentucky.
Every Republican opposed the House-passed bill—dubbed the HEROES Act 2.0—on Thursday evening and 18 Democrats crossed party lines to vote against it. These moderate Democrats who represent red-leaning districts believed the bill had virtually no chance of becoming law and wanted the House to wait for a bipartisan deal to be struck before pushing through a vote.
Treasury Secretary Steve Mnuchin offered $1.6 trillion to Pelosi on Wednesday. But with negotiations still ongoing, it is unclear whether Democrats would concede an additional $600 billion. So far, Pelosi has resisted.
While she has told reporters she's "optimistic" about a deal, Pelosi has also said that both sides "have a dollars debate" and "values debate" to overcome.
Spending has been a major issue of contention. Republicans, who want a smaller bill, recently proposed a roughly $500-billion package, about half the price tag of their previously proposed $1 trillion HEALS Act. "We're very, very far apart," McConnell said.
Newsweek reached out to representatives for Pelosi and McConnel for comment.