Donald Trump Set for Slew of Primary Losses as Midterms Strategy Unravels
Former President Donald Trump's run of endorsing midterm candidates who go on to win their respective elections faces being blemished further as more of his picks face defeat in Tuesday's races.
On Tuesday, elections for GOP candidates take place in four states: Alabama, Arkansas, Georgia and Texas. As with other state primaries, Trump has backed a number of candidates, including incumbents already favorites to win their races.
Where Trump has taken the biggest risk in the GOP gubernatorial race in Georgia, where he has supported former Senator David Perdue over the popular Republican Governor Brian Kemp.
Trump has singled out Kemp for repeated criticism and attack after the governor failed to support the former president's baseless claims of widespread election fraud in the Peach State surrounding the 2020 election.
It appears that the risk has not paid off. According to a Fox News poll published on May 18, Kemp holds an overwhelming 32-point lead over Perdue (60 percent to 28 percent), meaning the governor is almost certain to win the Republican candidacy for November's midterms.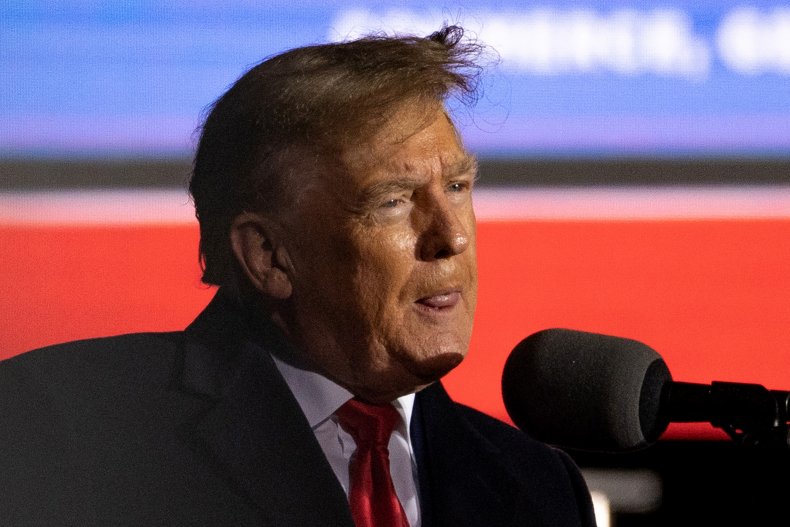 If Kemp does beat Perdue, it will be the third time that a Trump-endorsed gubernatorial candidate has lost their election.
In Nebraska, Charles Herbster lost to Jim Pillen, which ended Trump's 55-0 run of picking winning candidates. Meanwhile, in Idaho, far-right candidate Lieutenant Governor Janice McGeachin was defeated by Governor Brad Little.
In the primary for Georgia's secretary of state, Trump has also endorsed a candidate, Congressman Jody Hice, in a bid to unseat incumbent Brad Raffensperger.
Raffensperger is another official who received scorn from Trump for refusing to overturn the 2020 election results. Raffensperger is known for being on the other end of the phone call in which Trump asked him to help "find 11,800 votes," which would declare the then-president the winner in the state.
While polls have been scant for the secretary of state primary, it does appear that Raffensperger is on course to come out on top in Tuesday's election.
An 11Alive poll conducted between April 22-27 placed Raffensperger in the lead at 31 percent, with Hice second at 20 percent. Of those taking part in the survey, 40 percent said they were still undecided.
A second poll conducted in April, conducted by The Atlanta Journal-Constitution, significantly shortened Raffensperger's lead over Hice, placing him on 28 percent compared to the congressman's 26 percent.
Both surveys indicate that neither of the two frontrunners will win more than 50 percent of the vote, meaning the primary would advance into a run-off between the pair.
Trump has also supported Vernon Jones in the crowded Republican primary for the Georgia seat vacated by Hice. However, a February Trafalgar Group poll showed Jones was only polling on 1.9 percent, meaning Trump's endorsement would need a huge boost for Jones to have any chance of winning the race.
In Alabama, there could be a major twist for Trump as Congressman Mo Brooks—whom the former president withdrew his endorsement of after Brooks said that people should move on from the 2020 election—has raced ahead to second-favorite in the Senate primary race.
When Trump pulled his endorsement, Brooks was languishing way behind in the polls, prompting speculation the former president ended his support for the congressman over fears he will not win the race also contested by frontrunner Katie Britt and Mike Durant.
However, Brooks has enjoyed a surge in the polls since Trump withdrew his backing, and is now on course to advance into a run-off.
According to a poll from the Alabama Daily News and Gray Television published on May 10, Britt is in the lead with 32 percent, followed by Brooks on 22.5 percent—up from 16.1 percent in a March survey—and Durant on 21.4 percent, a decline of 13 points from March.
If two of Trump's endorsed candidates lose their elections, and Brooks shows he became a more popular figure without the former president's backing, CNN's senior data reporter Harry Enten suggested Tuesday's primaries "could be Trump's worst day of May so far."
However, there are still elections in which Trump's endorsed candidates are expected to win on Tuesday.
In Georgia, former football star Herschel Walker is the overwhelming favorite to win the GOP Senate primary—while Trump's former press secretary, Sarah Huckabee Sanders, is widely expected to win the Republican primary for Arkansas governor, as earlier indicated by a Remington Research Group poll from last year.