Trump 'Probably Almost Definitely' Won't Be Reading Woodward's Book, Says 'It's Not Gonna be Good'
Speaking with Fox News host Sean Hannity on Wednesday, President Donald Trump said he most likely wouldn't read a forthcoming book written about him by journalist Bob Woodward.
Woodward's book, Rage, is scheduled to be released on Tuesday. Reports of incidents in the book concerning Trump's response to the coronavirus pandemic have caused controversy among some Democrats, including Democratic presidential candidate Joe Biden. In the book, Woodward claims that Trump understood the potential threat of COVID-19 as far back as February but did not inform the American people of how serious the virus could be. President Trump has not denied Woodward's allegations, but has said he kept mum about the virus in order to avoid a nationwide panic.
Trump said he did not participate in Woodward's last book about him, Fear: Trump in the White House, because Woodward "does hit jobs with everybody. He even did it on Obama. Constant hit jobs on Bush, I guess they did three books, they were all terrible. So I figured, you know, let's just give it a little shot. I'll speak to him. It wasn't a big deal. I'll speak to him."
"I don't know if the book is good or bad," Trump continued. "I have no idea. [I] probably almost definitely won't read it because I don't have time to read it. I gave it a little bit of a shot. Sounds like it's not gonna be good."
Trump said that even though he gave Woodward access, "as usual with the books he writes that didn't work out too well, perhaps. I don't know. Maybe it's good. Who knows?"
Newsweek reached out to Woodward's publishing house, Simon & Schuster, for comment.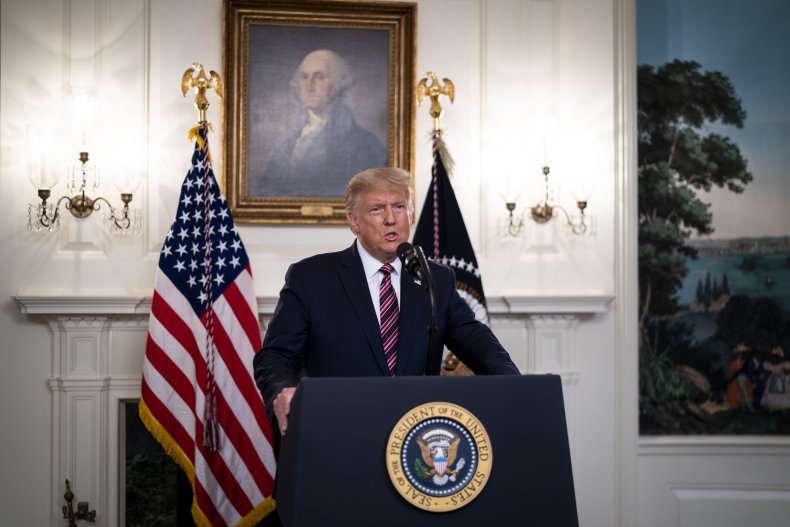 Woodward based portions of his book on recorded interviews with Trump. On Wednesday, Woodward released a conversation recorded in March to CNN. President Trump can purportedly be heard saying that the coronavirus was an airborne infection.
"But the air, you just breathe the air and that's how it's passed," Trump allegedly said. "And so that's a very tricky one. That's a very delicate one. It's also more deadly than even your strenuous flus."
Trump told reporters on Wednesday that he attempted to downplay the seriousness of the virus because he did not "want people to be frightened, I don't want to create panic, as you say, and certainly I'm not going to drive this country or the world into a frenzy."
Democrats have been critical of Trump's coronavirus response plan, with many claiming Trump spread incorrect information about the virus during remarks to the public. Woodward alleged that Trump knew about the dangers of the coronavirus as early as February. At a New Hampshire campaign event in February, Trump told attendees that the virus would disappear with the advent of springtime.
"I really believe they are going to have it under control fairly soon," Trump said. "You know in April, supposedly, it dies with the hotter weather."
Democratic presidential candidate Joe Biden accused Trump of lying about the virus during remarks on Wednesday. "[Trump] had the information," Biden said during a campaign stop. "He knew how dangerous it was. And while the deadly disease ripped through our nation, he failed to do his job on purpose."