As Trump Promises 'Best Stimulus' After Election, White House, Pelosi Have Yet to Agree on 10 Provisions
House Speaker Nancy Pelosi is pushing Treasury Secretary Steve Mnuchin for answers on 10 outstanding issues concerning a new stimulus package because responses from the White House are "critical" for continuing negotiations.
While the weeks leading up to the election seemed promising for another stimulus deal before November 3, a package is unlikely to materialize. Both sides blame the other for the failure to provide another round of economic relief. Meanwhile, President Donald Trump, who says he expects to win re-election and take full control of Congress, has made a big promise.
"After the election, we'll get the best stimulus package you've ever seen, because I think we're going to take back the House because of her," Trump said. "I think you have a lot of congressmen and women—Republican—that are going to get elected. We'll take back the House. We'll hold the Senate. We'll hold the White House."
But Pelosi doesn't foresee Democrats losing control of the House, and in a letter to Mnuchin on Thursday, she said Trump's words only have meaning if he can persuade Senate Majority Leader Mitch McConnell to forge an agreement with Democrats in the House.
Newsweek reached out to Mnuchin for comment but did not receive a response in time for publication.
Also standing in the way of another package are 10 outstanding questions that Democrats have yet to receive answers to from the White House. On October 15, Mnuchin told CNBC's Squawk Box that the White House wasn't going to let "the testing issue stand in the way" and that both sides would "fundamentally agree, with their testing language subject to some minor issues."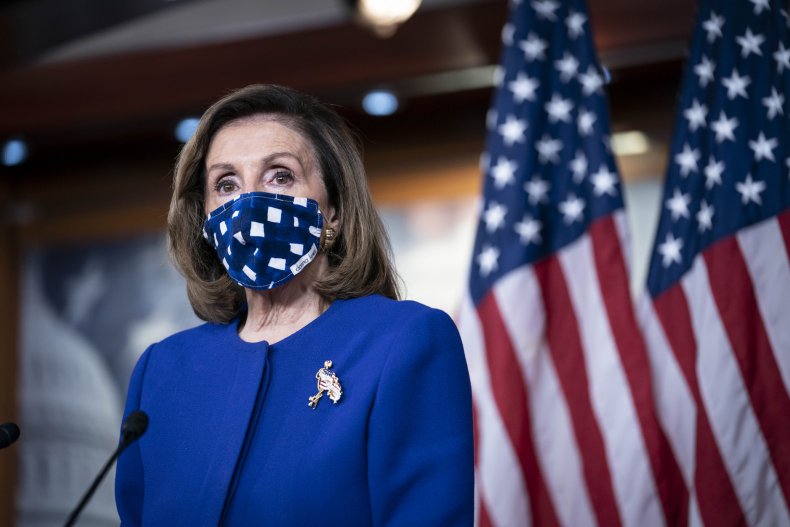 Despite that declaration, Pelosi said the Democrats were still waiting on a final answer on the language about a national strategy for coronavirus testing, tracing and treatment. They're also waiting for responses on vaccines, the Provider Relief Fund and Affordable Care Act coverage for unemployed workers, she said.
When Democrats and the White House started negotiating in August, the overall price tag was a sticking point, and at times there was a more than $1 trillion gap between them. However, Trump later advocated for legislators to "go big or go home," opening the door to a larger package.
The two sides agree on another round of stimulus checks, and last week Pelosi said they were "just about there" for an agreement on how to "crush the virus." The speaker has criticized the White House and Republicans for failing to appropriately address the pandemic and pushed for increased federal funding for a response because she sees ending the outbreak as the best path to America's economic recovery.
Pelosi also saw Trump's desire to get a deal done before the election as "leverage" for the Democrats in their negotiations. In light of his remarks that a deal would happen after the election, Pelosi told MSNBC on Wednesday the stock market could motivate him to continue negotiations.
"As he sees the market react to the spread of the virus and sees the market react to the fact that we do not have an agreement—which could inject resources into the economy—hopefully now he will come to the table in a serious way," she told MSNBC.
If negotiations continue, Pelosi told Mnuchin in the letter, the Democrats will need answers on state and local aid, funding for schools and whether the White House will agree to fund child care and a strengthened earned income tax credit and child tax credit. Details on unemployment benefits and safety measures for workers have yet to be ironed out as well.
With less than a week until Election Day, a deal is unlikely to come together, and the election's outcome could shift negotiating power, thereby changing the details of an agreement.