Trump Promises 'Best Stimulus Package You Have Ever Seen' After Election Day
President Donald Trump told reporters on Tuesday that the next coronavirus economic stimulus package should arrive after the November election.
Talks between Republicans and Democrats about the details of a new stimulus package have been at a standstill for months. The U.S. Senate was adjourned after Monday's swearing-in of new U.S. Supreme Court Justice Amy Coney Barrett and is not expected to reconvene until after Election Day. Lawmakers could be asked to return to Washington, D.C. to vote on a new act if an agreement is reached.
Trump blamed Democratic House Speaker Nancy Pelosi for the breakdown in discussions on Tuesday, implying that her behavior would lead to the election of multiple Republicans.
"Our people should get it—the stimulus," Trump said. "But Nancy Pelosi is only interested in bailing out badly run, crime-ridden Democrat cities and states. That's all she's interested in. She's not interested in helping the people."
"After the election, we'll get the best stimulus package you've ever seen, because I think we're going to take back the House because of her," Trump continued. "I think you have a lot of congressmen and women—Republican—that are going to get elected. We'll take back the House. We'll hold the Senate. We'll hold the White House."
According to a Monday tweet by Pelosi's aide Drew Hammill, Pelosi "remains optimistic that an agreement can be reached before the election." Trump's Tuesday remarks imply that a pre-election deal is not likely to occur.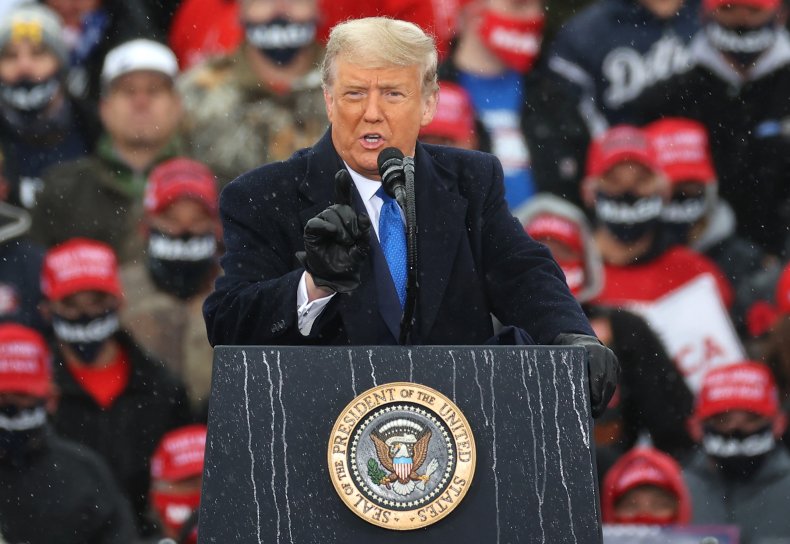 In an interview with CNN on Sunday, Pelosi accused the Trump administration of "moving the goalposts" on certain details of the stimulus package including funding for coronavirus testing, unemployment benefits and contact tracing.
"Every time they say we move the goalposts, that means they're projecting what they did," Pelosi said, adding that she sent a list of concerns to U.S. Treasury Secretary Steven Mnuchin on Friday. Pelosi added that she was expecting a response on Monday or Tuesday. Newsweek reached out to Pelosi's office for comment.
In October, Democrats passed a $2.2 trillion economic stimulus package. Republicans originally wanted a smaller bill, closer to $500 billion. Recent negotiations have centered on a package that would cost around $2 trillion. Republicans have pointed to some aspects of the Democratic proposal, such as direct cash payments to undocumented individuals, as being items they will not approve.
Whether Republicans will still control the White House after the election is still up in the air. According to polling site FiveThirtyEight, Trump is trailing Democratic presidential nominee Joe Biden. An average of national polls shows Biden with 52.1 percent of support while Trump holds 43 percent.
Trump has decried most polls as "fake news." In an October tweet, Trump wrote that the "Lamestream Media has gone absolutely insane because they realized we are winning BIG in all of the polls that matter. They write or show one false story after another."