Trump Promises More Troops for Poland As President Duda Seeks Reelection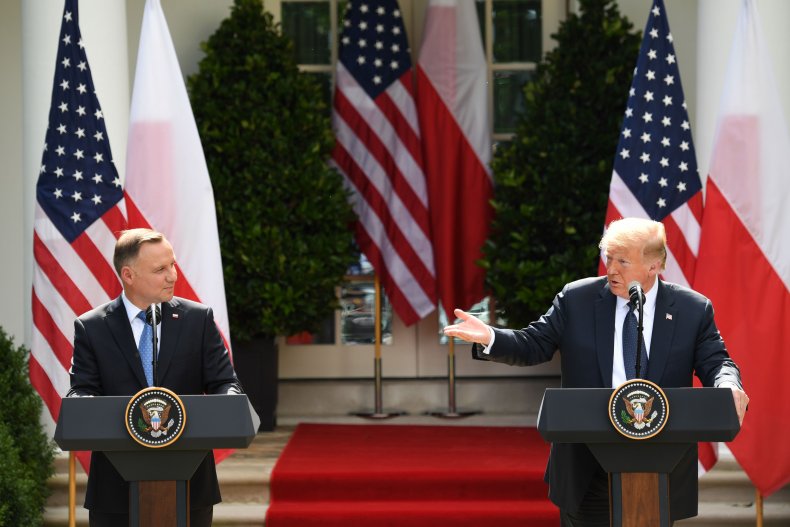 The United States will pull thousands of troops from Germany, redirecting at least some of them to Poland, President Donald Trump confirmed Wednesday after meeting with his right-wing Polish counterpart at the White House.
"Poland is one of the few countries fulfilling their obligations under NATO—in particular their monetary obligations, and they asked us if we would send some additional troops," Trump told reporters. "We'll probably be moving them from Germany."
Trump estimated the reduction could leave Germany with about 25,000—down from 52,000.
The meeting and announcement comes just four days ahead of a tight election for Polish President Andrzej Duda, a key Trump ally.
"The people of Poland think the world of him, and I don't think he needs my help," Trump said of the unusual trip and public appearance so close to a foreign election.
Duda's White House visit was the first for a head of state since a pause because of the coronavirus outbreak. It came just four days ahead of his tight reelection.
The two met behind-closed-doors to discuss United States-Polish partnerships in fighting the coronavirus pandemic, energy security, trade and the military commitments.
Trump and Duda have forged a tight relationship—at one time going so far as to suggest that a "Fort Trump" would be built in Poland.
Duda confirmed to reporters, through a translator, that he had requested that the military be rerouted to his Eastern European country rather than withdrawn.
"The security of Europe is very important to me—I'm talking about the united Europe," Duda said. "It shows that if anyone wanted to attack Poland, it won't be a soft landing for that entity—it won't pay off—because the strongest army of the world is present and would help Polish soldiers defend our borders."
Russia has already protested against any escalation of U.S. forces in Poland, amid strained relations between the two countries.
Trump said he felt comfortable with the troop relocation because he doesn't think that Germany is spending enough on its own defense. Trump often derides countries in that situation as countries not meeting their "obligations" to NATO. Countries decide on their own how much of their gross domestic product to spend as a percentage on their own defense and are not obligated under NATO.
"Poland has been very, very terrific," he said, before chiding Germany again for relying on energy from Russia.
"[Germany is] spending billions of dollars to buy Russian energy and then we're supposed to defend them from Russia?" Trump said.
"I think the people of Germany are very unhappy about it."