Trump-Promoted Judge Told 2-Year-Old Guatemalan Boy to Be Quiet or Dog Would 'Bite You': Report
A judge President Donald Trump promoted to the Department of Justice's Board of Immigration Appeals reportedly once yelled at a 2-year-old Guatemalan boy in court to shush him and threatened to bring a dog in to bite him.
Judge V. Stuart Couch, promoted by the Trump administration to the board that makes deportation decisions last month, confronted the boy in a courtroom in Charlotte, North Carolina, in March 2016, according to an affidavit that Mother Jones obtained and reported on Tuesday.
Couch pointed at the boy who was making noise and demanded that he stop, before losing patience and raising his voice.
"I have a very big dog in my office, and if you don't be quiet, he will come out and bite you!" Couch yelled, as a Spanish-language interpreter translated for the boy.
"Want me to go get the dog? If you don't stop talking, I will bring the dog out. Do you want him to bite you?" Couch said, according to Kathryn Coiner-Collier, who worked for the Charlotte Center for Legal Advocacy helping immigrants who could not pay for lawyers and penned the affidavit. On the record, Couch incorrectly said the boy was 5 years old and that "the court is using a strong voice and strong language with him in the absence of parental control."
Couch then told Coiner-Collier to take the boy out of the room. The boy escaped from Coiner-Collier and ran back into the courtroom where his mother was, and continued screaming and crying in a room close by that Coiner-Collier took him to. The hearing concluded a few minutes later and the boy was reunited with his mother, but they, and other women and children, "left court hysterically crying, almost all of them," Coiner-Collier said.
Whether the 2-year-old boy understood Couch's translated orders was not clear because his first language was the Mayan language K'iche'.
The Charlotte Center for Legal Advocacy filed a complaint with the Justice Department the month after the incident and Couch's supervisor, Assistant Chief Immigration Judge Deepali Nadkarni, wrote that "Judge Couch acknowledged he did not handle the situation properly and assured me it will not occur again." It is unclear whether Couch faced any disciplinary measures.
Couch at the time of the hearing said he would reassign the case with the 2-year-old and his mother to another judge but they appeared before him again in August 2017. The mother's attorney got Couch to reassign their case to another judge, who denied asylum to them. But the boy and his mother's case is pending before the Board of Immigration Appeals — which Couch is on, thanks to the Trump administration.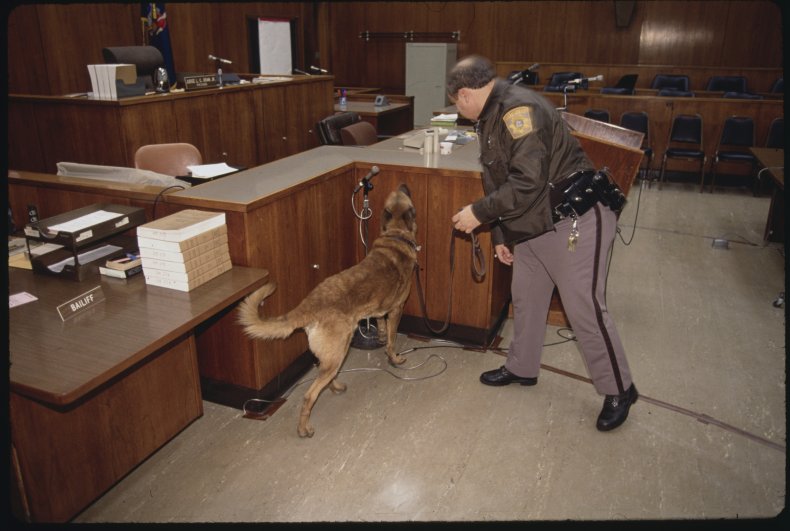 Before becoming a member of the board, Couch was a pilot in the U.S. Marine Corps, an adjunct professor of military law at the Charlotte School of Law. Couch allegedly threatened another young child with an attack dog more than 10 years ago.
From 2013 to 2018, Couch granted asylum requests for only 7.9 percent of cases, far below the national average for immigration judges of roughly 45 percent.
The Justice Department did not immediately respond to a request for comment from Newsweek on Tuesday.