Trump Promotes False Fox News Story About Dead Voters That Tucker Carlson Has Already Apologized For
President Donald Trump on Tuesday promoted a debunked Fox News opinion story about dead election voters days after host Tucker Carlson apologized and retracted claims in the report.
"DEAD PEOPLE VOTED," the president tweeted, alongside an opinion article that was adapted from Carlson's monologue on November 11's Tucker Carlson Tonight.
On Thursday, Carlson amplified the Trump campaign's claim that two dead individuals illegally voted in Georgia.
"No one quite embodies that story like James Blalock of Covington, Georgia. Mr. Blalock was a mailman for 33 years until he passed away in 2006," Carlson said at the time. "Fourteen years later, according to state records he was still mailing things. James Blalock cast a ballot in last week's election."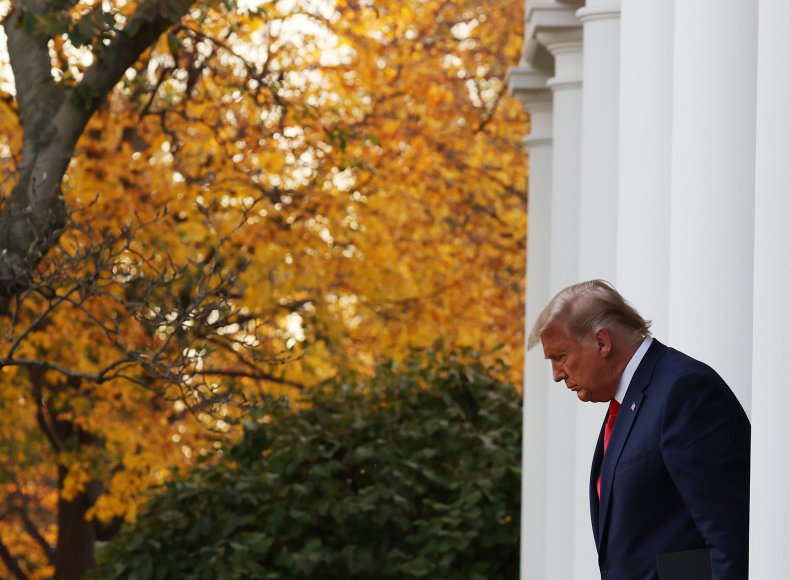 Various local news outlets in the state immediately moved to debunk the claim. They found that the two people cited by Trump as dead voters were actually living citizens mistaken for being deceased. Newton County officials also clarified that Blalock, one of the alleged dead voters, did not vote because he was dead. Blalock's widow, registered under his name as "Mrs. James E. Blalock Jr.," was the one who voted.
On Friday, Carlson apologized to his viewers for promoting the debunked claim and issued a correction. "We've got some good news tonight, and an apology," he said. "One of the people who voted in last week's election isn't dead. James Blalock is still dead, we told you about him, but it was his wife who voted. She voted as Mrs. James Blalock. It's old-fashioned and we missed it."
In the host's initial report and the opinion story that Trump shared today, Carlson also claimed that a woman named Linda Kesler was also a dead person who voted. "Then there's Linda Kesler of Nicholson, Georgia. Linda Kesler died in 2003. Seventeen years later, she was still voting in presidential elections," he said at the time.
The Jackson County Board of Elections later found that Kesler had voted, but she was alive and entitled to vote. The woman who voted had "an entirely different address, birthday, and zip," the board said.
Carlson didn't issue a correction for Kesler on air or in the opinion story that Trump promoted. The host also mentioned two other names that allegedly belonged to dead voters in the state: Deborah Jean Christiansen and Edward Skwiot. It is unclear whether those names had been confirmed as dead voters at the time of publication.
In a statement to Newsweek, Carlson said, "As we reported last week, dead Americans voted in this election. We shared a few examples. But on Friday, we began to learn some of the specific dead voters reported to us as deceased are in fact alive. We initially corrected this on Friday. We regret not catching it earlier. But the truth remains: dead people voted in the election."
Newsweek reached out to the Trump campaign for comment.