Trump Promotes 'Very Safe' Rallies As Experts Predict 378K U.S. COVID Deaths in 2020
President Donald Trump said Tuesday that his campaign events provide a safe environment in regards to the spread of the coronavirus. Meanwhile, the U.S. recorded over 200,000 fatalities attributable to the virus in fewer than eight months.
President Trump's in-person campaign rallies have drawn criticism because many attendees can be observed not wearing face masks and standing close together despite social distancing recommendations. Some of Trump's supporters have chosen not to wear masks, claiming that covering their faces infringes on their civil liberties. In an interview with WGN's NewsNation on Tuesday, Trump said he has not heard any criticism of any of his outdoor events.
"My supporters are very smart," Trump said. "A lot of them wear masks and some don't. That's their choice. But when you're outside there's a lot of room."
"Everything that I've read and everything that I've seen is 'outside is better' in terms of COVID or as I call it the China virus, right?" Trump added. "But COVID. I think we have a very safe environment."
Trump also said that the only pushback he had received from holding rallies at outdoor venues, such as airplane hangars, was because attendance ran between 30,000 and 40,000 people. "I almost like the airports better because you can get more people for one thing, and they're outside," Trump said.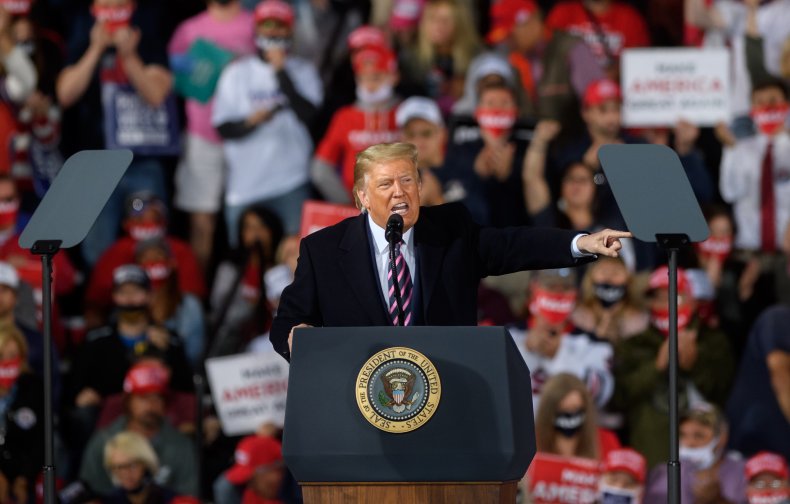 While Trump's rallies continue to push the boundaries of coronavirus mitigation guidelines, the U.S. recorded 205,471 deaths on Tuesday. Infectious disease expert Dr. Anthony Fauci told CNN on Tuesday that the U.S. death rate from the virus was "really very sobering and in some respects stunning."
Virus projection modeling from the Institute for Health Metrics and Evaluation at the University of Washington indicated there could be 378,321 deaths due to COVID-19 by the beginning of 2021.
Democratic Speaker of the House Nancy Pelosi commemorated the deaths with a moment of silence on the floor of the House on Tuesday. In a statement, Pelosi said President Trump's "contempt for science, governance and the health of the American people has led to an historic national tragedy."
Some observers have alleged that Trump's rallies could turn into super-spreader events, places where the coronavirus could easily be transmitted among large numbers of people. Democratic Governor Gretchen Whitmer of Michigan said that a Trump rally in her state in September violated her executive orders "without question."
Whitmer had limited large organized events to 100 attendees. Some estimates place the number of people at Trump's outdoor rally in Freeland, Michigan at 5,500 individuals. Whitmer said during an interview with Jill Biden, wife of Democratic presidential candidate that such events "fly in the face of the best science."
Joe Biden criticized Trump's response to the coronavirus during a visit to Wisconsin on Monday, saying that the president views his campaign events as being about "entertainment, adoration and not respect."
"Trump keeps his distance from anyone in the rally," Biden said. "The folks who come are packed in tight as they can be risking disease, mostly without a mask, but not Trump. He safely keeps his distance."
Newsweek reached out to the Biden campaign for further comment.