Trump Propaganda: Facebook Purges Hundreds of Iranian, Russian Accounts
Hundreds of rogue social media accounts linked to "inauthentic behavior" across Facebook, Instagram and Twitter were purged this week, with several troll networks—allegedly operated from Iran and Russia—being independently used to spread propaganda.
Facebook CEO Mark Zuckerberg held a conference call Tuesday, revealing that networks of accounts had been caught "misleading people about who they were and what they were doing." One major campaign originated in Iran and was targeting people in the Middle East, U.S., U.K. and Latin America. Facebook removed a total of 652 pages, groups and accounts.
In one English-language post, a parody of The Notebook featured North Korean leader Kim Jong Un embracing President Donald Trump, with the title changed to read The Nukebook. Another showed Michelle Obama holding a sign reading: "An immigrant took my job." The group spent at least $6,000 on ads to push divisive content to additional accounts between 2015 and 2018.
The probe was launched following a tip from cybersecurity firm FireEye, and some profiles were tied to Iran's state media. One account in the network claimed to be independent—called "Quest 4 Truth"—but was actually linked to state outlet Press TV. It hosted political content and became increasingly focused on the U.K. and U.S., typically posing as news channels, Facebook said.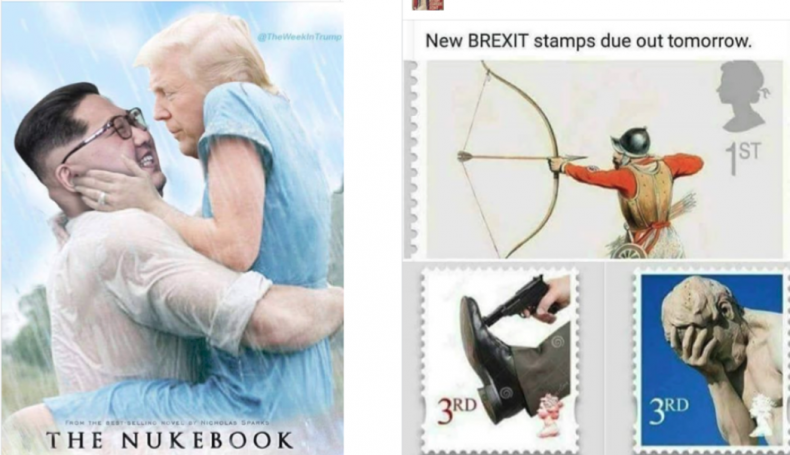 The investigation has been widespread. A second fork dismantled accounts for conducting cyberattacks. A third focused on content being spread about Middle East politics in Arabic and Farsi. And a forth removed content seemingly uploaded by profiles linked to Russian intelligence. The Russian accounts, it was stressed, were not targeting the U.S. midterms.
They were instead "covertly spreading pro-Russian and pro-Assad content."
As the November 6 elections approach, some fear that the tactics spotted during 2016's election meddling campaign will resurface. Multiple politicians have already been hit with phishing attacks.
"The intent behind this activity appears to be to promote Iranian political interests, including anti-Saudi, anti-Israeli, and pro-Palestinian themes, as well as to promote support for specific U.S. policies favorable to Iran, such as the U.S.-Iran nuclear deal (JCPOA)," FireEye said.
"In the context of the U.S.-focused activity, this also includes significant anti-Trump messaging and the alignment of social media personas with an American liberal identity," it added in a report.
"The activity does not appear to have been specifically designed to influence the 2018 U.S. midterm elections, as it extends well beyond U.S. audiences and U.S. politics."
The same day, after Facebook, Twitter announced it had removed 284 accounts originating from Iran for engaging in coordinated manipulation. "As with prior investigations, we are committed to engaging with other companies and relevant law enforcement entities," it tweeted.
Mark Warner, the vice chairman of the U.S. intelligence committee, spoke out about the reports on Tuesday. He said the discovery was "further evidence that foreign adversaries are actively using social media to divide Americans and undermine our democratic institutions."
"I've been saying for months that there's no way the problem of social media manipulation is limited to a single troll farm in St. Petersburg, and that fact is now beyond a doubt," he added.
Zuckerberg said Tuesday that Fakebook's investigation into the networks remains ongoing.