Trump Spent Almost One-Third Of His Presidency At His Own Properties, Golfed More Than Obama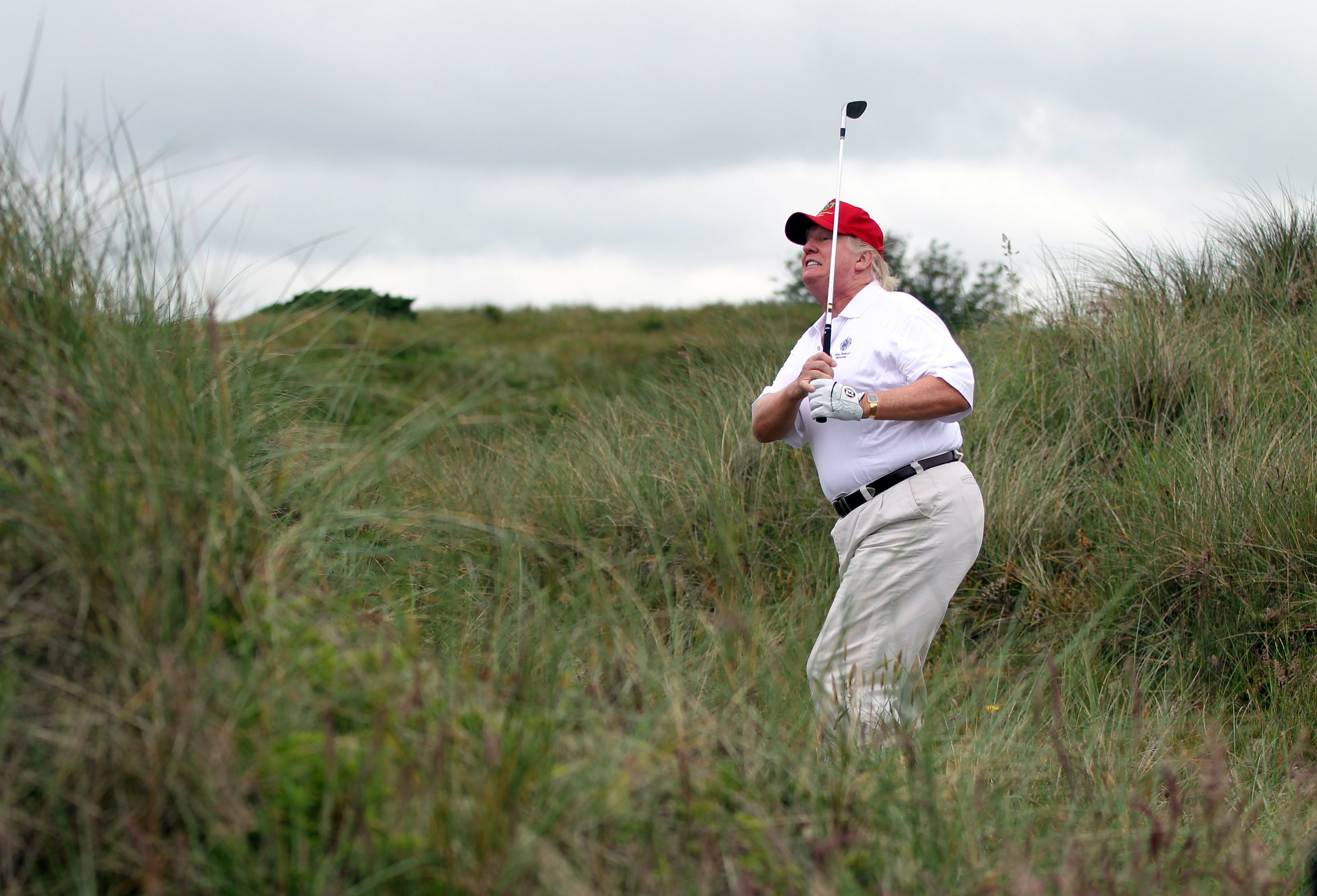 President Donald Trump has now spent almost one-third of his time in office at his own properties and has played more golf than President Obama over the same period.
The president has visited one of his properties on 112 days of his presidency, according to a count NBC News updated Wednesday in the midst of Trump's 10-day Christmas vacation at Mar-a-Lago—his private club in Palm Beach.
U.S. taxpayers paid $6.6 million in airfare alone this year for Trump's frequent trips to Mar-a-Lago, according to U.S. Air Force records.
Trump also spent part or all of about 40 days at his golf course in Bedminster, N.J., the Wall Street Journal reported.
The White House did not respond to a Newsweek request for comment.
Critics say Trump personally profits off his presidency by staying and holding political events at his properties, which in turn generates attention and free advertising for those businesses. It also allows wealthy club members to access the president and sometimes watch him conduct business with world leaders like Shinzo Abe.
Except for 17 days in August that Trump spent at Bedminster and his Thanksgiving and Christmas breaks, the president usually visits his properties on the weekends, according to NBC.
Trump criticized his predecessor for spending time on the links, tweeting in 2014, "Can you believe that, with all of the problems and difficulties facing the U.S., President Obama spent the day playing golf. Worse than Carter."
But PolitiFact did the math and discovered that, as of last month, Trump had played golf 35 times while Obama had only played 24 times by the same point of his presidency.
On the campaign trail in 2016, Trump had promised, "I'm going to be working for you. I'm not going to have time to play golf."
PolitiFact also noted that sometimes Trump's staff won't confirm when he plays golf, so their researchers have to rely on reporters or private citizens who see the president on the course.
Trump sparked criticism Tuesday when he rolled into the Trump International Golf Club around 9 a.m. after tweeting that he was heading "back to work in order to Make America Great Again (which is happening faster than anyone anticipated)!"
Trump's golfing partners on Tuesday were Sen. David Perdue (R-Ga.), pro golfer Bryson DeChambeau, and former pro golfer Dana Quigley, according to the White House.
The president's relaxed schedule, which contains more golf and television than past U.S. leaders, was lampooned in a Newsweek cover story in August that featured the headline, "Lazy Boy: Donald Trump is bored and tired. Imagine how bad he'd feel if he did any work." The cover featured an illustration of Trump with two favorite items: a TV remote control and a Diet Coke.