Trump Properties Earned a Fortune from GOP and Foreign Governments During President's First Year in Office: Report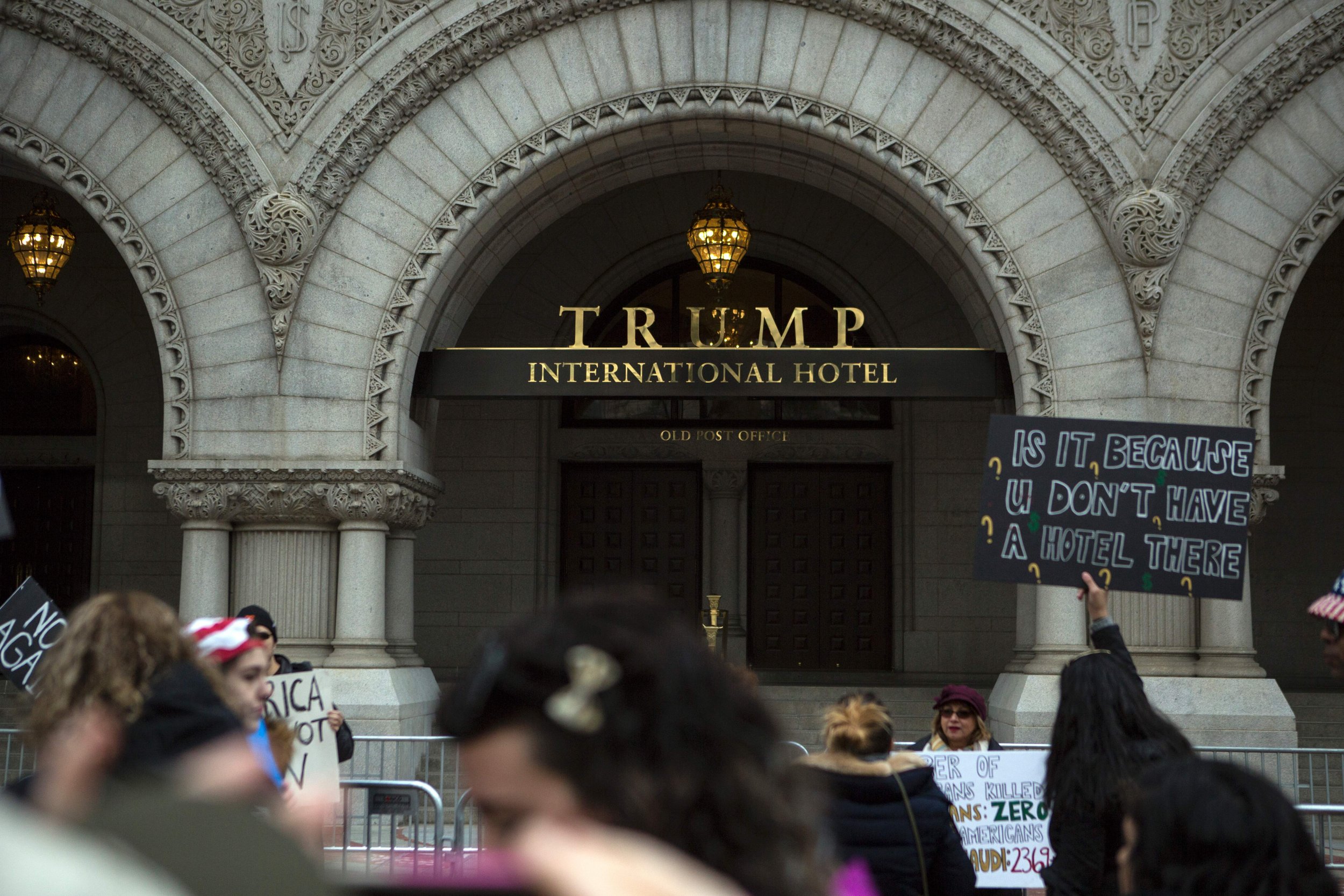 Dozens of foreign governments, special interest groups and GOP congressional campaign committees spent hundreds of thousands of dollars at President Donald Trump's properties during his first year in office, according to a watchdog report.
A study released Tuesday by the non-profit Public Citizen said that these groups clearly intended to win over the president by helping his business empire profit as he sat in the Oval Office.
Altogether, 64 groups that could present conflicts of interest spent money at Trump locations. Major payments included a Saudi Arabian public relations company spending $270,000 at Trump's Washington, D.C. hotel and more than $305,000 from GOP campaigns at several Trump Organization properties.
Big-name GOP lawmakers including Senator Bob Corker of Tennessee, Representative Kevin McCarthy of California and Representative Dana Rohrabacher of California spent money at Trump properties, as did Trump supporter and one-time GOP hopeful Milwaukee County Sheriff David Clarke.
"There is no way to escape the conclusion that these events are being held at the Trump properties as a way to curry favor with the president," Public Citizen President Robert Weissman told NBC News. "It's just extraordinarily unlikely that these groups have an affinity for the Trump brand [that's] so great [that's] unrelated to the fact that the president happens to be named Trump."
Days before taking office, Trump infamously stood in front of stacks of folders during a press conference and said he was turning over control of his businesses to his sons, Eric Trump and Donald Trump Jr., and a Trump-appointed ethics advisor.
"They are not going to discuss [the business] with me," Trump said to quell conflict of interest concerns. But Trump still remained in control of his global empire and did not fully divest himself from its finances.
In 2017, Trump companies also sold more than $35 million worth of real estate to secretive buyers whose names were disguised under limited liability corporations, according to a USA Today report last week. Bobby Burchfield, the ethics adviser at the Trump Organization, has said the Trump Organization looks into all buyers to determine where their money is coming from before signing any deals.
Public Citizen's Weissman said that the Saudis were putting forth a "full-fledged effort to seduce Trump" by staying at the Trump International Hotel in Washington. The governments of Malaysia and Kuwait also booked rooms there.
A wave of reviews calling the president's D.C. hotel a "shithole" were added to its Yelp listing over the weekend, after Trump used that phrase to refer to Haiti and African nations that are sending immigrants to America.
Watchdog groups including Public Citizen and Citizens for Responsibility and Ethics in Washington (CREW) have filed dozens of lawsuits against Trump over alleged conflicts of interest. CREW filed a lawsuit against Trump soon after he took office saying that the president had violated the anti-bribery emoluments clause of the U.S. Constitution by refusing to sell his business empire. A federal judge dismissed the case in December 2017.