Trump Prosecution Could Be Jeopardized by Georgia Grand Jury Leak
The revelation that the Georgia special grand jury investigating election interference by Donald Trump and his allies in the state recommended indictments for multiple people on a range of charges in its final report could jeopardize the former president's prosecution, experts have said.
The information was leaked by Emily Kohrs, a forewoman of the Georgia grand jury, on Tuesday night. Most of the jury's final report remains officially sealed.
During interviews with the likes of The Associated Press and the New York Times, Kohrs revealed that the number of people recommended for indictment by the jury for meddling with Georgia's 2020 presidential election "is not a short list." She declined to disclose the name of those charged—and refused to reveal whether Trump was among those recommended for indictment.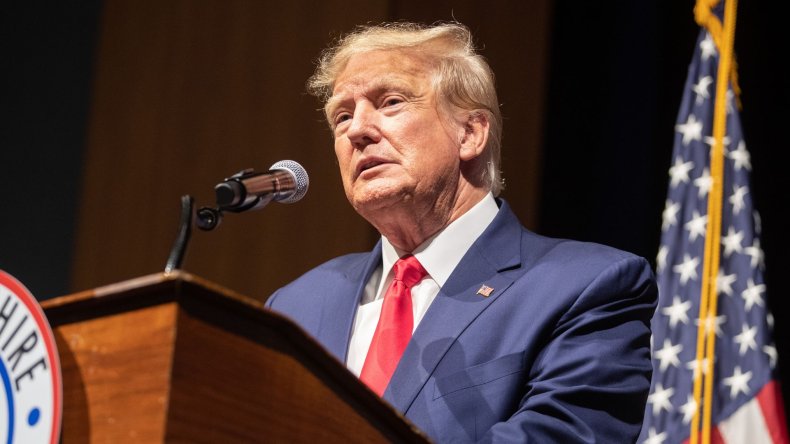 "It is not going to be some giant plot twist," she said. "You probably have a fair idea of what may be in there. I'm trying very hard to say that delicately."
Experts have expressed surprise and alarm over the unusual declaration made by a member of the special grand jury.
"Weird. Does anyone recall the foreman of a grand jury, particularly in a consequential case, doing a media tour BEFORE any indictments are made?!? Like, who IS this woman??," wrote political commentator David Axelrod on Twitter.
"Very odd for the foreperson of the Trump grand jury in Georgia to be speaking to the media, much less saying stuff like this," tweeted Washington Free Beacon journalist Chuck Ross.
"I am deeply troubled by the fact that this much disclosure is going on in this process and I think it has legal ramifications. [...] I would not be surprised if we see a judge come in and admonish the remainder of the special grand jury," said former assistant director for counterintelligence at the FBI Frank Figliuzzi talking on MSNBC on Tuesday night.
Other experts are concerned about the negative consequences Kohrs' statement might have on prosecuting Trump.
"This woman may forever poison prosecuting Trump in Georgia. I hope someone tells her to go home and zip her lips. She is a disaster!," tweeted CNN columnist John W. Dean.
Special grand juries in Georgia do not have indictment powers, but their recommendations can be embraced by the district attorney and brought forward to a regular grand jury. Trump's case is being followed by Fulton County district attorney Fani T. Willis, who has led the investigation.