President Donald Trump promised long prison sentences for vandals seeking to dismantle controversial Confederate monuments by signing a "very strong" executive order on Friday.
"I just had the privilege of signing a very strong Executive Order protecting American Monuments, Memorials, and Statues - and combatting recent Criminal Violence," Trump tweeted on Friday. "Long prison terms for these lawless acts against our Great Country!"
The executive order prescribes prison sentences of up to 10 years for anyone guilty of the "willful injury of Federal property," while vowing to prosecute vandals "to the fullest permitted under Federal law."
In addition to American historical figures, the order singles out "depictions of Jesus or other religious figures." It also promises to withhold funding from law enforcement agencies and state governments that "fail to protect monuments, memorials, and statues."
"President Trump will never allow violence to control our streets, rewrite our history, or harm the American way of life," White House Press Secretary Kayleigh McEnany said in a statement obtained by Newsweek.
Statues have been targeted amid ongoing protests against racial injustice and police brutality sparked by the death of Georg Floyd, an unarmed Black man who died in the custody of Minneapolis, Minnesota police on May 25.
The president's push to protect the statues comes while he continues to heavily tout his strict devotion to law enforcement amid demonstrations, issuing multiple tweets in recent weeks that read simply "LAW & ORDER!"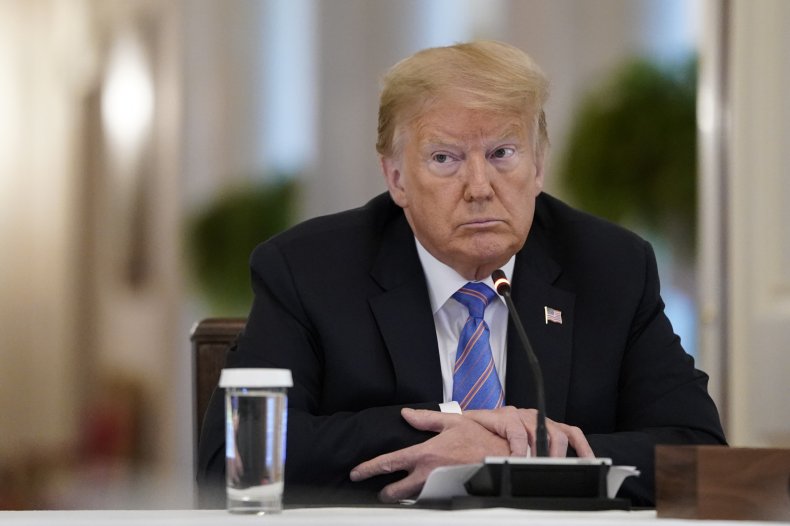 On Friday he tweeted that he cancelled weekend plans to visit his golf resort at Bedminster, New Jersey in order to "make sure LAW & ORDER" is maintained near the White House, while guarding against any "arsonists, anarchists, looters, and agitators."
Protesters and others have spoken out against paying tribute to the Confederacy and Confederate military leaders, who they say likely committed treason by waging war against their own country in an effort to preserve slavery.
The president responded to Washington, D.C. vandals who last week took down a statue of Confederate General Albert Pike, the only Confederate statue in the nation's capital, by calling the episode "a disgrace" to the country.
Statues of American historical figures who were not aligned with the Confederacy have also been targeted. Trump expressed outrage after vandals attempted to bring down a statue of former President Andrew Jackson, a slave owner and architect of the Indian Removal Act that led to the Trail of Tears, in a park near the White House on Monday night.
"We are looking at long-term jail sentences for these vandals, and these hoodlums, and these anarchists and agitators," Trump told reporters on Tuesday. "They're bad people. They don't love our country and they're not taking down our monuments."
Trump has also insisted that he "will not even consider" renaming U.S. military bases that are named in tribute to Confederate soldiers, despite growing support from some key military figures and prominent politicians, including Republicans. Displaying of Confederate emblems has been banned by the Marine Corps and the Navy, while a similar move is said to be under consideration by the Army.
"The United States of America trained and deployed our HEROES on these Hallowed Grounds, and won two World Wars," Trump tweeted on June 10. "Therefore, my Administration will not even consider the renaming of these Magnificent and Fabled Military Installations."
Newsweek reached out to the White House for additional comment. This article will be updated with any response.