Trump Protects His Hair With Giant Umbrella, Leaving Melania and Barron in Bad Weather
President Donald Trump covered himself with a large umbrella but left his wife, Melania, and youngest son, Barron, to fend for themselves against the elements as they boarded Air Force One at Florida's Palm Beach International Airport last Friday.
Related: Give Melania Trump a break: Criticism of first lady is sexist, says expert on presidents' spouses
Several photos of the first family's departure from Florida to Washington, D.C., showed that the president walked up the ramp first, with his family following and the wind blowing around the first lady's hair. It was unclear whether it was raining or if he offered the umbrella to them.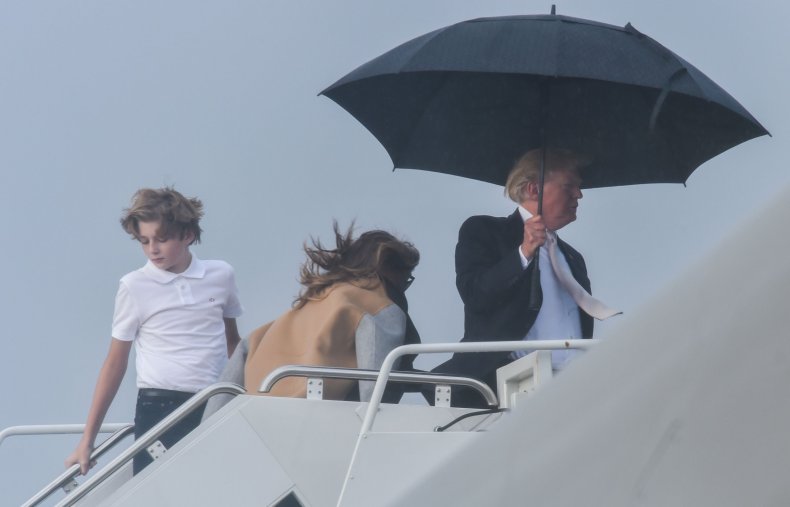 Social media users called the president out as ungentlemanly.
Twitter user Sonny Grewal tweeted, "Just seen @realDonaldTrump getting on his plane holding an umbrella for himself while his son and wife get soaked in the rain. says it all about him! #selfishTrump."
Why would the president shield himself from the blustery conditions and not his wife and 11-year-old son? Perhaps it was his hair.
The president's daughter Ivanka has described her father's hair as a perfectly engineered do that requires multiple steps to whip up, according to Michael Wolff's Fire and Fury: Inside the Trump White House.
"She often described the mechanics behind it to friends: an absolutely clean pate—a contained island after scalp-reduction surgery—surrounded by a furry circle of hair around the sides and front, from which all ends are drawn up to meet in the center and then swept back and secured by a stiffening spray," the book says.
This is not the first time the president has been accused of being unchivalrous. At his inauguration, some pointed out that Trump walked up the White House steps alone and shook hands with Barack and Michelle Obama, who waited for Melania to step out of the car and catch up.