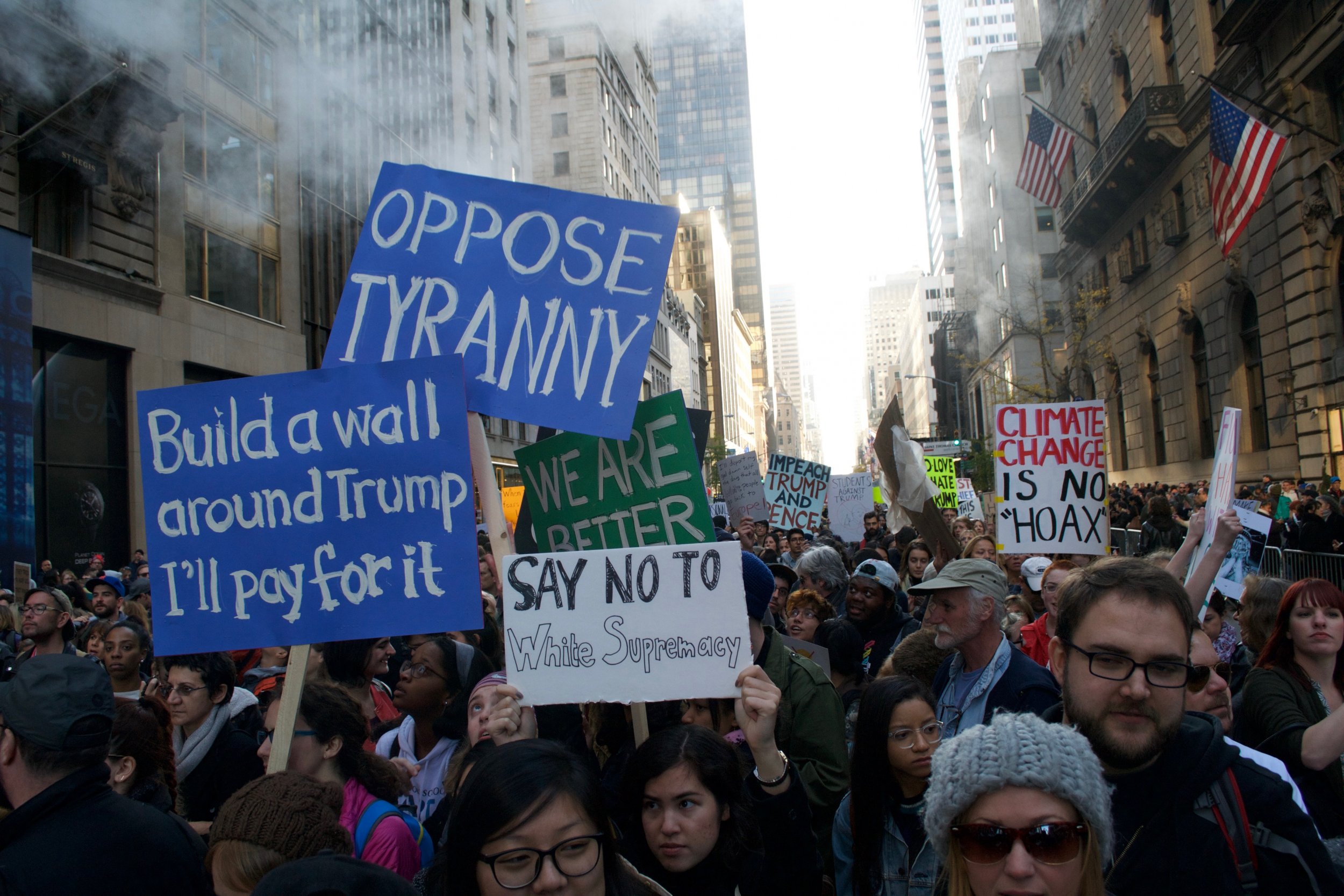 "Ivanka 2024!" were some of the first words I heard at Saturday's protest against President-elect Donald Trump in New York City.
Three teenage boys, all Trump supporters, huddled near police in front of a small yellow school bus on the edge of Union Square, where Saturday's protest began. They tried hard to bait the crowd by yelling out their support for Trump and reminding everyone that the election is over. Most people ignored them when they suggested, jokingly or not, that Trump's daughter, Ivanka, could be our future president, as could his son, Don, Jr. A screaming match instead broke out over Trump's stance on Syrian refugees.
"Although I support the right to protest—it's a fundamental right of our country—I do not support the right where people are defying democracy by saying that he's not our president," says Tripp Judkins, 17, a Trump supporter from Westchester, New York. "He is. He won fair and square."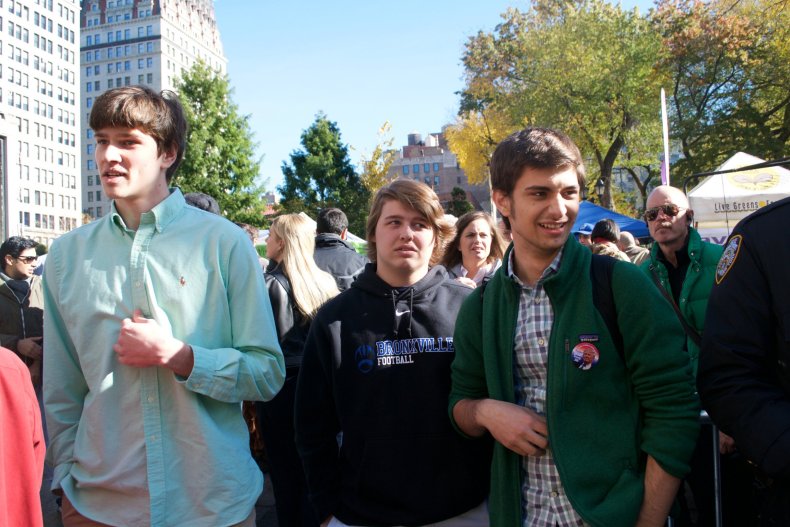 "Voting shows that you care about something," he adds. "We weren't able to do that [the U.S. voting age is 18], but this is showing that we care."
Thousands of people made the two-mile trek from Union Square to Trump Tower on 5th Avenue, joining crowds in cities across the country on the fourth day of anti-Trump protests since the U.S. presidential election on Tuesday. In New York, the protest was a peaceful one watched over by an omnipresent NYPD helicopter and hordes of police, especially as we neared Trump Tower. Filmmaker Michael Moore was among Saturday's protesters and showed up at the building, where Trump has been holed up with staff for the past few days, demanding a meeting with the president-elect. Nigel Farage, leader of the U.K. Independence Party and leading campaigner of Brexit, met with Trump at the tower on Saturday, later tweeting that he seemed "relaxed and full of good ideas."
"I find Trump's way of speaking, his populist rhetoric, his way of speaking about minorities, extremely terrifying, especially as someone who has studied the Holocaust and Hitler," Elizabeth Hyman, a Jewish historian who studied the World War II period, tells Newsweek during the protest. "I find his speech about Muslims and blacks and immigrants especially scary. I'm terrified by the way a lot of white men in this country have latched onto him."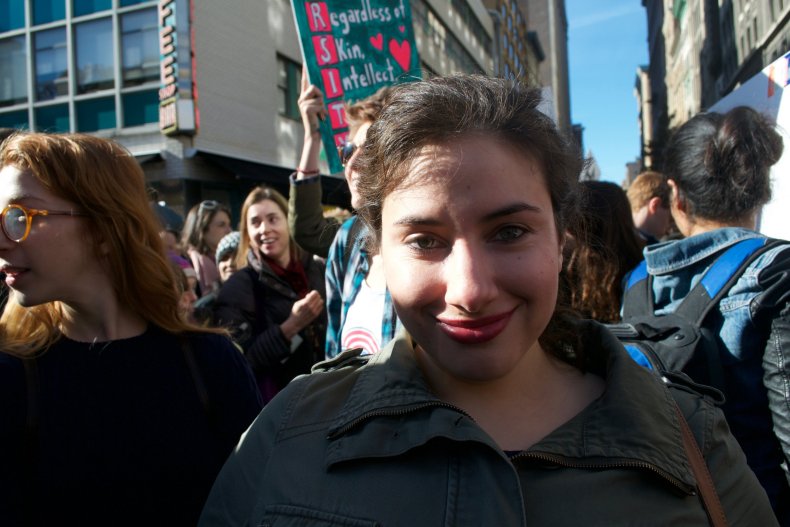 Hyman says there are problems in the frequent comparison of Trump to Adolf Hitler, but, "In an emotional sense I can understand. I can also understand that what [Trump's] saying is really textbook fascist rhetoric, which is the same across contexts." She adds that: "If shit gets bad here, I'm Jewish, I might just haul ass to Israel and hope that I don't get hit by a bomb there."
On the way to Trump Tower, chants of "My body, my choice, her body, her choice," "Not my president," and "No hate, no fear, refugees are welcome here," echoed through the crowd. When someone yelled, "Hillary won the popular vote!" a man next to me replied, "That's a good one." Around 5th Avenue and 18th St., a little girl honked the horn of a parked car as her dad whipped the crowd into cheers.
Sporting red, white and blue glitter on his beard and eyebrows, John Chagnon said he was at the protest to represent the LGBTQ community and HIV-positive people. In the days after the election, a number of LGBT support hotlines reported a spike in calls, including many from suicidal people and teenagers.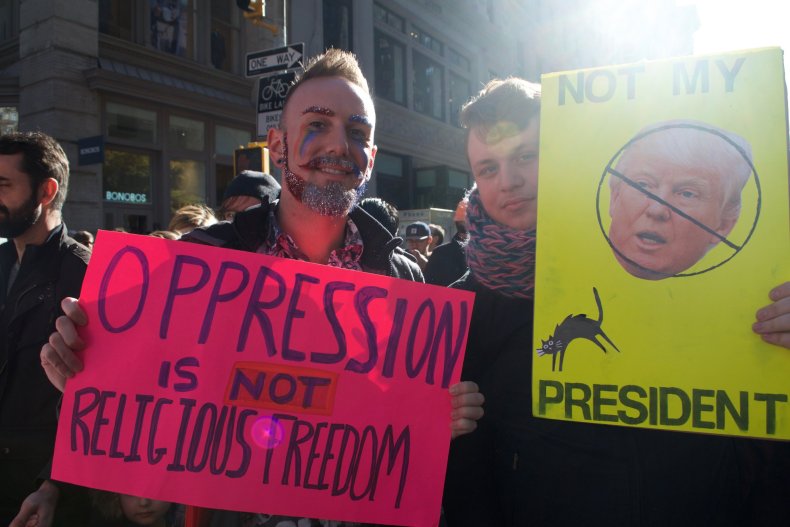 "There's a lot of people who are really concerned right now, all over the spectrum, who really don't know what our future holds because [Trump] hasn't made a really solid promise to the LGBTQ community or the HIV-positive community," says Chagnon. "The only thing we've really heard is that he wants to repeal the Affordable Care Act, so what is he going to do for us who are living with HIV and have expensive meds every month and we need these in order to survive and not contract AIDS?"
Daniella Parsley, 14, and her friends made signs on Friday in preparation for the protest. One reads: "Say no to sexism, racism, violence, hate and Trump;" another, "Bullies go to the principal's office, not the Oval Office." Parsley says both Bernie Sanders and Hillary Clinton, who lost Tuesday's election, are better than Trump, the latter because: "She has morals that I agree with, and she stands up for the things that I believe in."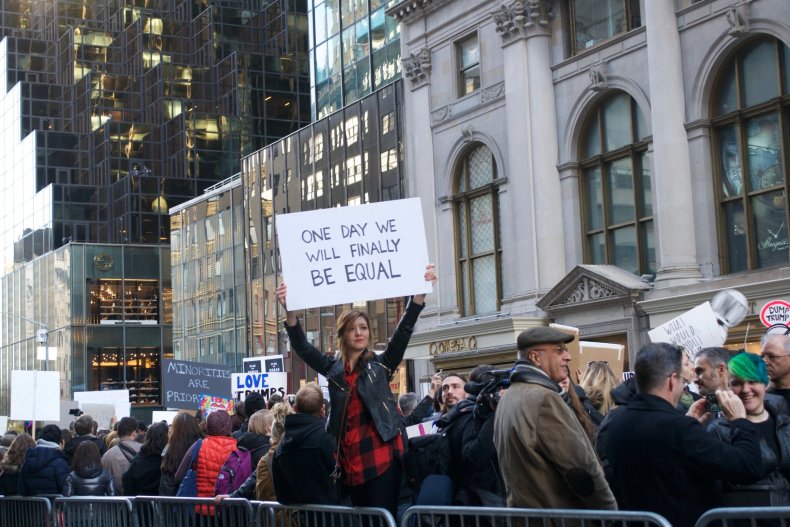 "It's just really disgusting to think that someone that is all of these things is going to run our country, and that's going to be for the rest of my childhood, which makes me really angry," she says. "I can't wait for the next election to come so I can vote him out."
Near Bryant Park, I bumped into Ned Russin, singer and bassist for the band Title Fight. Russin is originally from Wilkes-Barre, Pennsylvania, the Rust Belt city that helped deliver the state to Trump. Wilkes-Barre is located in Luzerne County, which flipped dramatically this election to Trump, who received 58 percent of the vote. In 2012, more than half of the country's residents voted for President Barack Obama.
"We are people that represent the town. We wear the name of our town proudly, and that doesn't represent the belief of the people that we know there, the company that we keep, the kind of attitude and agenda that we want to put forward beyond Donald Trump's hate and his bigotry and racism and xenophobia and misogyny," says Russin. "Beyond all that, this is not what our area's about, and we want people to know that. We want people in our area to realize that Donald Trump is not going to fix things."
Russin says he remembers protests against President George W. Bush and the Iraq War when he was growing up, but was too young to really understand them. Now, he says, Title Fight is speaking about "making a more concentrated effort and being more vocal" about political issues in the U.S. On Wednesday, the band tweeted a message of "peace, love and understanding" and said, "We must look harder and take action."
"If people have the ability to say something and they want to say something, I think they should. I don't think people are required to be making public statements, but I do think that emotions are politics," says Russin. "No matter what happens, artists of this generation and creative people are going to find new ways to discuss what happened, how to heal it and how to move forward. It's something that I hope will make the world a better place. It's corny and cliche, but what else is there to say? I think that should be everyone's goal."