Trump Publicly Asking China To Investigate Biden Is 'Still Illegal' and 'Still A Crime,' Watergate Prosecutor Says
President Donald Trump has encouraged another foreign country to investigate former Vice President Joe Biden and his son Hunter, this time publicly calling on China to look into the 2020 Democratic frontrunner—a move legal experts say is "still illegal."
Trump was speaking to reporters on the South Lawn outside the White House on Thursday when he doubled down on his calls for Ukraine to probe the Bidens over what he claims were corrupt business deals. Then he escalated the situation even further by suggesting that China do the same.
"China should start an investigation into the Bidens because what happened with China is just about as bad as what happened with Ukraine," Trump said. "I'm sure that President Xi [Jinping] does not like being under that kind of scrutiny where billions of dollars is taken out of his country by a guy that just got kicked out of the Navy."
The president has accused Hunter Biden of using a 2013 trip to China with his father, who was then serving as vice president, to get $1.5 billion from the country for a private equity fund. Despite his claims, Trump has not shared any evidence of wrongdoing.
When asked if he had sought President Jinping's help with the matter, Trump said: "I haven't, but it's certainly something we can start thinking about."
The remarks came as Trump continues to fume over the House of Representatives' ongoing impeachment inquiry into his behavior. The inquiry was launched amid reports that Trump pressured Ukrainian President Volodymyr Zelensky to investigate the Bidens and then tried to cover it all up.
Former Watergate prosecutor Nick Akerman told Newsweek that asking China to intervene is Trump's "new defense" against the impeachment inquiry but that the strategy is likely to backfire.
"As usual, Trump thinks if he asks for the investigation in public there is nothing wrong with the ask," Akerman said. "Whether in public with the Chinese or in private with Ukraine ... his actions are still illegal and still amount to a crime."
Harvard Law professor Laurence Tribe told Newsweek that Trump is "proceeding on the premise that he can get away with murder if he commits it often enough and in front of everybody. It's a daring strategy and one we can't let him pull off if we care about our country and want to have a legal system that applies to everyone."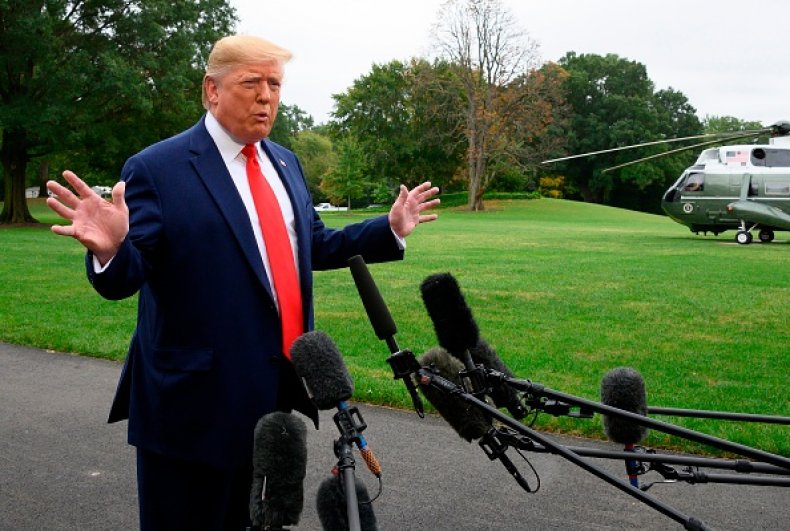 The Biden campaign slammed the president in a statement shortly after his comments, stating that the "defining characteristic of Donald Trump's presidency is the ongoing abuse of power."
"What Donald Trump just said on the South Lawn of the White House was this election's equivalent of his infamous 'Russia, if you're listening' moment from 2016—a grotesque choice of lies over truth and self over the country," said Kate Bedingfield, Biden's deputy campaign manager.
House Democrats have been moving full steam ahead on their impeachment inquiry, issuing several subpoenas for information relating to Trump's conversations with Ukraine. Secretary of State Mike Pompeo and Trump's personal attorney Rudy Giuliani have both been subpoenaed by lawmakers.
But on Thursday, House Minority Leader Kevin McCarthy urged Speaker Nancy Pelosi to suspend the inquiry until she establishes more "transparent and equitable rules and procedures."
"Unfortunately, you have given no clear indication as to how your impeachment inquiry will proceed—including whether key historical precedents or basic standards of due process will be observed," McCarthy wrote in a letter to Pelosi.