Trump Says Puerto Rico's Debt Would Be 'Wiped Out.' His Budget Chief Says That Isn't Happening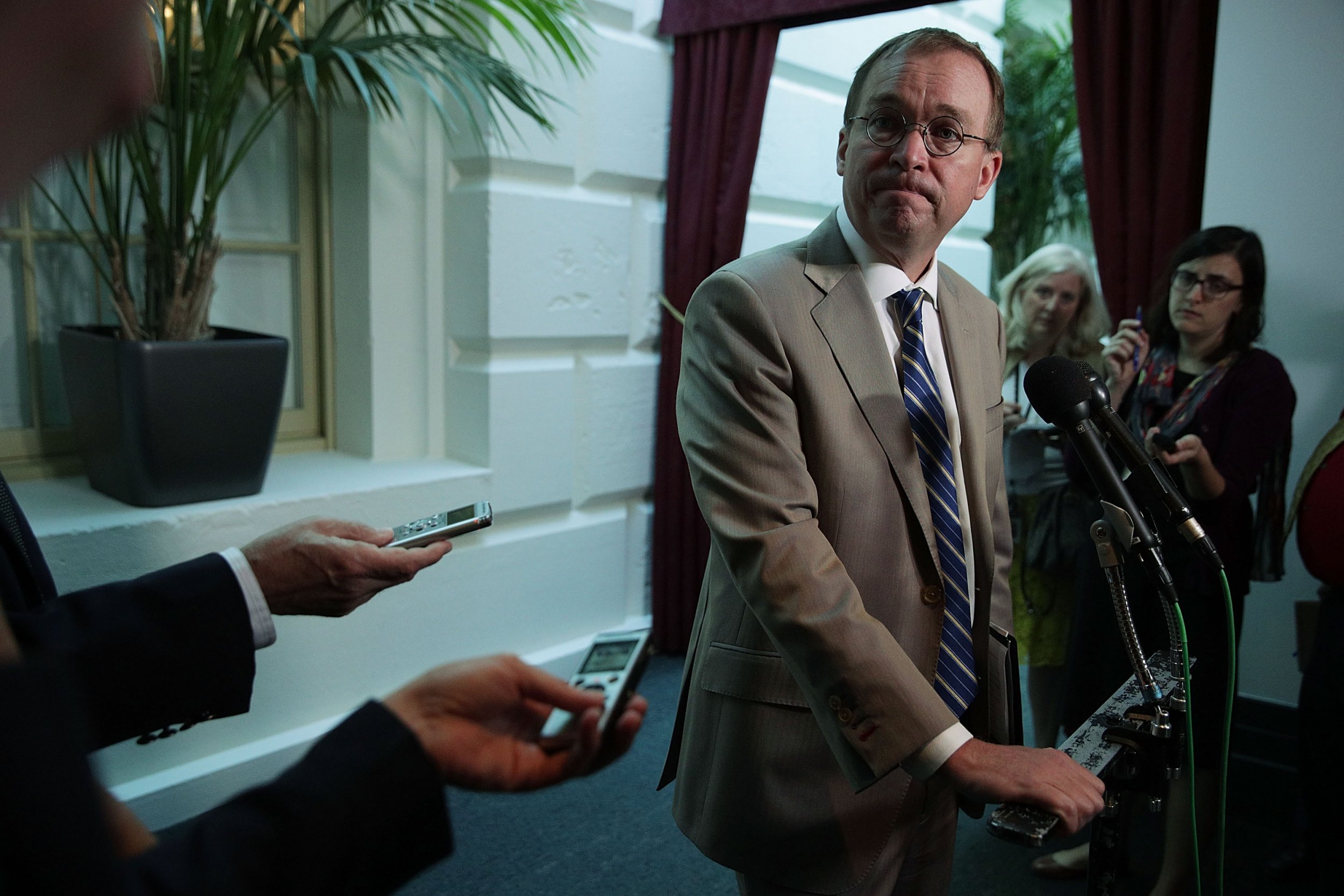 A Trump administration official is again correcting the president's public remarks. The president had promised that Puerto Rico's debt would be "wiped out"—but Mick Mulvaney, the director of the White House budget office, says the U.S. is not "going to pay off those debts."
"We are going to work something out" on Puerto Rico's debt, Trump said in an interview with Fox News Tuesday night. "We have to look at their whole debt structure. They owe a lot of money to your friends on Wall Street. We're going to have to wipe that out. That's going to have to be—you know, you can say goodbye to that. I don't know if it's Goldman Sachs but whoever it is, you can wave goodbye to that."
But Mulvaney reminded audiences not to take Trump too literally in an interview on Wednesday.
"I think what you heard the president say is that Puerto Rico is going to have to figure out a way to solve its debt problem," Mulvaney said.
He said the administration would suggest an aid package, which would be sent to Congress, to help handle rebuilding in Puerto Rico, but that the administration is not "going to pay off those debts," Mulvaney said. "We are not going to bail out those bond holders."
Puerto Rico Governor Ricardo Rossello shrugged off Trump's remarks on Wednesday. "As far as the comments made about wiping the debt clean, that is the opinion of the president."
The financial impact of storm-ravaged Puerto Rico's crisis has been a frequent topic for Trump in recent days.
At a briefing with local officials, Trump complained about how Puerto Rico's disaster is affecting U.S. finances.
"I hate to tell you, Puerto Rico, but you've thrown our budget a little out of whack—because we've spent a lot of money on Puerto Rico and that's fine, we've saved a lot of lives," Trump said.
Hurricane Maria has killed at least 34 people in Puerto Rico but the recovery could imperil all 3.5 million residents of the island. It is deep in a $74-billion debt crisis, about $9 billion of which consists of outstanding electric utility bonds—an amount that is expected to soar by $30 billion as the territory rebuilds its power plants and power grid.
The new fiscal troubles come four months after the island's government filed for bankruptcy. And even before the storm, a report in Bloomberg showed that the island's economy has been floundering for more than a decade as about 400,000 people have left for the mainland since 2008. With a lack of power and destroyed homes, that number is expected to rise, continuing to imperil Puerto Rico's economy.