Trump Pulls Back Troops Fighting Al-Shabab Islamic Terrorist Group in Somalia
President Donald Trump's Friday decision to remove U.S. military troops from Somalia includes soldiers who have been engaged in fighting the terrorist faction, Al-Shabab.
Approximately 700 U.S. troops are stationed in Somalia, where they have been training Somali soldiers and carrying out raids against Al-Shabab, which has been connected with Al-Qaeda. Trump's withdrawal of the troops follows his November reduction of U.S. military presence in Afghanistan.
"While a change in force posture, this action is not a change in U.S. policy," read a Friday statement from the Department of Defense about the Somalia withdrawal. "We will continue to degrade violent extremist organizations that could threaten our homeland while ensuring we maintain our strategic advantage in great power competition."
"The U.S. will retain the capability to conduct targeted counterterrorism operations in Somalia, and collect early warnings and indicators regarding threats to the homeland," the statement added.
According to the DOD, some of the U.S. troops will be relocated to "neighboring countries," which would potentially allow the U.S. to continue monitoring Al-Shabab activity and perform "cross-border operations."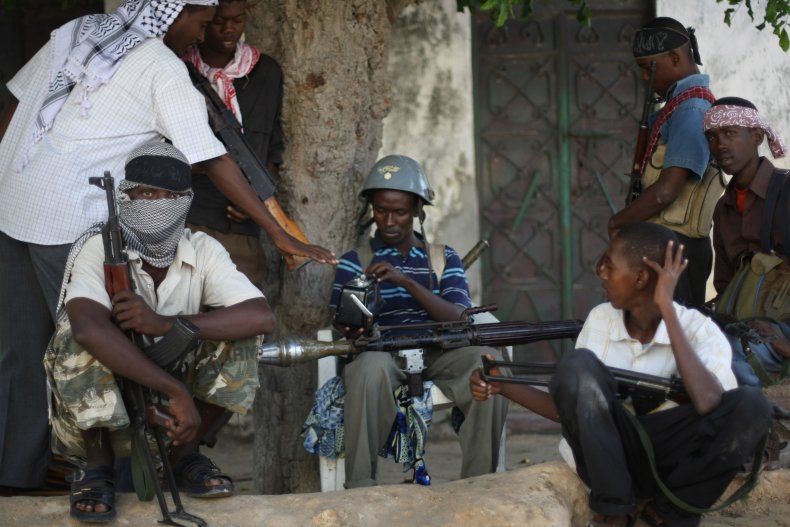 In a statement emailed to Newsweek on Friday, the Commander of U.S. Africa Command U.S. Army General Stephen Townsend indicated that their commitment to the region remains "unchanged."
"Our presence in Somalia will decrease significantly but U.S. forces will remain in the
region and our tasks and commitment to partners remain unchanged," Townsend said. "The U.S. remains committed to our work in East Africa and Somalia, to include building and maintaining regional security, continuing to observe and intensify pressure on Al Qaeda's franchise al-Shabaab and advancing mutual interests with our East African partners."
In September, U.S. Navy Rear Admiral Heidi Berg told reporters that Al-Shabab "is the most capable terrorist group on the African continent in terms of the ability to potentially threaten Western interests regionally." According to the Military Times, U.S. forces had carried out 46 airstrikes against Al-Shabab as of September 2020.
Al-Shabab, which wishes to establish an Islamic state in Somalia, has been responsible for attacks against both Somali and U.S. soldiers. In September, an Al-Shabab suicide bomber attempted to infiltrate a Somalian military installation. In the attack, three Somali soldiers were killed and one U.S. soldier was wounded. The U.S. soldier was medically treated for non-life-threatening injuries.
Trump had promised to reduce troop involvement overseas during his presidential nomination speech in August. "Unlike previous administrations," Trump said, "I have kept America out of new wars and our troops are coming home."
Trump's decision to withdraw troops from Somalia ran in opposition to former Secretary of Defense Mark Esper's policy. Esper favored redistributing troops overseas, but would not commit to a troop reduction. In November, Esper was fired by Trump.