Trump Pushes Back on Vaccines for Kids After Ben Carson Calls Shots 'Giant Experiment'
While former President Donald Trump has encouraged adults to get vaccinated against COVID-19, he said he isn't backing the inoculation for children because he believed they're less affected by the virus than adults.
The Centers for Disease Control and Prevention (CDC) has recommended all Americans who are at least 5 years old get vaccinated against COVID-19. Hesitancy among adults to inoculating children is higher than vaccine hesitancy in adults in general and former Trump administration officials have differing opinions on whether kids should be inoculated.
On Thursday, Trump told Chris Stigall, host of Philadelphia's Morning Answer, that he doesn't agree with the CDC's recommendation that kids get the shot.
"Their immune systems are strong," Trump said. "They're not affected, especially like older people who have some kind of problem ... children are different."
Newsweek reached out to Trump's spokesperson for comment about whether his grandchildren are vaccinated but did not receive a response in time for publication.
An estimated 6.4 million American children tested positive for COVID-19 since the pandemic began, according to the American Academy of Pediatrics, with 1.3 million cases occurring after the beginning of September. Children represent about 16 percent of all COVID-19 cases, although hospitalization and death is very rare among children.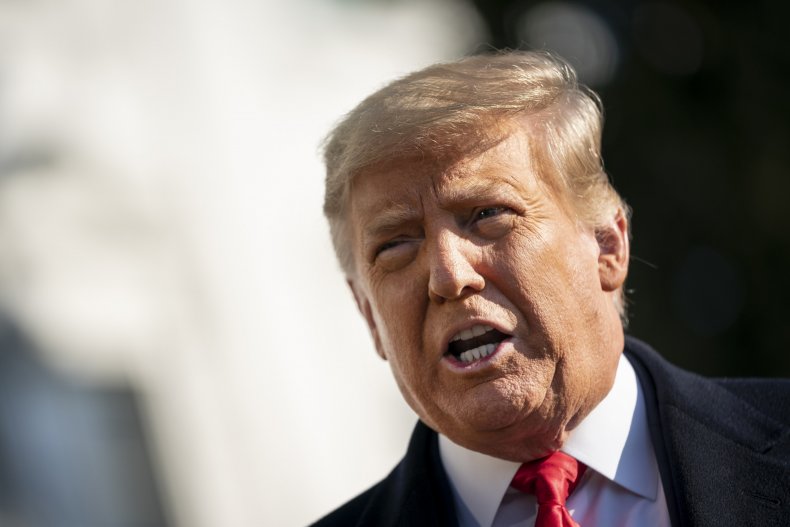 Trump acknowledged that there were more cases of COVID-19 among children in the most recent wave of infections than the first wave. However, he reiterated that it's "just not the same problem with children" so "generally speaking" he wouldn't recommend it.
Former Housing and Urban Development Secretary Dr. Ben Carson also disagreed with the CDC's recommendation that children get inoculated. Carson, who was the director of pediatric neurosurgery at the Johns Hopkins Children's Center and rose to fame after successfully separating conjoined twins, told Fox Business' Maria Bartiromo there isn't information about the long-term impact of the vaccines.
"So this is really, sort of a giant experiment. Do we want to put our children at risk when we know the risk of the disease to them is relatively small but we don't know what the future risks are? Why would we do a thing like that? It makes no sense whatsoever," Carson said.
CDC Director Dr. Rochelle Wolensky urged parents to vaccinate their children because the agency fully reviewed the vaccine before deciding it was safe and effective. Officials noted it's the best way to protect children from the virus and its implications, including the possible development of Multisystem Inflammatory Syndrome (MIS-C), a rare but serious complication.
Former Surgeon General Jerome Adams, who served in the Trump administration, is among those advocating for children to get vaccinated. He told Fox News on Wednesday that he will get his 11-year-old daughter vaccinated against COVID-19 to give her "the best possible chance of growing up healthy and strong."
"COVID-19 was the number six leading cause of death for children last month. And as parents, we do things every day to protect our kids from risks that are remote, or things that don't seem like they're large risks," Adams said. "We put our kids in seatbelts, we have them wear bicycle helmets, we put sunscreen on them to protect them from skin cancer 60 years down the road."
Along with health benefits, Adams added that there's a "real social benefit" to kids being vaccinated. He said his daughter was excited to get the shot because it would decrease the chance she'd have to quarantine, forcing her to miss school and sports.