Trump Pushes Idea of Having In-Person G-7 Summit at White House This Summer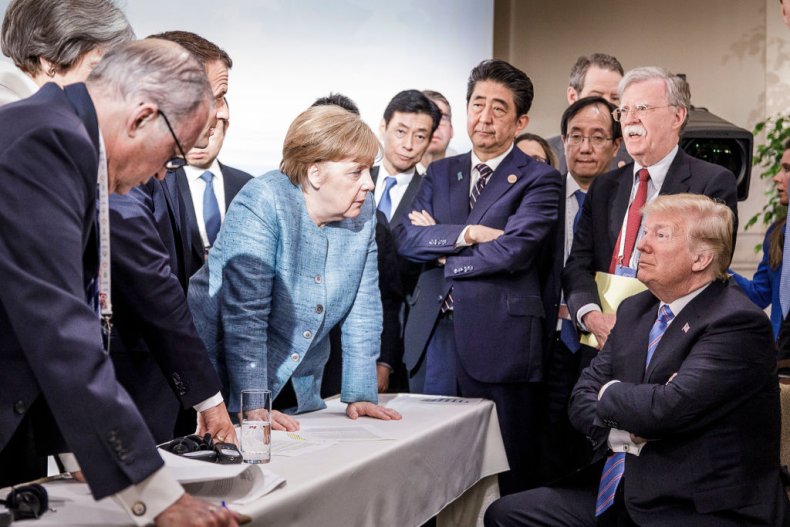 President Donald Trump wants to bring world leaders to Washington, D.C., later this year for an in-person G-7 meeting, after announcing earlier thatt a virtual meeting would be held in the wake of the coronavirus epidemic.
"It looks like G7 may be on because we've done well," Trump told reporters Thursday. "We're ahead of schedule in terms of our country, and some of the other countries are doing very well. It looks like G7 will be on—a full G7."
The virtual diplomatic gathering is scheduled for June 10-12. Trump didn't say whether he wants to set a new date or hold the in-person meeting at that time.
Trump said he expects to announce more details "early next week."
"When that all comes together, probably it will be in D.C., at the White House, but there could be a piece of it at Camp David, which is nearby," he said, referring to the president's country retreat in Maryland.
The G-7 is an annual meeting of top leaders from the United States, France, Germany, Canada, Japan, Italy and the United Kingdom. Its location rotates between the countries. The Trump administration had planned to hold the event at Trump National Doral resort in Miami but reversed the decision after facing backlash over the selection of a private property Trump owns.
As the coronavirus outbreak swept the globe this spring, the White House announced that it would host the meeting by video conference.
But Trump in recent days has signaled that he wants to go back to the in-person plan.
"Now that our Country is 'Transitioning back to Greatness', I am considering rescheduling the G-7, on the same or similar date, in Washington, D.C., at the legendary Camp David," he tweeted Wednesday. "The other members are also beginning their COMEBACK. It would be a great sign to all—normalization!"
Washington, D.C. remains under a stay-at-home order, but Mayor Muriel Bowser announced Thursday that the district could begin a gradual reopening next week.
Washington has identified has recorded more than 7,700 confirmed COVID-19 cases and more than 400 deaths.
According to the White House, Trump discussed his intentions with French President Emmanuel Macron on Wednesday. But White House Press Secretary Kayleigh McEnany declined to elaborate on the response from world leaders.
"I don't have any information about the response from world leaders, but we certainly hope to see this happen," she told reporters during a press briefing after the call.
An unnamed Élysée Palace official told French broadcaster French 24 that Macron is "open" to the idea.
"He's even willing to go there, but obviously with this caveat: only if the sanitary conditions allow," the official was quoted as saying.
The French Embassy didn't immediately respond to Newsweek's request for comment.