As Trump Pushes People to Vote in Person, His Campaign Runs Ads Urging Floridians to Vote By Mail
President Donald Trump's disdain for mail-in voting hasn't stopped his campaign from encouraging Florida residents to fill out an absentee ballot application.
Trump, a fierce critic of moving the election to mail-in ballots, posted on Twitter on Wednesday morning, "If you can protest in person, you can vote in person." A reference to the protests that erupted nationwide after George Floyd's death, Trump posted the tweet one day after his campaign started running ads on Facebook and Instagram telling Floridians to send in their absentee ballot.
"We need to vote to SAVE our country," one ad says. "Absentee ballots are GOOD. I need you to get your application and send in your absentee ballot immediately."
The Trump campaign spent between $5,300 and $6,698 on the 78 ads, according to the Facebook Ad Library.
Thea McDonald, deputy national press secretary for the Trump campaign, told Newsweek the campaign was working to ensure voters in every state know how the voting system in their state works. McDonald added that Trump "consistently and rightly" encouraged voters to request absentee ballots if they cannot make it to the polls.
"The President has also correctly distinguished between chaos-ridden universal mail-in voting systems, like the one that led to California's disastrous primary that left 100,000 ballots uncounted, and traditional absentee vote-by-mail systems, like the tried and true system in Florida—a distinction Democrats and many in the mainstream media purposely ignore to sow confusion," McDonald said.
Absentee ballots were originally intended to give people who were not physically present in their jurisdiction a way to vote, however, states have since taken on looser guidelines. More than 30 states and the District of Columbia allow any voter to request an absentee ballot, according to The Washington Post, and in five states, every eligible voter receives a ballot in the mail.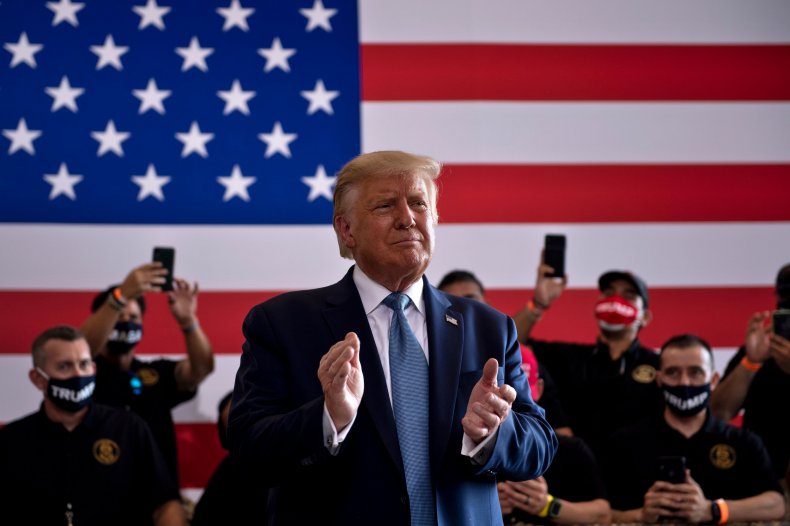 Trump's drawn a distinction between absentee voting and universal mail-in voting, arguing that the latter is far less secure than the practice he participates in himself. The president voted by mail in New York City's 2017 mayoral election, the New York 2018 primary and on Tuesday, mailed an absentee ballot for Florida's primary. Trump changed his residency from Trump Tower in Manhattan to his Mar-a-Lago resort in Palm Beach, Florida in 2019.
"Absentee is great, but universal is going to be a disaster, the likes of which our country has never seen," Trump told reporters on Tuesday. "It'll end up being a rigged election, or they will never come out with an outcome. They'll have to do it again. And nobody wants that, and I don't want that."
White House Chief of Staff Mark Meadows reiterated Tuesday that Trump supports a system that requires people to request a ballot that they fill out and then mail back. His concern, he told reporters, was that changing the system to move entirely to mail-in ballots "this close to an election" would result in ballots not being delivered and eligible votes not being counted.
The administration is trying to determine the lead time necessary to make mail-in ballots work so voters aren't left hanging, Meadows said.
During the California primary in March, 102,428 mail-in ballots were disqualified, the majority of which being because ballots missed the deadline to be mailed, according to the Associated Press. If the party breakdown of the state's disqualified votes is in line with those of the 2016 presidential election, it's unlikely to change the outcome, the AP reported, but in local races where a handful of votes can decide who takes office, mail-in ballot issues could have a significant impact.
In Paterson, New Jersey's municipal elections, 800 ballots were thrown out and Attorney General Gurbir Grewal charged four people for voter fraud. New York had to wait six weeks for the results of its primary and Mark Rom, an associate professor of government and public policy at Georgetown University, told the Denver Post that Trump is right when he says mail-in voting is "a mess." But, he's wrong in the assertion that it's going to be "massively fraudulent" because in most cases of ballots being discarded, it's due to logistical errors and not malicious ones.
The Brennan Center for Justice, a law and public policy institute at New York University, found clerical errors or bad data matching practices were more often to blame than voter fraud. A 2017 report reviewed elections that were studied for voter fraud and found incident rates between 0.0003 percent and 0.0025 percent.
"Given this tiny incident rate for voter impersonation fraud, it is more likely, the report noted, that an American 'will be struck by lightning than that he will impersonate another voter at the polls,'" the Brennan Center said.
Ahead of the election, nine states expanded their rules for absentee voting to make concerns about the new coronavirus a valid reason to request a ballot or moved to a "no-excuse" system. Three of those states, Pennsylvania, Nevada and New Jersey, were sued by the Trump campaign.
On Tuesday night, the Trump campaign in conjunction with the Republican State Committee and the Republican National Committee filed a lawsuit against New Jersey Governor Phil Murphy, alleging his executive order allowing all voters to cast ballots by mail was unconstitutional. Murphy also said he'd extend the deadline for mail-in votes to be counted as long as they were postmarked by Election Day.
"With a stroke of his pen, the governor told his people their votes may not count—they may even be stolen—and that's fine by him," Trump campaign legal counsel Matt Morgan said, according to NJ.com.
State Democratic Chairman John Currie called the lawsuit another "clear attack on our democracy and our voting rights."