Trump Is Pushing For Travel Bans In The Places He 'Doesn't Have Or Want Hotel Deals' In, Amy Siskind Says
The Trump administration is facing scrutiny over its reported plans to renew and its expand its "travel ban" list to include an additional seven countries, including Nigeria.
The new restrictions, which were first reported by BuzzFeed News and Politico, could see the Trump administration's travel ban expanded to affect Nigeria, Tanzania, Sudan, Eritrea, Myanmar, Kyrgyzstan and Belarus.
According to The Wall Street Journal, the Trump administration is still deciding on whether to include all seven countries in the expanded list. If all seven are added, they will join Iran, Libya, Somalia, Yemen, Syria, North Korea and political officials from Venezuela in facing restrictions on travel to the U.S.
Chad had also previously been included on the "travel ban" list, but it was removed in April 2018.
While the restrictions do not mean citizens of those countries would be completely barred from traveling to the U.S., they will likely make it more difficult for citizens to obtain certain types of visas to travel to America.
They could also affect eligibility for participation in the U.S.'s diversity visa lottery program, which creates opportunities for citizens of countries with low levels of immigration to the U.S. to obtain green cards.
Responding to reports of the potential travel ban expansion, activist Amy Siskind said "the short of it" was that President Donald Trump was happy to impose restrictions in "all places Trump doesn't have or want hotel deals."
Siskind followed up in a second tweet that the expanded travel ban would also aid in "a continuation of the whitening of America."
United We Dream, a youth-led immigration advocacy organization, shared a similar sentiment, calling the travel ban a "Muslim ban," as many immigration advocates have dubbed it, given that a number of the countries affected by the restrictions are Muslim-majority nations.
"Make no mistake – this is islamophobic and was made to fulfill White Supremacist political purposes," United We Dream said in a tweet. "We stand alongside our Muslim friends and families and say #NoMuslimBan!"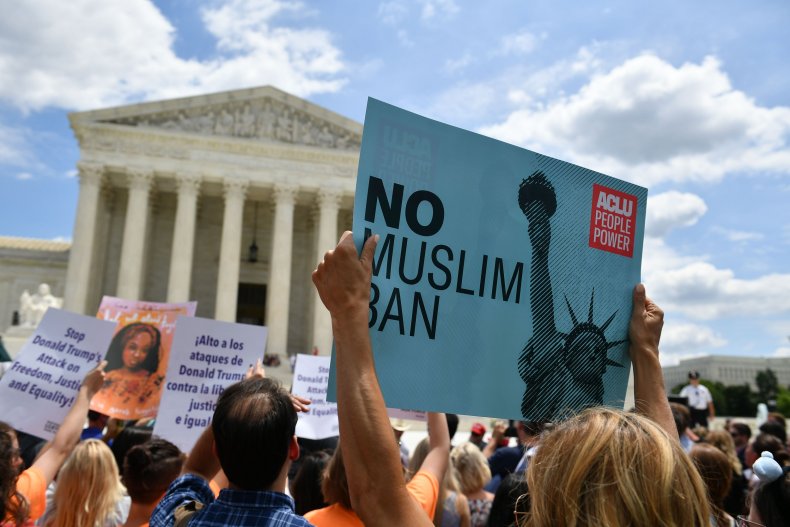 The Trump administration has previously claimed that its travel restrictions are essential to national security, due to countries named on the list not adequately vetting travelers to the U.S.
The initial restrictions, which were introduced in an executive order on January 27, 2017, had been met with legal action and were struck down by a federal court and withdrawn, while a second attempt in March 2017 was also stopped by a federal judge who agreed with immigration advocates that the ban amounted to religious discrimination.
It was a third version of the ban, released in September 2017, that stuck, with the Supreme Court upholding it in a 5-4 ruling in June 2018. The court ruled that it was within the president's purview to restrict entry to the U.S.