'We Have A Certain Chemistry': All the Praise Donald Trump Lavished Upon Kim, Putin and MBS at G20 and Abroad
While meeting with foreign leaders during the G20 summit in Japan and in visiting North and South Korea's Demilitarized Zone in recent days, President Donald Trump had no shortage of compliments to offer several authoritarian leaders, despite accusations against them of holding a firm grasp on their citizens' freedom, murdering journalists and operating corrupt legal systems.
The praise levied by Trump to Russia's Vladimir Putin, Saudi Arabia's Mohammad bin Salman and North Korea's Kim Jong-un was similar to that of which he's made in the past, where he again refused to publicly condemn certain leaders for taking hostile actions toward American people or interests and boasted of his personal connections with the men.
Trump defended his relationships and public remarks about the three authoritarians to reporters.
"I get along with everybody, except you people," he said. "I get along with President Putin. I get along with Mohammad from Saudi Arabia... I also get along with people that would be perceived as being very nice."
This year's G20 summit was held in Osaka, Japan, hosting the European Union and 19 countries: Argentina, Australia, Brazil, Canada, China, France, Germany, India, Indonesia, Italy, Japan, Mexico, South Korea, South Africa, Russia, Saudi Arabia, Turkey, the United Kingdom and the United States.
Trump jokes to Putin about election meddling and getting 'rid of' journalists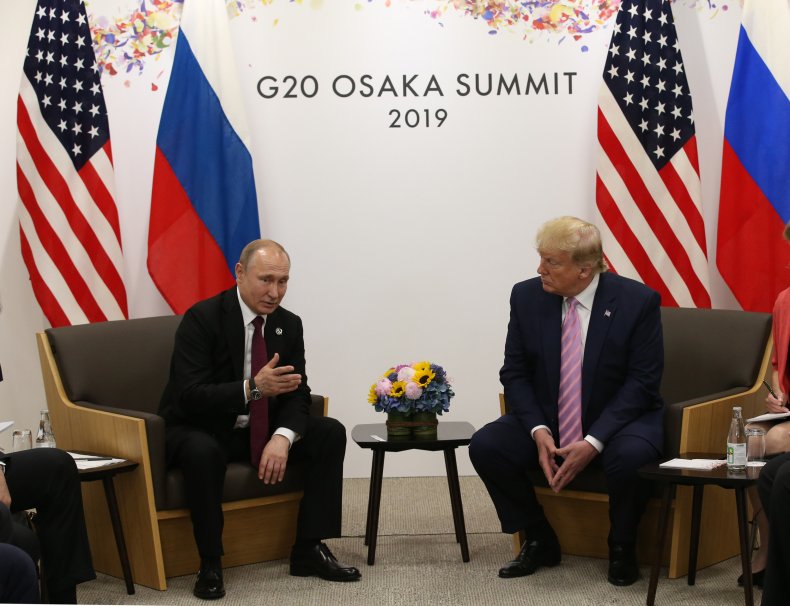 In stark contrast to conclusions by U.S. intelligence agencies and the recently published Mueller report, Trump appeared to brush off Russia's attempts to interfere in the 2016 U.S. elections while sitting next to the country's president, Vladimir Putin.
"Don't meddle in the election," Trump said to Putin with a smile after a reporter asked whether he would tell the foreign leader not to again try and interfere in the 2020 election.
The president went on to joke about "fake news" with Putin, telling him that the U.S. should "get rid of them."
"Fake news is a great term, isn't it? You don't have this problem in Russia, but we do," Trump told Putin, who presides over a country where more than two dozen journalists have been killed since 2000 with him either as president or prime minister, according to the Committee to Protect Journalists.
The remarks came on the one-year anniversary of the Capital Gazette shooting, where a gunman killed five employees at a small newspaper office in Maryland.
Putin responded: "We also have. It's the same."
Trump later told reporters that in meeting privately with Putin, he "did discuss it a little bit."
'They've taken it very, very seriously': Trump accepts Saudi Arabia's handling of Jamal Khashoggi's murder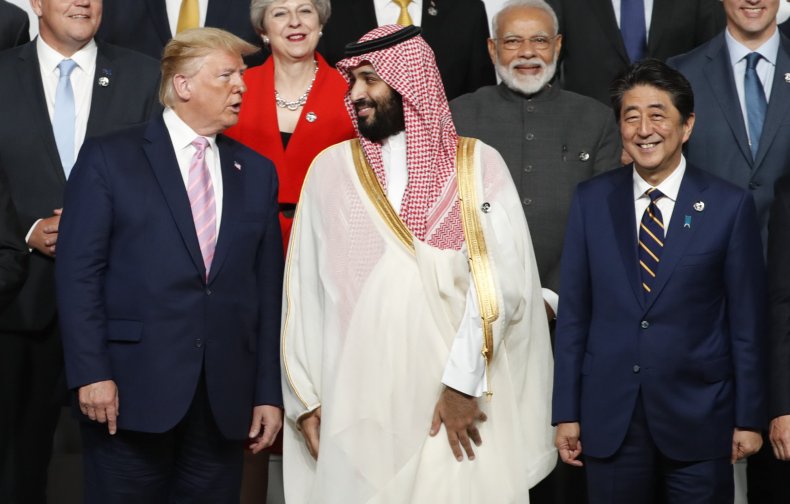 On the heels of a United Nations report earlier in June that concluded the murder of Washington Post journalist Jamal Khashoggi was "an international crime" with "credible evidence" it was carried out at the behest of the Saudi Arabian crown prince, Trump boasted of his personal relationship with Mohammad bin Salman.
"It's an honor to be with the Crown Prince of Saudi Arabia, a friend of mine, a man who has really done things in the last five years in terms of opening up Saudi Arabia," Trump said in an appearance with bin Salman. "And I think especially what you've done for women. I'm seeing what's happening; it's like a revolution in a very positive way."
He went on to praise the Saudi leader, whom the U.S. also believes to be responsible for Khashoggi's death, for combating terrorism and purchasing American military equipment. Trump vetoed an effort by Congress earlier this year to stop the United States' involvement in the Saudi-led war in Yemen, where it's estimated that Saudi Arabia was responsible for more than 10,000 civilian casualties from March 2015 to May 2018, according to the United Nations, and has given rise to the humanitarian crisis that has unfolded.
"As you know, Saudi Arabia is a purchaser of American products and especially of America military equipment... we appreciate that they do," Trump continued. "It's about relationship. Otherwise, you end up in very bad wars and lots of problems."
Trump was asked by reporters twice during his appearance with bin Salman whether he would condemn the foreign leader for Khashoggi's murder, which was allegedly planned and carried out inside Saudi's consulate in Turkey. Reports suggested it involved a gruesome death, including the use of a bone saw to dismember his body.
Speaking later to reporters, Trump defended bin Salman, signaling satisfaction with the crown prince for reportedly prosecuting 13 individuals for the journalist's murder.
"I'm extremely angry and unhappy about a thing like that taking place," he said, again touting the U.S. military equipment purchased by the Middle Eastern country. "But as of this moment, more than 13 people are being prosecuted, and I hear the numbers are going to be going up ... They've taken it very, very seriously."
An historic moment and a 'very good relationship' with Kim Jong-un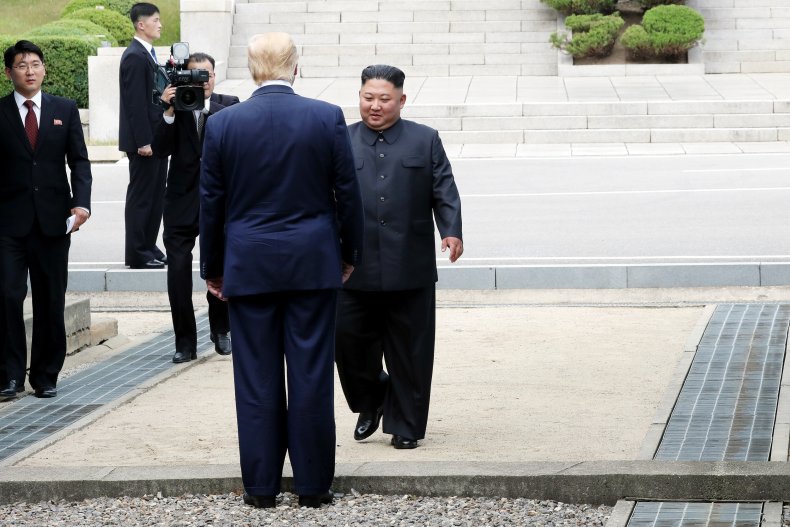 Trump made history as the first U.S. president to step foot in North Korean territory during a trip to the region after the G20 summit.
Stepping over the demarcation line separating North and South Korea, Trump met with Kim Jong-un for a brief moment on North Korean soil.
"I believe this is an expression of his willingness to eliminate all the unfortunate past and open a new future," Jong-un said as the two crossed into South Korea to talk further within the demilitarized zone (DMZ).
The two countries agreed to reignite denuclearization talks. Trump later described the moment of stepping into North Korea while standing next to South Korean President Moon Jae-in.
"I asked him, I said, 'Would you like me to come across the line?' He said, 'I would be honored to do that. I would be honored,'" Trump explained. "Now, I didn't know really what he was going to say, but it was my honor to do it."
Prior to Trump and Jong-un's meeting at the DMZ, the president described the two men's relationship as "very good" to a room filled with prominent South Korean business figures.
"I don't know about beyond the two of us, but I can say the two of us," Trump said.
He also praised North Korea for a lack of recent ballistic missile tests and for returning the remains of U.S. soldiers who were killed in the region during the Korea War.
"President Obama wanted to meet and Chairman Kim would not meet him. The Obama Administration was begging for a meeting. They were begging for meetings constantly and Chairman Kim would not meet with him," Trump claimed. "And for some reason, we have a certain chemistry."
Obama's director of national intelligence, James Clapper, rebuffed those claims on Sunday.
"I don't know where he's getting that," Clapper told CNN. "In all the deliberations that I participated in on North Korea during the Obama administration, I can recall no instance whatever where President Obama ever indicated any interest whatsoever in meeting with Chairman Kim. That's news to me."