Donald Trump's Staff Warned Him Not To Meet Russia's Vladimir Putin At G20: Report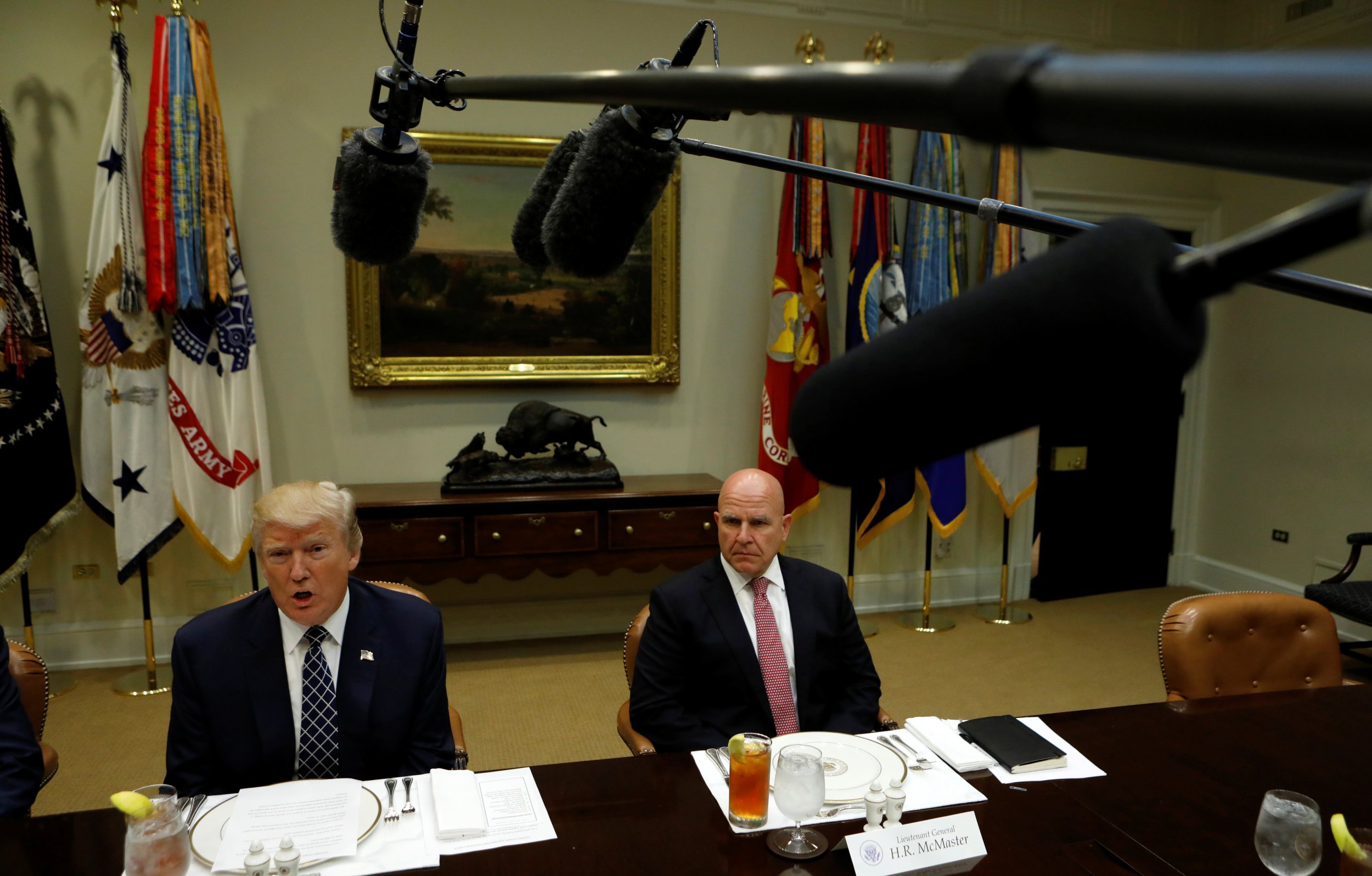 The now infamous Group of 20 sit-down between U.S President Donald Trump and Russian President Vladimir Putin never should have happened, National Security Adviser H.R. McMaster and other national security aides told Trump prior to the meeting, the Associated Press reported Thursday.
The report, citing two U.S. officials and three high-ranking foreign officials, claims national security and foreign policy advisers are concerned about Trump's actions in currying favor with Russia and Putin, especially after the president spoke with Putin for roughly another hour while at a dinner at the G20 without any aides involved.
The meeting reportedly represents a chasm between Trump and his national security and foreign advisers when it comes to handling Russia.
McMaster, who was brought in after predecessor Michael Flynn was forced to resign after failing to disclose the nature of his meetings with Russia's ambassador to the U.S. to Vice President Mike Pence, specifically advised the president that Putin is not trustworthy. He also reportedly was against Trump meeting with Russian diplomats in the Oval Office in May.
Furthermore, McMaster did not want Trump to hold a bilateral meeting with Putin at the G20 in Hamburg, Germany, earlier this month, the AP reported.
McMaster didn't attend the meeting, which is described as a break in normal protocol. Only Trump, Putin, Secretary of State Rex Tillerson, Russian Foreign Minister Sergey Lavrov and two translators were present during the two-and-a-quarter-hour summit. Trump claimed he directly confronted Putin, in two different ways, about Russia's meddling in last year's election and that Putin had staunchly denied the accusations.
McMaster's reported displeasure with the Oval Office meeting in May could be of great concern, considering he went on camera to defend the president after reports surfaced about the meeting's content. Trump reportedly revealed classified information to Lavrov and Sergey Kislyak, the very ambassador that Flynn met with, pertaining to an Islamic State militant group plot involving explosives placed in laptops for use on aircraft, according to The Washington Post.
Trump also told the Russians that firing "nut job" former FBI Director James Comey, one day before the May meeting, had relieved pressure on him because of the investigation into whether the Trump campaign had colluded with Russia to win the election, according to The New York Times.
McMaster went on to publicly defend the president by stating it was "wholly appropriate" for Trump to share the ISIS intelligence with Russia.
"In the context of that discussion, what the president discussed with the foreign minister was wholly appropriate to that conversation and is consistent with the routine sharing of information between the president and any leaders with whom he's engaged," McMaster said during a May 16 press briefing. "It is wholly appropriate for the president to share whatever information he thinks is necessary to advance the security of the American people. That's what he did."