Who is the 'Bigger' Man? Trump and Putin Handshake Will Bring 'An Olympian Level of Macho Posturing'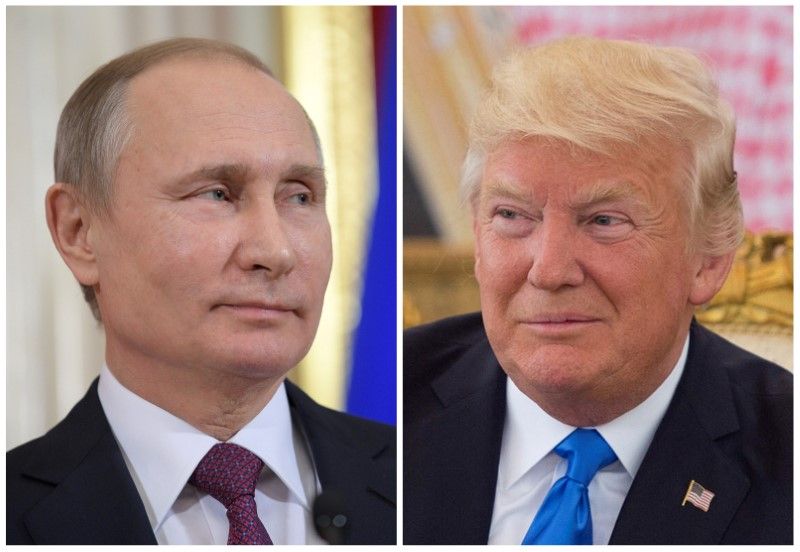 Much will be at stake when Donald Trump and Vladimir Putin come face to face for the first time at the G-20 meeting in Germany this week. There is the tension over the United States's and Russia's differing views on how to handle the Syrian civil war and the Islamic State militant group (ISIS), the sanctions imposed on Russia for its annexation of Crimea and the expansion of NATO. Oh, and then there is the small matter of Russia's interference in last year's U.S. presidential election.
Related: Judo master Putin is more politically savvy than Trump and spared Macron in handshake, boasts Russian media
But, as both Trump and Putin know only too well, it is image that is all-important in politics. And much that is written and said around the world about the two leaders' interaction will be based on a select few images of their interaction. Between Trump, who has made his every handshake with a world leader into a test of both symbolic and physical strength, and Putin, who takes to posing shirtless on horseback, the amount of raging machismo is set to be at a level never before witnessed in the upper echelons of global politics.
"[I expect] an Olympian level of macho posturing between these two leaders, who both understand the importance of symbolism and the perception of being tough," Derek Chollet, a former senior national security official in President Barack Obama's administration who is now with the German Marshall Fund, told CNN.
In terms of pure machismo, Putin is hard to top. He is, after all, a former KGB agent who has earned black belts in judo, karate and tae kwon do.
The Russian president also has previously suggested a willingness to intimidate fellow world leaders in an attempt to gain an edge. In one particularly famous incident, during a visit from German Chancellor Angela Merkel to his summer residence in Sochi a decade ago, Putin brought out his large black Labrador Koni. While that might be a treat for many guests, it was not so pleasant for Merkel, who has had a fear of dogs since being bitten by one in 1995. The accompanying image of Putin sitting back and smirking as Merkel tensed up in anxiety spoke volumes.
While Putin later denied he knew about Merkel's fear, the German leader was left in no doubt about her counterpart's intention.
"I understand why he has to do this—to prove he's a man," Merkel said. "He's afraid of his own weakness. Russia has nothing, no successful politics or economy. All they have is this."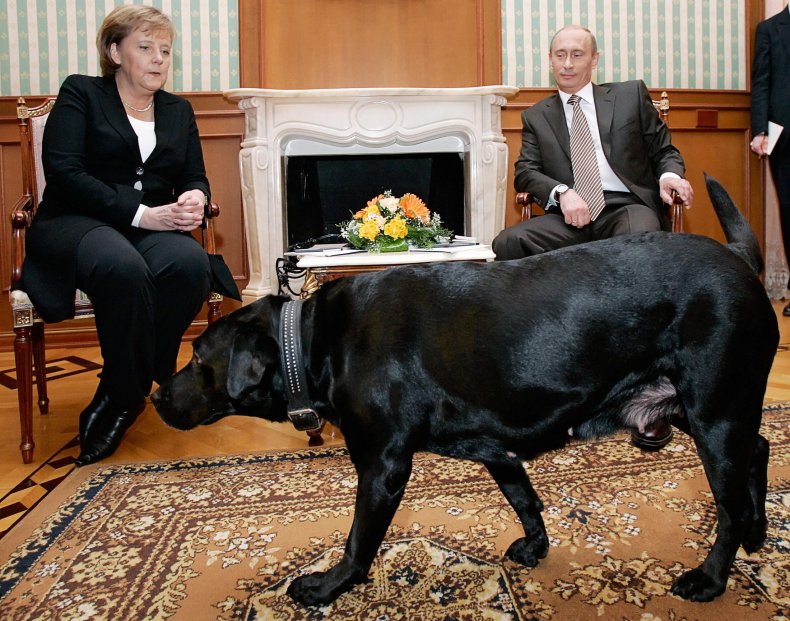 Trump, of course, has already gained quite the reputation for his particular style of greeting foreign leaders. In an apparent attempt to gain the upper hand, or perhaps just a misunderstanding of the whole handshaking process, Trump enjoys grabbing his counterpart's hand before yanking it forcefully into his own body.
This led to a famous battle between Trump and Emmanuel Macron during Trump's trip to Europe in May, when the newly elected French president appeared well aware of his American counterpart's unusual method. The two engaged in a macho stare-down for the ages.
It remains to be seen what plans Putin has in place for the much-anticipated meeting later this week. But one thing is for sure: Neither will want to come across as the weaker man.