Trump-Putin Helsinki Summit: Election Meddling, Ukraine and Other Issues Donald Trump Left Out Ahead of Meeting Russian President
As President Donald Trump launched his meeting with Russian President Vladimir Putin in Helsinki on Monday, he congratulated his Russian counterpart for hosting the World Cup tournament and expressed optimism that the two countries would have "an extraordinary relationship."
"Mostly we have a lot of good things to talk about, and things to talk about, we have discussions on everything from trade to military to missiles to nuclear to China, we'll be talking a little bit about China, our mutual friend President Xi[Jinping]," Trump said as he sat next to Putin.
"And I really think the world wants to see us get along. We are the two great nuclear powers. We have 90 percent of the nuclear, and that's not a good thing, it's a bad thing. And I think we can hopefully do something about that," Trump continued.
The two men have now begun one-on-one talks that are expected to last about 90 minutes. It is unclear if they will discuss only the topics Trump mentioned in his opening statements or if other subjects will be broached.
Absent from Trump's remarks was any mention of some of the most contentious issues between the two global powers, including ones Trump had previously said would be discussed at Helsinki. These include Russia's interference in the 2016 presidential election, Russia's support for pro-Russian separatists in Ukraine, the annexation of the Crimean peninsula and the Syrian civil war.
Nevertheless, it's unlikely that Ukraine and Russian election meddling will be absent from the conversation. Russia is currently under a multitude of international sanctions stemming from its annexation of the Crimean peninsula in 2014 and its attempt to interfere in the 2016 U.S. presidential election. The sanctions are crippling Russia's economy, and Putin is expected to use his meeting with Trump to push for sanctions relief and U.S. recognition of Russia's claim over Crimea. Trump has previously suggested that he might formally recognize Russia's annexation of Crimea, which would constitute an enormous win for Putin.
Meanwhile, Trump has also suggested that he may ask Putin to have 12 Russian military intelligence officials extradited to the U.S. after they were indicted on Friday for hacking the Democratic National Committee, the Clinton presidential campaign and the Democratic Congressional Campaign Committee. Putin has previously said that he would never send a Russian citizen to the U.S. to stand trial.
It's likely that Syria will also be brought up during Monday's talks. Russia is currently helping to prop up President Bashar al-Assad, who has being fighting a number of armed groups within Syria over the past seven years. Both Trump and Israeli Prime Minister Benjamin Netanyahu would like to enlist Russia's help to push their mutual enemy Iran out of Syria. But Russia maintains a good relationship with Tehran and has accepted Iranian influence and military presence in the Middle East. Trump is expected to use his meeting with Putin to push for a deal that would see Iran sidelined or even kicked out of the country.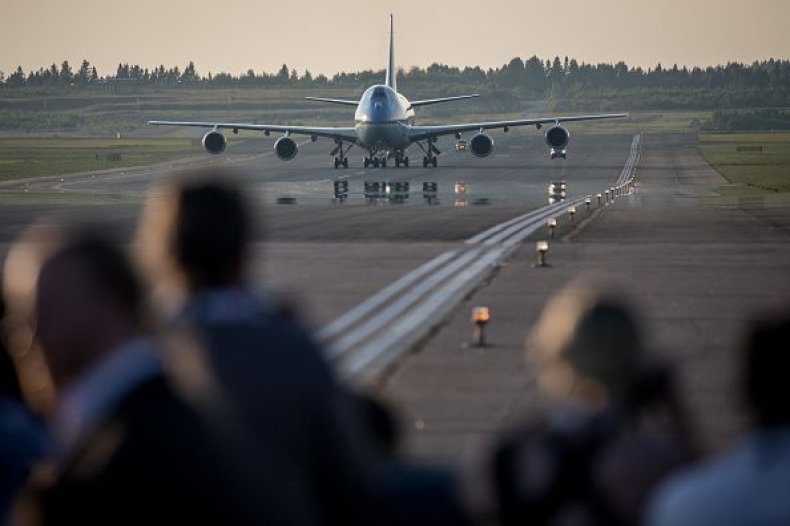 Similarly, Putin is expected to push for the United States to withdraw its support for NATO's presence in countries bordering Russia, and for the U.S. to withdraw its military support for Ukraine, which continues to fight pro-Russian separatists within its territory.
Trump's meeting with his Russian counterpart began an hour after it was originally scheduled, because Putin arrived late. The Russian leader is known to keep his interlocutors waiting, including other high-profile leaders such as Germany's Angela Merkel and the pope.