Donald Trump Says Vladimir Putin Isn't Getting Involved in Venezuela, Despite His Top Officials Blaming Russia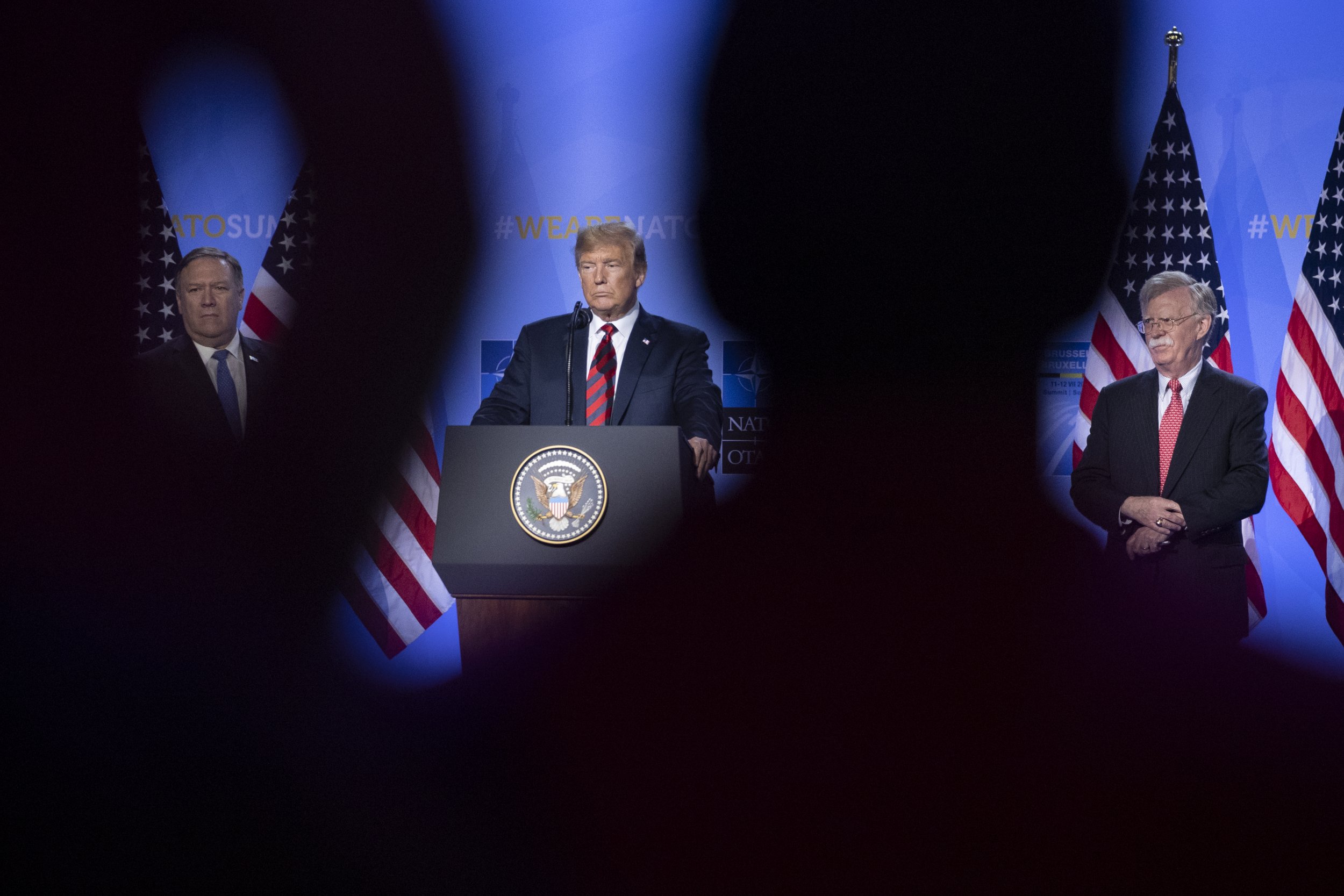 President Donald Trump has said that Russian President Vladimir Putin has no desire to interfere in Venezuela, despite U.S. administration officials recently blaming Moscow for stepping in to support the socialist leader that Washington was trying to kick out of office.
After an hour-long phone call between the two world leaders that Trump described as "very productive," the U.S. president told reporters Friday that Putin was "not looking at all to get involved in Venezuela, other than he'd like to see something positive happen." He added, I thought it was a very positive conversation I had with President Putin on Venezuela."
But the remarks appeared to be the latest contradiction between Trump and two of his top men, Secretary of State Mike Pompeo and White House national security adviser John Bolton, who have presented themselves as the public face of the Trump administration's foreign policy endeavors.
When Venezuelan President Nicolás Maduro came out on top Tuesday after U.S.-endorsed opposition leader Juan Guaidó called for a military uprising, Bolton and Pompeo blamed Moscow for keeping the government in power. Pompeo went as far as to say that Maduro "had an airplane on the tarmac, he was ready to leave" to Cuba, but "the Russians indicated he should stay"—a narrative that seemed to conflict with Trump's statement on Friday.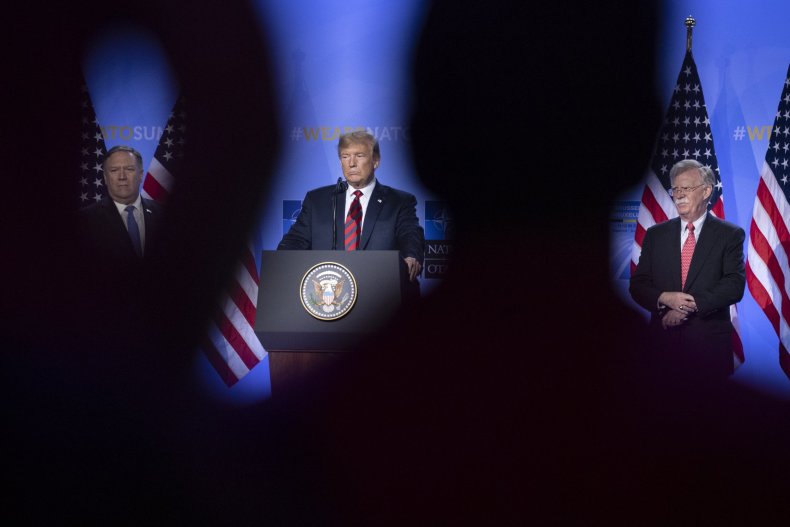 Venezuelan opposition leader Juan Guaidó challenged President Nicolás Maduro by proclaiming himself president in January amid an economic collapse blamed on internal mismanagement and tightening U.S. sanctions. As unrest gripped Caracas on Tuesday, Moscow's embassy there said that defense personnel deployed to Venezuela to fulfill "military-technical cooperation" would not interfere.
Responding to Pompeo's accusations, the Russian Foreign Ministry accused the U.S. of waging an "information war" and Foreign Minister Sergey Lavrov warned "that the continuation of aggressive steps would be fraught with the most serious consequences. On Thursday, Moscow's top diplomat added that he would "mobilize a group of states that, like us, respect the U.N. Charter to counter such schemes."
In a readout of Friday's call, the Kremlin said that Putin "underscored that only the Venezuelans themselves have the right to determine the future of their country, whereas outside interference in the country's internal affairs and attempts to change the government in Caracas by force undermine prospects for a political settlement of the crisis."
Also on Friday, Pompeo told Fox News that "it's time for [Maduro] to leave, and we need the Cubans and the Russians to follow him out the door." That same day, Bolton argued on Twitter that "Maduro is only clinging to power because of the support of Russia and Cuba."
"The United States will not tolerate foreign military interference in the Western Hemisphere," Bolton added in a follow-up tweet following Trump's remarks. "President Trump has made it clear that there will be costs for those who further Maduro's usurpation and repression."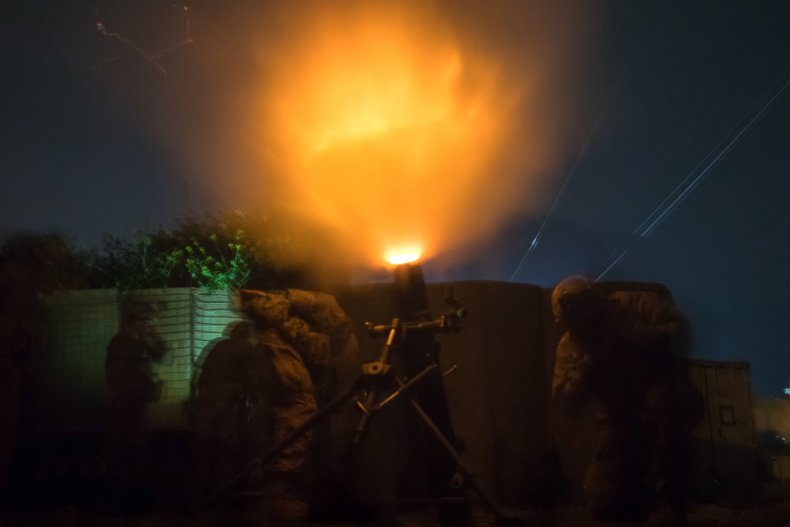 The U.S. has pursued a similar strategy in Syria, where Russia and Iran—another supporter of Maduro—helped President Bashar al-Assad overcome a 2011 rebel and jihadi insurrection backed by the U.S. and its regional allies. With the war against the Islamic State militant group (ISIS) winding down, Pompeo and Boltonhave highlighted the need to expand the Pentagon's anti-ISIS mission there to include expelling Iranian forces and overseeing a political transition to oust Assad.
After a conversation with Turkish President Recep Tayyip Erdogan, Trump tweeted that he was pulling U.S. troops out of Syria, a move that reportedly caught the administration off guard. Bolton, however, continued to affirm that the U.S. was not leaving until the defeat of ISIS and that Iran's presence remained a top-priority threat.
As the jihadi group was eradicated, the Trump administration announced in February that it would leave at least 200 troops in Syria, which—along with its Russian and Iranian allies—considered the U.S. to be an occupying power there.
Hawkish voices such as that of Bolton may have played a role in hardening Trump's position during the recent summit with North Korean supreme leader Kim Jong Un, an event that produced no deal to advance their historic denuclearization-for-peace effort. Kim then met with Putin, who told Trump on Friday "that Pyongyang's conscientious fulfillment of its obligations should be accompanied by reciprocal steps to reduce sanctions pressure on North Korea" as Moscow sought to push back against Washington's hardliners.