Trump's 'Secret Chat' With Putin Not Private And One Of Several, Says Kremlin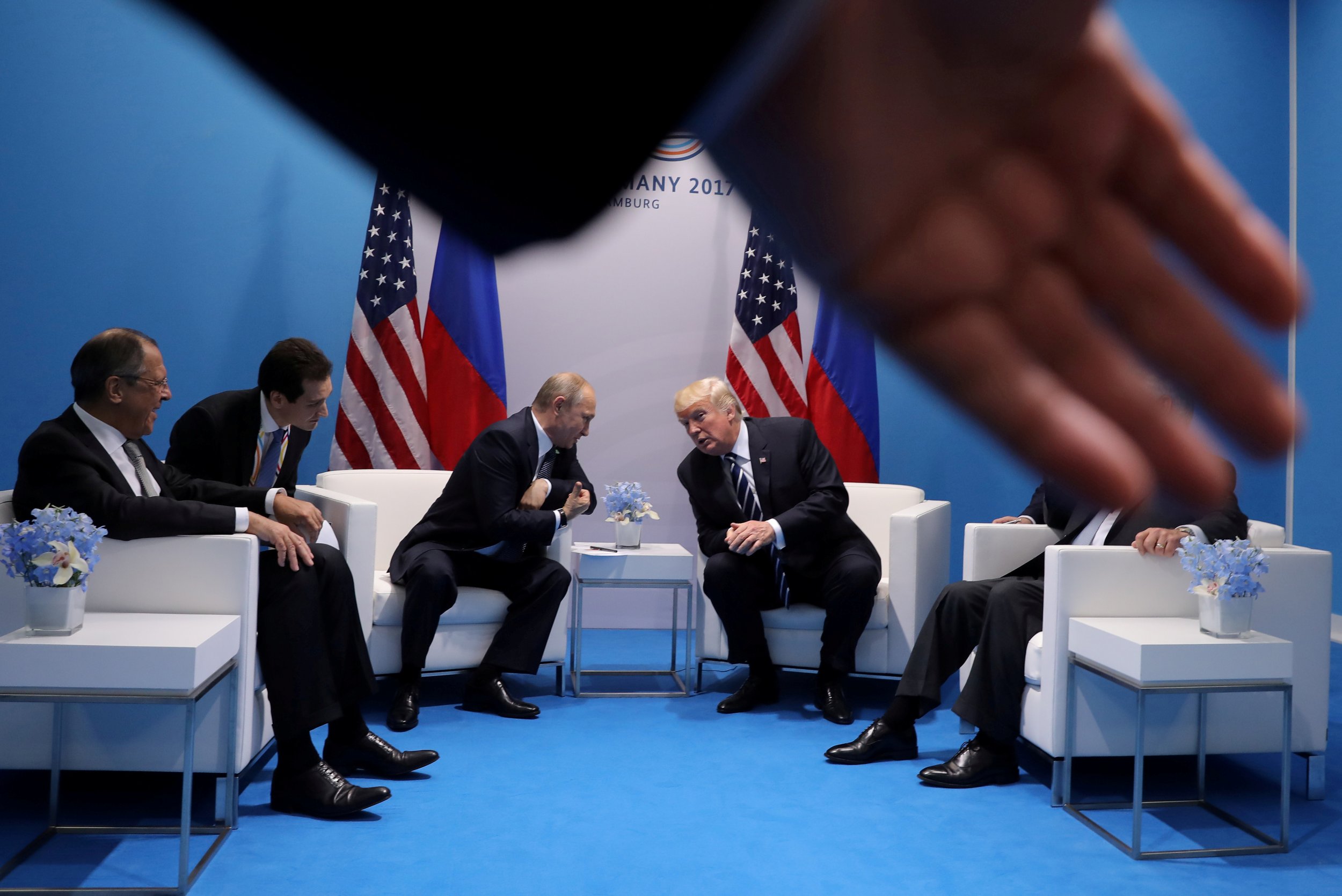 President Donald Trump's reported second and previously undisclosed chat with Russian President Vladimir Putin is sounding alarms in the U.S. According to the Kremlin, the pair did speak more than once at the G20 summit but none of it should be cause for suspicion.
Multiple sources have told the media that following Trump's official meeting with Putin earlier this month at the summit, the pair had a lengthy, impromptu exchange that the White House did not publicize. Trump has accused the media of spinning his exchanges with Putin in a "sinister" way and said claims of a "secret dinner" were "sick."
No media outlets, however, claimed that Trump had a secret meal with Putin, and CNN accused the president of "a classic bit of Trump misdirection" designed to shift attention away from his relationship with Putin to the "fake news" media.
Related: Trump picks his new man in Moscow. Moscow's press is not thrilled
Putin's spokesman tried to quash suspicions about the Russian president and Trump's relationship, claiming to be in "absolute amazement and bafflement" over the claims of a "secret meeting."
"There was a bilateral meeting that was officially agreed via diplomatic channels, and then on the sidelines they repeatedly exchanged opinions and remarks," Kremlin spokesman Dmitry Peskov told journalists in a press call Wednesday night.
He referred to earlier comments made by Putin, who compared scrutiny of the Trump team's series of undisclosed (but now confirmed) contacts with Russian officials and lobbyists to schizophrenia.
"This was a discourse over the course of a few days," Peskov told Russian TV channel Perviy, according to a transcript by the Interfax news agency. "They had a chance for discussion during dinner and continued the exchange over those topics from the bilateral meeting and the daily agenda. But to present this as some separate meeting that they tried to hide from someone—that's schizophrenia."
Part of the media criticism of such contact by the U.S. president with non-ally countries is that the lack of disclosure and a public record of the encounter allows the other side to skew what was said.
Trump's administration is caught in a scandal about a series of suspicious dealings his campaign staff had with Russian officials. His eldest son, Donald Trump Jr., undermined the administration's repeated denials of collusion with Russia after admitting he sought to acquire compromising information about his father's opponent, Hillary Clinton, from a woman described to him as a "Russian government attorney."
Trump's first pick for national security adviser, Mike Flynn, resigned after admitting he had undisclosed contacts with the Russian ambassador, while Attorney General Jeff Sessions recused himself from the investigation into Russian election interference on similar grounds.
Russia has denied interfering in the U.S. election and hacking the Democratic National Committee during the campaign.