Russia Election Interference: Trump State Department Has Spent None of $120 Million Allocated to Fight Russian Meddling
Updated| The State Department has spent $0 of its allocated $120 million to fight Russian election meddling, according to a new report by The New York Times.
Secretary of State Rex Tillerson left the allocated money untouched while expressing doubts that his department could effectively do anything to stop Russia, the report said. "If it's their intention to interfere, they're going to find ways to do that," he said during a Fox News interview last month.
The Department's Global Engagement Center, which works to combat Russian propaganda and social media efforts to influence voters through anti-propaganda projects and by boosting pro-democracy voices, has just 23 employees and none of them speak Russian, according to the Times. The center is also unable to hire the staff it needs due to a hiring freeze.
Congress allocated $60 million to prevent Russian attacks in late-2016, but Secretary Tillerson took seven months to decide if should spend the money. When he did ask for it, the fiscal year was nearly over and his request was denied, reported the Times. Another $60 million is available this year but the State Department and Department of Defense are once again at an impasse on whether to spend the money.
The Times report comes just days after Admiral Mike Rogers, who heads the National Security Agency and the U.S. Cyber Command, told Congress that President Donald Trump had not given him the authority to disrupt Russian election hacking operations where they originate. "They have not paid a price that is sufficient to change their behavior," he said.
Director of National Intelligence Dan Coats told Legislators last month that the United States is under attack and that "there should be no doubt that Russia perceives its past efforts as successful and views the 2018 U.S. midterm elections as a potential target for Russian influence operations."
"Despite the unanimous consensus of our intelligence agencies that Russia interfered, continues to interfere, and will continue to interfere in our elections, including those coming up this year, the President has still failed to provide the 'whole of society' response that we need in order to address this serious national security threat," Senator Mark Warner, ranking member on the Senate Intelligence Committee, told Newsweek.
"This is just a another data point that this administration does not take the threat seriously despite our intelligence agencies sounding the alarm around our preparedness for 2018 elections. The administration has consistently underutilized the State Department despite its potential to mobilize expertise and conduct diplomacy in building alliances and coordinating defenses in confronting this threat," he continued.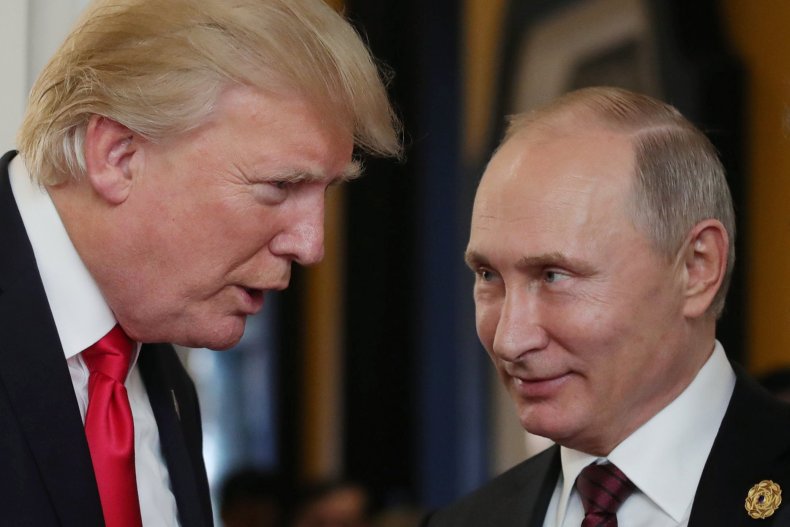 President Donald Trump has repeatedly expressed his doubt that Russians played a role in influencing the 2016 presidential election. During a February press conference, Trump told reporters that the allegations were "a ruse." In May 2017, the president justified his firing of former FBI director James Comey by calling Russian interference a hoax. "When I decided to just do it, I said to myself, I said, 'You know, this Russia thing with Trump and Russia is a made-up story, it's an excuse by the Democrats for having lost an election that they should've won,'" he told NBC's Lester Holt.
This story has been updated to include a quote from Senator Mark Warner.