Trump-Putin Summit: Will President Sacrifice Crimea to Make a Deal?
President Donald Trump did not rule out Crimea as Russian when asked during a press conference at the NATO summit in Brussels. He is due to meet Russia's President Vladimi Putin in Helsinki on Monday.
Trump blamed his predecessor, Barack Obama, for allowing Russia's illegal annexation of Crimea, a region of Ukraine, "on his watch."
The president also said Russia had built infrastructure connecting itself to Crimea, as well as a new naval base nearby.
"What will happen with Crimea from this point on? That I can't tell you. But I'm not happy with the situation," Trump told reporters, skirting an opportunity to reiterate the long-standing American policy of not recognizing Crimea's annexation by Russia.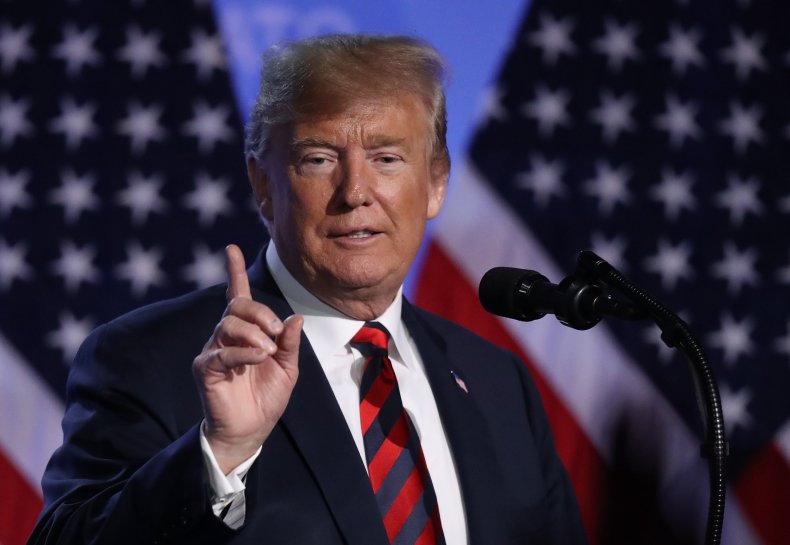 The U.S. imposed sanctions on Russia over its invasion of Ukraine and annexation of Crimea in 2014. Those sanctions remain in place and have been renewed by the Trump administration. It is also supporting the Ukrainian military in defending the rest of its territory from pro-Russian separatists still fighting in the country's east.
"NATO is firm in our support for Ukraine's sovereignty and territorial integrity," Jens Stoltenberg, NATO general secretary, said during a news conference with Ukraine's President Petro Poroshenko. "And we strongly condemn Russia's illegal annexation of Crimea."
Ukraine's president held a private meeting with Trump at the NATO summit. "I am completely satisfied with this conversation," Poroshenko said at a press conference after the meeting.
On the issue of Crimea, Poroshenko referred to a statement by NATO at the close of the summit. "It is clearly written. This is a statement approved by all members at the highest level, including with the participation of President Trump. The Crimean status is absolutely clearly emphasized, non-recognition of the illegal annexation of Crimea," he said.
In Trump's press conference, he referred to Putin as a "competitor" and said he is "not my enemy."
The U.S. president wants better relations between the West and Russia. He also said he is keen to make some sort of deal with Putin, though he gave no details on what such an agreement could consist of, other than to say the ideal would be the removal of nuclear weapons from the world and no more wars.
"I remain nervous about how Mr. Trump will handle Crimea on Monday," Steven Pifer a nonresident senior fellow in the Center on the United States and Europe at the Brookings Institution, a think tank, told Newsweek.
"While virtually all U.S. officials reiterate that the United States does not recognize Russia's illegal annexation of Crimea, Mr. Trump says 'we're going to have to see' and 'I'm not happy with the situation.' Why is he leaving ambiguity? And he has been soft on the Crimea question for several years.
"Mr. Putin would like nothing more than to secure U.S. acceptance that Crimea is Russian and may try to entice Mr. Trump into agreeing to that—and it's not clear that he understands the negative implications for European security and American credibility of agreeing."
Dr. Charles Kupchan, a senior fellow at the Council on Foreign Relations think tank, told Newsweek that despite Trump's comments at the NATO summit, he thinks a change of U.S. policy on Crimea "is not in the cards."
"To recognize Crimea as Russian territory would be to accept and legitimate Russia's forcible land-grab and illegal annexation of Crimea—a step too far even for Trump," Kupchan said.
"I expect the conversation to focus more on eastern Ukraine, where some kind of deal on a peacekeeping force, regional autonomy and the withdrawal of Russian forces, and the potential reduction of sanctions is more plausible."
Back in May, the State Department condemnded one of the bridges Trump referred to in his NATO press conference.
"The United States condemns Russia's construction and partial opening of the Kerch Strait Bridge between Russia and occupied Crimea, which was done without the permission of the government of Ukraine," Heather Nauert, spokesperson for the State Department, said in a statement at the time.
"Crimea is part of Ukraine. Russia's construction of the bridge serves as a reminder of Russia's ongoing willingness to flout international law."
This article was updated to include comments by Pifer, Kupchan, and Poroshenko.