President Donald Trump finally addressed his supporters at the U.S. Capitol building in a video shared to Twitter.
Trump continued to stand by his unsubstantiated claims that the 2020 presidential election was stolen by widespread election fraud, but told his supporters, who he called "very special," to leave the Capitol.
"I know your pain. I know you're hurt. We had an election that was stolen from us. It was a landslide election and everybody knows it, especially the other side. But you have to go home now," the president said. "We have to have peace. We have to have law and order. We have to respect our great people in law and order. We don't want anybody hurt. It's a very tough period of time. There's never been a time like this where such a thing happened. Where they could take it away from all of us, from me, from you, from our country."
"This was a fraudulent election but we can't play into the hands of these people. We have to have peace. So go home, we love you and you're very special. You've seen what happens. You've seen the ways others are treated which are so bad and so evil. I know how you feel. But go home and go home in peace," Trump said.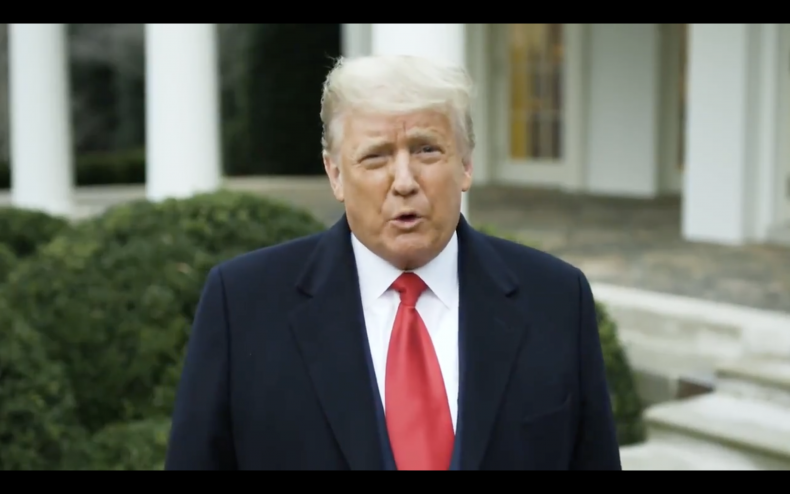 Throngs of the president's supporters stormed the state building on Wednesday afternoon as Congress met in a joint session to certify the results of the election. While some Senate Republicans vowed to challenge the certification, others cautioned that doing so would be an effort to override the U.S. Constitution. Even the president's second-in-command, Vice President Mike Pence, said he had no power to override the electoral college, despite Trump's insistence that Pence could decertify votes.
The video of Trump has since been locked by Twitter. The social media giant flagged the video for being a disputed claim about election fraud and prohibited users from replying to the tweet, retweeting it or liking it "due to a risk of violence."
As of 4:38 p.m., the video has been viewed over 6.2 million times.
After the video was shared online, some Trump supporters at the U.S. Capitol began to retreat and leave the area, although others remained at the building. Law enforcement were seen escorting out some of the protestors, according to multiple news outlets.
The city of Washington D.C. will be under curfew beginning at 6 p.m., under the order of Mayor Muriel Bowser.
Newsweek reached out to the White House for comment, but did not hear back before publication.