Trump Is Putting Us All At Risk of More Hurricane Sandy Flood Disasters
President Trump's decision to kill the Federal Flood Risk Management Standard may not sound like a big deal, but it is.
I should know. I was the person at the White House tasked with making sure it was drafted in the first place.
Superstorm Sandy was not even a hurricane when it made landfall in October 2012, but it was big enough that astronauts in space could easily spot it. It stretched across nine states and proved highly destructive.
It brought a storm surge that in some places almost reached 14 feet in height. The surge caused widespread flooding damage. It blew past the 12 foot barriers New York City had in place—barriers that had not accounted for the 1.1 feet of sea level rise that the city experienced since 1880.
The water immediately flooded an electrical substation plunging much of Lower Manhattan into darkness. The brand new South Ferry subway station—opened just a few years before the storm at a cost of close to a half billion dollars— turned into a "giant fish tank."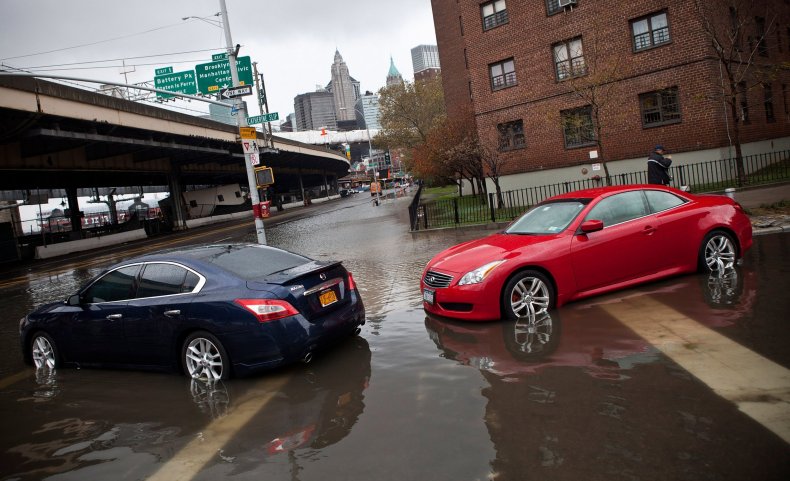 And the flood damage went far beyond Manhattan. The New Jersey shoreline was particularly hard hit. The storm killed at least 159 people and damaged more than 650,000 homes.
Congress eventually appropriated $60 billion to help the communities rebuild. The idea for creating a federal flood risk standard came out of the Hurricane Sandy Rebuilding Task Force, assembled to help speed recovery and make sure that the nation was better prepared for Sandy-like storms in the future.
As that Task Force wrapped up its work two years after the storm, it urged the development of "a minimum flood risk reduction standard for major federal investment that takes into account data on current flood risk."
The Task Force wanted to make sure that the nation learned from its past mistakes in failing to prepare for growing flood risks. After all, as sea level rise increases, New York City will have to be prepared for Sandy level flooding every 25 years. That's less time than the expected service life of the average building.
The Federal Flood Risk Management Standard was crafted under the leadership of FEMA with help of experts across the government. Once all the affected agencies indicated their unanimous support, people across the White House pitched in to get it to the President's desk.
It wasn't a hard sell. The Standard makes fiscal sense. It requires that when federal taxpayer money is used to build or make substantial investments in structures at risk of flooding, those structures must be elevated. This saves money: for every $1 invested in reducing risk, an estimated $4 dollars is saved in damages.
If we make a modest investment in building higher in advance of floods, we can reduce the amount of future federal disaster bailouts. The Standard not only saves money, it saves lives. Elevated structures provide more protection to the people inside them as floodwaters rise. That's the same Standard that President Trump has just declared we do not need.
I left government service in the fall of 2016. Since that time, the nation's exposure to flood risk has not declined, nor has the need for federal bailouts. If anything, we have even more frequent reminders that the nation is simply not prepared to withstand the damage floods bring.
With increased temperatures from climate change, flooding is a growing threat from extreme precipitation events, also known as "rain bombs," and relentless sea level rise.
Just this past week we experienced severe flooding in both Miami and New Orleans, two cities already challenged by sea level rise. But this time the flooding resulted from heavy rainfall that overwhelmed the cities' storm water protection systems.
In February of this year, excessive rainfall caused Coyote Creek to overflow its banks damaging the City of San Jose, California, and forcing 14,000 residents to evacuate. Nor have the predictions for increasing sea level rise abated. In January, the National Oceanic and Atmospheric Administration (NOAA) reported that if we continue on our current carbon emissions trajectory, the state of Rhode Island could expect over 9 feet of sea level rise by the turn of the century.
Our flooding problem is getting worse, much worse. And it will continue to worsen. NOAA just announced that 2016 broke the record for global temperatures.
Undoubtedly, in the coming years, many communities will need federal help to rebuild after disastrous flood events. In the face of increasing risk, it makes fiscal sense to reduce the damage and cost of recovery by investing in risk reduction. One straightforward way to reduce flood risk is to build higher.
Requiring structures to be more resilient to flood means it will take fewer taxpayers dollars to recover when the disaster strikes. If you want federal money to build, you should invest in resilience.
For those who say we cannot afford to build to the Federal Flood Risk Management Standard, I say, as a federal taxpayer, that we cannot afford not to.
Alice Hill , a Research Fellow at the Hoover Institution, is a former special assistant to President Obama.