Trump Questions Maine Governor's Closures During Remarks: 'Get the State Open, Governor'
During a visit to a Maine pharmaceutical products manufacturer, President Donald Trump called on Democratic Maine Governor Janet Mills on Friday to reopen the state.
Trump's remarks came after a report on the U.S. unemployment rate in May showed an increase of 2.5 million jobs, bringing the number of Americans without work to 13.3 percent. Some observers believed the numbers would be lower in May due to the closing of businesses due to the coronavirus pandemic. Although many states have relaxed coronavirus mitigation protocols, Maine is expected to remain under a state of emergency declaration through June 11.
Trump said that Governor Mills' slow action in reopening Maine was costing the state money obtained during the yearly tourist season. "You're going to miss your whole—you know, you can do 40 million people in tourism and you have a governor that won't let you open up. What's she doing?"
"Everybody wants to have Maine open so I figure I might as well say it while I'm up here," Trump continued. "Get the state open, Governor. Open the state. You've got a lot of angry people about that here in Maine."
Trump also criticized Mills during a roundtable meeting with leaders of the commercial fishing industry on Friday, during which Trump likened Mills to a "dictator."
In a statement sent to Newsweek Friday, Governor Mills said President Trump's remarks while in Maine were "rambling."
"What Maine people heard today was more of the same incendiary rhetoric and insults he uses to try to divide us and stoke tension and fear," Mills said. "What Maine people heard today was largely devoid of fact and absent of reality. What Maine people saw today was a rambling, confusing, thinly-veiled political rally."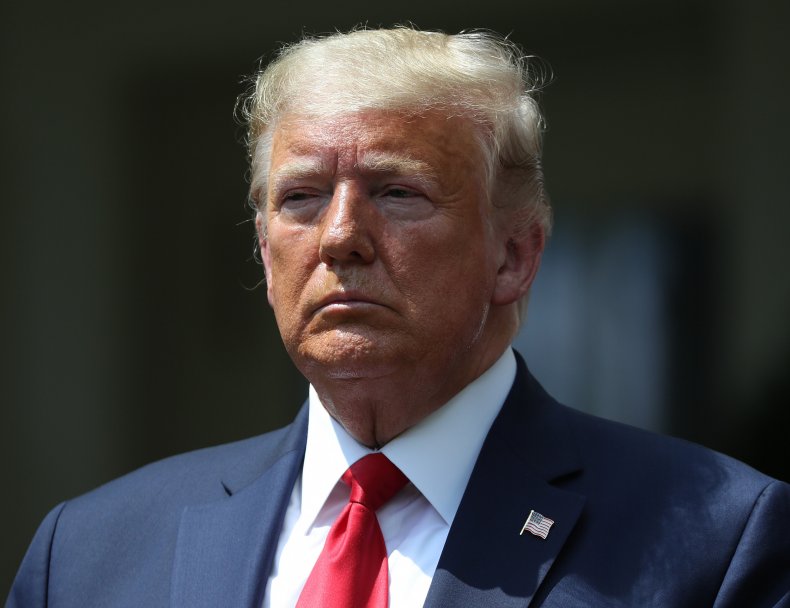 Information from the Maine Center for Disease Control and Prevention on Friday showed an increase in confirmed coronavirus cases with 36 new cases reported. Since the beginning of the pandemic in March, Maine has had 2,482 confirmed cases of the virus with 98 fatalities attributed to the illness statewide.
Under the state's Restarting Maine's Economy plan, some social distancing guidelines for businesses were relaxed on Monday. However, residents are required to wear face coverings in businesses where maintaining social distance is not possible. Signs indicating the face mask requirement are to posted in visible areas. Companies are still encouraged to allow employees to work from home whenever possible.
Trump's visit to Maine engendered controversy over fears that his presence in the state could make ongoing protests against the death of George Floyd worse. Trump has promised to use active military troops in cities where demonstrations become violent or out of control.
Democratic Maine Representative Chellie Pingree said Tuesday, "The streets of Portland, Lewiston and Bangor are not a war zone. State and local governments can and must manage our own communities."
Updated 10:41 p.m. EST 6/5/2020: This story has been updated with a Friday statement from Governor Mills.