Trump Quotes Republican Firebrand He Once Branded a 'Hitler Lover' and 'Anti-Semite' to Justify His Border Wall
President Donald Trump quoted a conservative commentator he once branded a "Hitler lover" and "anti-Semite" who "doesn't like the blacks" to justify his long-promised border wall.
Two decades ago, Trump found it difficult to think that "anybody could embrace" the ideas of Patrick Buchanan, a former aide to Richard Nixon and Ronald Reagan who has repeatedly been accused of racism and anti-Semitism by the Southern Poverty Law Center.
Read more: Border wall was 'wasting taxpayer money,' previous Border Patrol union leaders said in deleted website post
At least, that's what Trump said in a 1999 Meet the Press interview in which he said of Buchanan: "Look, he's a Hitler lover, he's an anti-Semite, he doesn't like the blacks, he doesn't like the gays. It's just incredible that anybody could embrace this guy," he said, calling Buchanan's failed plans to run for president "ridiculous."
Twenty years later, on Sunday night, Trump appeared to have embraced at least one of Buchanan's ideas, quoting Buchanan from an article he published on Creators.com in which he defended the militarization of the southern border.
"America's southern border is eventually going to be militarized and defended or the United States, as we have known it, is going to cease to exist," Trump wrote, quoting Buchanan, before adding: "The great people of our country demand proper Border Security NOW!"
In his article,Buchanan asserted that "history will validate" Trump's "stand on a border wall to defend the sovereignty and security of the United States," while appearing to deny the reality of climate change in the same breath.
"Mass migration from the global South, not climate change, is the real existential crisis of the West," Buchanan wrote, adding: "The American people know this, and even the elites sense it."
Buchanan went on to state that "the more multiracial, multiethnic, multicultural, multilingual America becomes—the less it looks like Ronald Reagan's America—the more dependably Democratic it will become."
He also claimed that the Democratic Party was "hostile to white men, because the smaller the share of the U.S. population that white men become, the sooner that Democrats inherit the national estate.
"The only way to greater 'diversity,' the golden calf of the Democratic Party, is to increase the number of women, African-Americans, Asians and Hispanics, and thereby reduce the number of white men," Buchanan stated.
Buchanan then encouraged Trump to continue with his "America First!" campaign, exclaiming that "the decisive issues on which Trump was elected were not the old Republican litany of tax cuts, conservative judges and increased defense spending.
"They were securing the borders, extricating America from foolish wars, eliminating trade deficits with NAFTA nations, the EU and China, making allies pay their fair share of the common defense, resurrecting our manufacturing base and getting along with Russia," he said.
Buchanan's article in defense of Trump's bid to build a wall between the U.S. and Mexico appeared as the U.S. entered what has become its longest government shutdown ever over the border issue.
The ongoing partial government shutdown, which was triggered when Trump refused to sign a spending bill to keep the government running that did not include the $5.7 billion he has demanded for the construction of his border wall, entered its fourth week over the weekend, with no resolution in sight.
The shutdown has left hundreds of thousands of federal workers without paychecks as Trump and Democrats remain firmly dug in.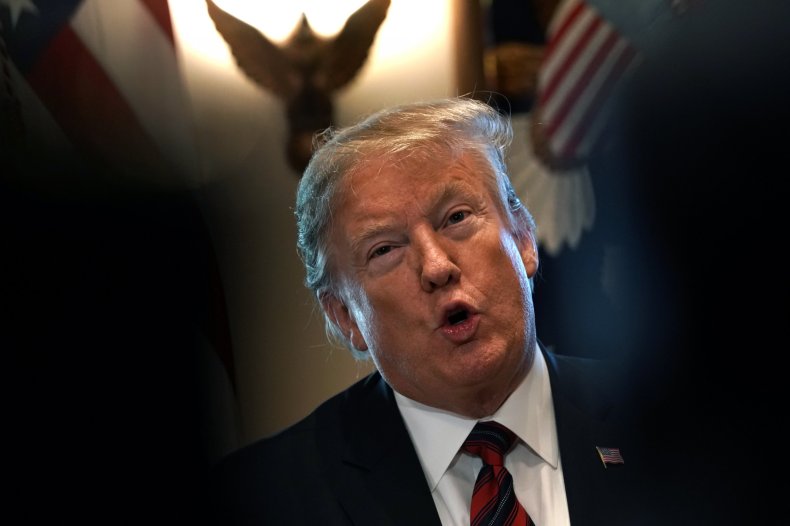 Trump Quotes Republican Firebrand He Once Branded a 'Hitler Lover' and 'Anti-Semite' to Justify His Border Wall | U.S.