Trump Raged at Palestinian Leader Mahmoud Abbas In Bethlehem Meeting: 'You Lied To Me'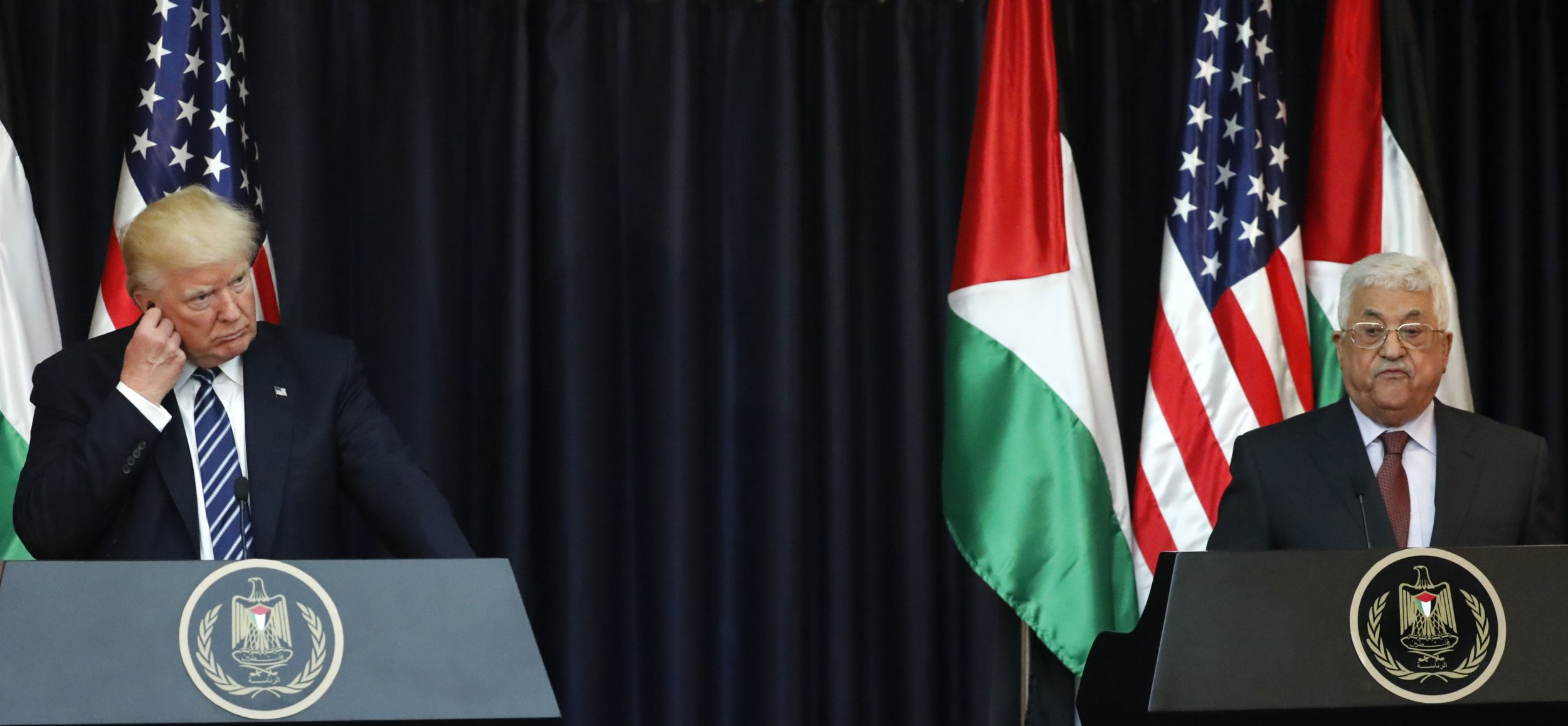 President Trump reportedly lashed out at Palestinian President Mahmoud Abbas in their meeting in the West Bank city of Bethlehem last Tuesday.
"You tricked me in D.C.! You talked there about your commitment to peace, but the Israelis showed me your involvement in incitement [against Israel]," he allegedly said to Abbas, according to Israel's Channel 2 broadcaster, which cited a U.S. official present at the meeting. It said the Palestinian delegation were shocked by the outburst.
The Israeli government blames the Palestinian leadership and Abbas's Fatah faction for inciting violence among young Palestinians, who from September 2015 onward launched a series of violent and deadly attacks with knives, guns and vehicles in Jerusalem and the West Bank. The Palestinians say it is Israel's military occupation of East Jerusalem and the West Bank that pushed them to violence. The violence slowed in mid-2016.
At their meeting in Washington on May 3, Trump told Abbas to end incitement and "resolve" a Palestinian policy of paying the families of Palestinians convicted of terror offenses under Israeli law. Abbas said "we are raising our youth, our children, our grandchildren on a culture of peace." Israeli Prime Minister Benjamin Netanyahu said Abbas's remarks were "not true" as his Palestinian Authority names "schools after mass murders of Israelis."
Trump is earning a reputation for lecturing world leaders. In February, he reportedly shouted on a call with Australian Prime Minister Malcolm Turnbull about a refugee settlement deal reached with his predecessor, Barack Obama.
"When you hear about the tough phone calls I'm having, don't worry about it. Just don't worry about it. They're tough," he said at a prayer breakfast the day after the call. "We're taken advantage of by every nation in the world virtually. It's not going to happen any more."
Read more: Donald Trump deletes tweet calling Mahmoud Abbas meeting an "honor"
Trump arrived in Bethlehem on Tuesday for a whistlestop meeting with Abbas with security at its highest level in the West Bank city. He had met with Netanyahu a day earlier. He said that with " determination, compromise, and the belief that peace is possible," Israelis and Palestinians could make a deal.
In Bethlehem, shops shuttered and Palestinian security forces lined the main roads as Palestinians held a "Day of Rage" in solidarity with hunger-striking prisoners, who have since stopped that strike. The pair held a joint press conference at the city's presidential palace but, despite visiting the Church of the Holy Sepulchre and the Western Wall in Jerusalem, Trump passed on visiting the Church of the Nativity, the alleged birthplace of Jesus.
Publicly, Trump was kinder about his Palestinian counterpart, saying he was a willing peace partner. "I truly believe if Israel and the Palestinians can make peace, it will begin a process for peace in the Middle East," Trump said during the conference. "Abbas assures me he is ready to work toward that goal in good faith, and Netanyahu has promised the same. I look forward to working with these leaders toward a lasting peace."
Abbas said the Palestinians would work for peace but their "fundamental problem is with the occupation and settlements and the failure of Israel to recognize the state of Palestine as we recognize it." He said their problem was not with "Judaism."
The White House and a member of Abbas's presidential team did not immediately respond to Newsweek's email requests.