Trump Raid Motivating 80 Percent of GOP to Vote Is Tip of 'Voting Surge'
In the wake of the FBI's raid of former President Donald Trump's Mar-a-Lago home on Monday, a new poll showed that more than 80 percent of Republican respondents said it made them more motivated to vote in the 2022 election.
In the survey from the Trafalgar Group and Convention of States Action, which was conducted from August 9 to August 10, 71.7 percent of independent respondents said that the raid increased their drive to vote. But the boost in motivation might only be the tip of the anticipated "voting surge" in November in response to the raid, according to Convention of States Action President Mark Meckler.
"Independent and Republican voters are united in their outrage about this unprecedented and tragic event in American history," Meckler said in a statement about the poll results. "This gestapo-style injustice has created a voting surge that is so significant, the polling doesn't even begin to reflect what is coming from grassroots voters in November."
The FBI raid was met with quick condemnation from Republicans, while Trump has pushed the unsubstantiated suggestion that the intelligence service might have been "planting" evidence at Mar-a-Lago. Trump's lawyer, Christina Bobb, told NBC News that the FBI seized about a dozen boxes, months after the National Archives revealed that it had arranged for the transport of presidential records from the residence that had not been rightly transferred at the end of his administration.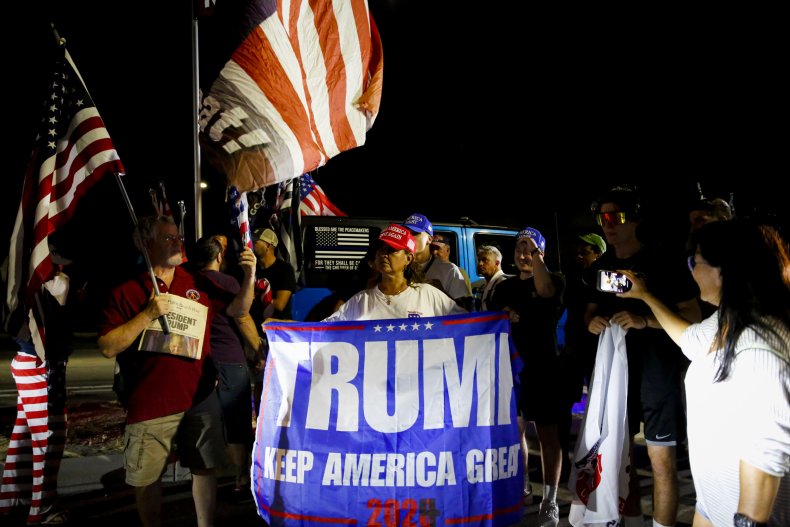 Trump denounced the search in a statement Monday night as "not necessary or appropriate."
"It is prosecutorial misconduct, the weaponization of the Justice System, and an attack by Radical Left Democrats who desperately don't want me to run for President in 2024, especially based on recent polls and who will likewise do anything to stop Republicans and Conservatives in the upcoming midterm elections," he added.
The Trafalgar Group/Convention of States Action poll provides even more insight on the public's view of the raid, particularly among the GOP.
Overall, more respondents (47.9 percent) said that they believed "Trump's political enemies" were behind the raid in comparison to those who said that the "impartial justice system" was responsible (39.7 percent). Another 12.4 percent said that they weren't sure.
A large majority of Republicans (76.7 percent) believe that Trump's political enemies were responsible for the raid, while just 11.9 percent of Democrats gave the same answer.
Another 70.5 percent of Democrats said that they believed the impartial justice system was behind the Mar-a-Lago raid.
Among, independent respondents, 53.9 percent said that Trump's enemies were responsible and 35.3 percent said that it was the impartial justice system.
"I think the main impact you see with the survey is you can see just how divided the country is," Robert Cahaly, founder of the Trafalgar Group, told Newsweek. He also said that independent respondents appeared to be more in line with Republicans on the survey's questions, and said that he believes they'll be more likely to participating in upcoming elections.
The voting motivation boost from the FBI raid could be especially beneficial for the GOP as midterms approach, he added.
"With all the talk of a Republican landslide, everything we've heard for the last six months, I actually never thought it was going to be quite that easy for the Republicans," Cahaly said. "And I think that this is probably energy they needed because they were suffering from a little bit of overconfidence."
Newsweek reached out to a Trump spokesperson for comment.
Update 8/11/22, 2:25 p.m. ET: This story was updated with comment from Robert Cahaly, founder of the Trafalgar Group.