In an open letter published in The Atlantic, Michigan Governor Gretchen Whitmer blasted President Donald Trump for "sowing division," and failing to protect Americans from the novel coronavirus pandemic.
The article, titled The Plot to Kill Me, came as Trump plans to rally this afternoon in the battleground state at the Lansing, Michigan airport, one week before the election.
Whitmer has been a consistent outspoken critic of Trump, and has previously accused the president of encouraging far-right hate groups, and remaining complicit against violence toward his opponents.
In the letter, Whitmer warned Americans about the division Trump has created over the past four years, and discussed her first-hand experience being threatened by a multi-state terrorist group which plotted to kidnap her.
"Every time the president ramps up this violent rhetoric, every time he fires up Twitter to launch another broadside against me, my family and I see a surge of vicious attacks sent our way," she said.
"He is sowing division and putting leaders, especially women leaders, at risk. And all because he thinks it will help his reelection."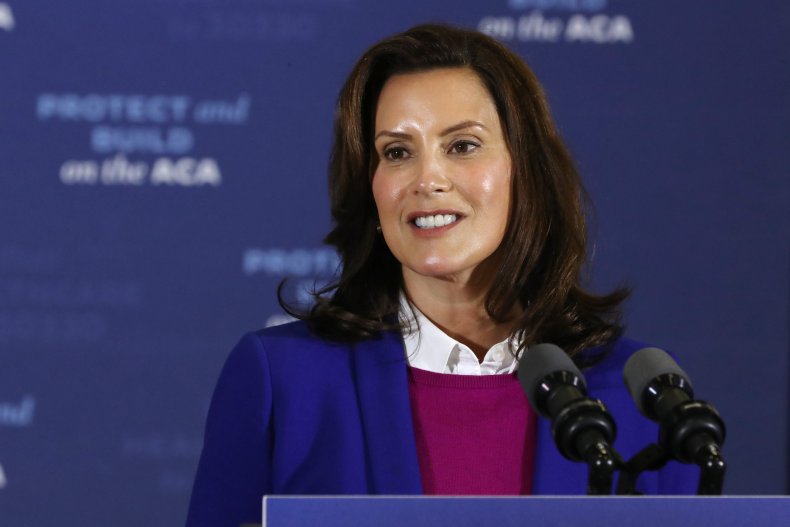 The Michigan governor also accused Trump of failing to protect Americans from the COVID-19 pandemic, and not providing a comprehensive plan to keep the country safe.
"Eight months into the pandemic, he still does not have a plan to protect our frontline workers or rebuild our economy. He has only lies, vitriol, and hate. And as we saw earlier this month, his violent rhetoric puts leaders across the country in danger," she wrote.
Whitmer had received criticism and anger for her approach to curtail the coronavirus pandemic in Michigan and ultimately had her authorities blocked by a state court.
At that time, Trump tweeted the decision was "a BIG win for the people of Michigan."
Whitmer's message remained consistent with her previous statements: rather than focusing on unifying the country Trump has fueled hate, misinformation and distracted Americans from important issues.
"The past four years have been the worst version of America. Ever since Donald Trump first stepped foot in the White House, we have moved away from the common ideals and values that are supposed to unify us as a country, putting leaders across the country—including me—in danger," she wrote.
In 2016, Trump won the electoral college vote in Michigan with a narrow victory of just 0.3 percent, making it the closet presidential race in the state in 75 years. But according to FiveThirtyEight's poll tracker, Biden is now up in the swing state by 8.3 percent, and has an overall national lead of 9.4 percent.