Trump Rally in Alabama Live Stream: How to Watch Former President's Rally in Cullman
Former President Donald Trump is holding a rally in Alabama on Saturday night, where he's likely to criticize President Joe Biden's withdrawal of troops from Afghanistan.
Trump's rally in Cullman, Alabama, is being hosted by the Alabama Republican Party and is intended to further drum up support for his America First policy stances. The former president won Alabama in November with 62 percent of the vote, and in March, the Alabama GOP presented Trump with a resolution of honor.
The former president encouraged his supporters to reserve their tickets, calling it a "major rally." Those who aren't able to attend in person can watch Trump's rally on Newsmax. Coverage of the rally is expected to begin at 8 p.m., although Newsmax will have a pre-rally show, as well. Right Side Broadcasting also has a live stream set up on its YouTube channel.
Trump visited Alabama during the early stages of his presidential campaign and John Wahl, chairman of the Alabama Republican Party, called Cullman the "heart of Trump country." He wasn't sure how many tickets had been reserved and he acknowledged that attendance could be dependent on the weather. However, he told Al.com that he wouldn't be surprised if there were at least 20,000 people in attendance.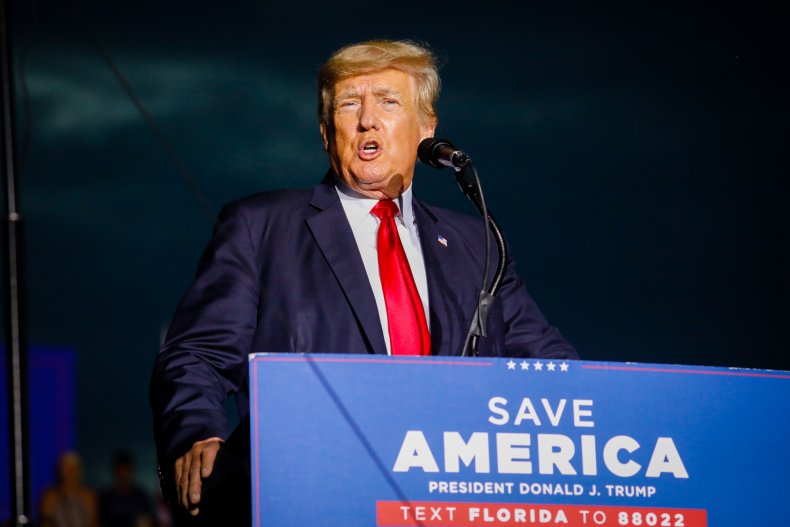 "The people of Alabama and Donald Trump have a special relationship," Wahl said. "And I wanted to make sure everyone knew that the Republic Party is united and we're working together and we're preparing for 2022. That's what this is about. We're getting ready to challenge Democrats across the country and take back the House and the Senate."
Although the rally is going to be outside, officials are concerned that it could lead to a spike in COVID-19 cases. Judy Smith, the administrator of the Alabama Department of Public Health Northern District, told Al.com they are "absolutely shivering in our boots."
Cullman has a low vaccination rate and Alabama Democratic Party Executive Director Wade Perry called holding the rally a "terrible idea." Wahl said it was hard to take Democrats' concerns seriously after they didn't share the same concerns about protests.
This is the first time Trump will hold a formal rally in Alabama since 2017 and he's likely to focus much of his time on his continued dispute over the 2020 election results and America's withdraw from Afghanistan. Trump's been a vocal critic of Biden's strategy to leaving Afghanistan and he's likely to use the chaotic situation that unfolded as a means of drumming up support ahead of the 2022 midterms.