CNN, MSNBC Cut Away From Orlando Trump Rally As Networks Shy Away From 'Free' Coverage Offered in 2016
News coverage of President Donald Trump's Orlando, Florida, rally Tuesday showed cable news networks and the media in general appear reluctant to give him the same $5.6 billion of free airtime he received during the 2016 election.
Both CNN and MSNBC dropped live coverage of the president's Orlando rally even though Trump had not finished his speech to the raucous crowd. Never one to be upstaged, Trump compared the massive rally to the Academy Awards ceremony and led "CNN sucks" chants before both cable news networks cut coverage. Fox News was left as the lone surveyor of the entire event in Orlando Tuesday night.
Trump received around $5.6 billion of free "earned media" during the lead-up to the 2016 presidential election, analytics firm mediaQuant estimates. In the lead-up to the 2020 election, it remains unclear if he will receive the same amount of free attention from the mainstream news media.
The president's spiritual adviser, Paula White, even claimed "demonic networks" are at work against Trump's presidency during the opening prayer Tuesday, The Hill reported.
After Trump's victory in November 2016, left-leaning critics and Hillary Clinton supporters immediately began criticizing mainstream news outlets for giving Trump such a massive platform. Media personalities including MSNBC's Joe Scarborough and Mika Brzezinski were ridiculed for offering Trump—a veteran of entering presidential races before swift exits—hours and hours of free air time before 2016.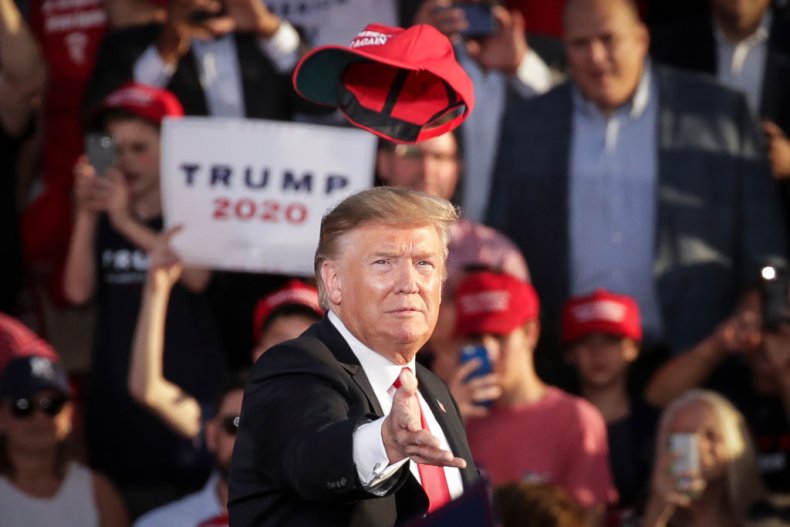 In terms of "bought" versus "free" media coverage, Trump received an exponential amount more of no-cost news attention prior to November 2016. As The New York Times noted, Trump earned $400 million of free media in just the month of February 2016—about the same amount late Republican Senator John McCain spent on his entire 2008 presidential campaign.
Perhaps weighing in on the lack of news coverage, Trump tweeted "The Fake News doesn't report it, but Republican enthusiasm is at an all time high. Look what is going on in Orlando, Florida, right now! People have never seen anything like it (unless you play a guitar). Going to be wild - See you later!"
Outside of broadcast news, Orlando's primary newspaper, the Orlando Sentinel, responded to Trump's visit to the city by declaring the longtime Republican-heavy editorial board would support someone else for president.
"There's no point pretending we would ever recommend that readers vote for Trump," the Orlando Sentinel's editorial board wrote Tuesday. "After two-and-a-half years, we've seen enough. Enough of the chaos, the division, the schoolyard insults, the self-aggrandizement, the corruption, and especially the lies."
On Tuesday evening, Trump used the audience for a test of cheers over his 2016 campaign slogan, "Make America Great Again" and his potential 2020 campaign slogan, "Keep America Great." The updated version of the slogan was widely embraced through roaring applause and some of Trump supporters' most frequent chants could be heard throughout the evening, including, "lock her up" and "drain the swamp."
But another chant at the rally Tuesday apparently caused the broadcast network it was targeting—CNN—to cut away completely from the event. "CNN sucks" jeers rang out after the president fell back on his favored "fake news" reference to rile the crowd.
CNN anchor John Berman remarked that Trump only talked about the economy and real political issues for "about 30 seconds." He noted the president illustrated a "bright rosy future but then reverted to the same themes he's been talking about since he began running four years ago today."