President Donald Trump will speak at his re-election campaign's third rally in a week on Thursday night in Dallas.
The campaign still owes money to at least six cities for rally bills, but Trump supporters in North Texas don't seem to mind. They started lining up days ago to see the latest Keep America Great Again event. The venue, the American Airlines Center, is preparing for up to 20,000 attendees.
Trump has a history of using his rallies to attack political opponents, the press and anyone else who's bothering him at the time. His recent rally in Minneapolis was no different. For about six minutes, he singled out U.S. Representative Ilhan Omar, a Minnesota native, as photos of her wearing a head scarf flashed across the jumbo screens, according to The Washington Post.
It's not clear who Trump wants to target Thursday night, but given that presidential candidate Beto O'Rourke is a hosting a "counter" rally miles away, the Texas Democrat could next be on the president's list. Either way, supporters and detractors alike will likely want to tune in.
Here are the viewing options:
C-SPAN and CBS News
At 8 p.m. EDT, online viewers can stream the rally live from CBS News and C-SPAN. If you're interested in previous rallies, C-SPAN also provides full videos of Trump's visits to Louisiana, Minneapolis, New Mexico and North Carolina over the past few weeks.
Various YouTube channels
For those who prefer mobile-friendly platforms that allow casting, the Trump campaign's official YouTube page will stream the rally. The Right Side Broadcasting Network and television station Fox 10 Phoenix will also provide live footage.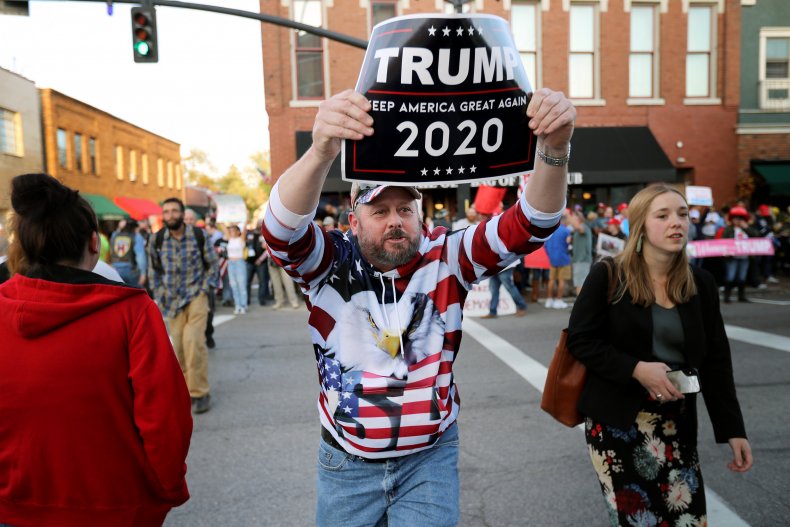 Cable
Reporting by Bloomberg News indicates that cable networks, previously criticized for "handing free airtime" to Trump, may not be interested in covering this year's rallies with the same fervor they had in 2016.
Still, viewers can probably count on Fox News to broadcast the event. The network rode Trump's Minneapolis rally last week to a massive ratings win, according to Mediaite. Channel information will vary based on location and cable providers.
In person
Attendee hopefuls can register for the rally on its booking site. Doors will open at 5 p.m. EDT at the American Airlines Center at 2500 Victory Avenue in Dallas. Parking lots at Lexus Garage, Lot A and Lot E opened at 5:30 a.m., while D Garage, Lot M and Lot K will open at 6 p.m. A list of prohibited items can be found on the venue's website. Bags and backpacks are subject to searches.